Politics
No, This Photo Does Not Show Rahul Gandhi With Hindenburg's Nathan Anderson
BOOM found that the man with Rahul Gandhi is German politician Niels Annen, not Hindenburg Research's founder Nathan Anderson.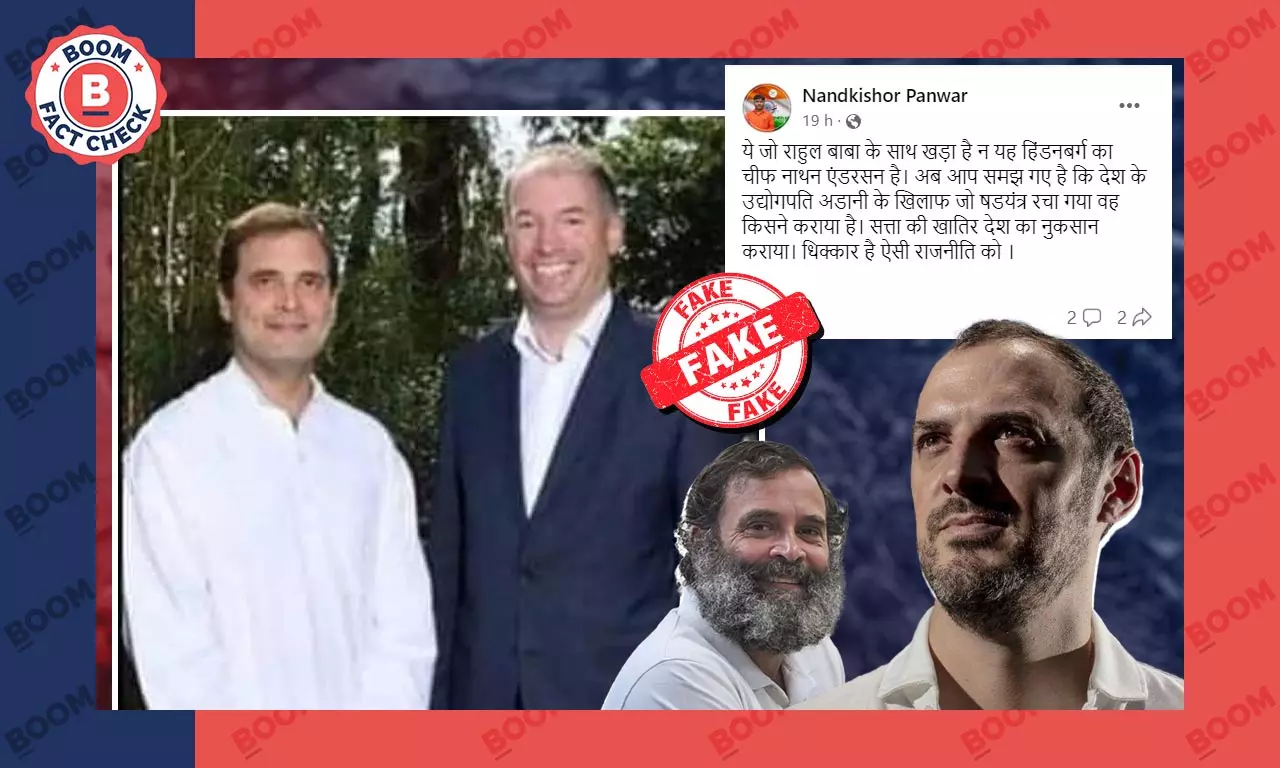 An old photo of Rahul Gandhi standing with another individual is going viral online misidentifying the latter as Nathan Anderson - the founder of Hindenburg Research. BOOM found that the man is actually Niels Annen, a German politician in the Social Democratic Party.
On January 24, New York-based short selling company Hindenburg Research released a report accusing Asia's then richest man Gautam Adani of stock manipulation and accounting fraud. The report ended up erasing $100 billion from Adani's market cap, and the company also had to withdraw its Follow-on Public Offer (FPO). This entire ordeal has erased Adani's personal wealth too, bringing it down from $113 billion to $61.9 billion.
Amid this, the photo of Rahul Gandhi with Annen is being used to misidentify the German as Hindenburg Research's founder Nathan Anderson to imply that Gandhi was involved in the short seller's efforts to challenge Adani.
The photo is going viral with the caption, "The one who is standing with Rahul Baba is Hindenburg Chief Nathan Anderson. Now you have understood who has got the conspiracy hatched against Adani, the industrialist of the country. For the sake of power, the country was harmed. Shame on such politics."
(Original text in Hindi: "ये जो राहुल बाबा के साथ खड़ा है न यह हिंडनबर्ग का चीफ नाथन एंडरसन है। अब आप समझ गए है कि देश के उद्योगपति अडानी के खिलाफ जो षडयंत्र रचा गया वह किसने कराया है। सत्ता की खातिर देश का नुकसान कराया। धिक्कार है ऐसी राजनीति को ।")
Click here to view.
Click here to view.
The post is also circulating on Twitter.
Click here to view the tweet and here for an archive.
FACT-CHECK
BOOM found that the man in the photo is Niels Annen, German politician and Minster of State from Hamburg, not Nathan Anderson.
A reverse image search of the photo led us to a report published by NDTV on August 23, 2018. The report mentioned that Gandhi visited Germany as part of his diaspora outreach program ahead of the 2019 Lok Sabha Elections. It was then that he met Minister of State Niels Annen where the two also discussed the deadly Kerala floods that took place in July 2018.
Niels Annen is serving in Chancellor Olaf Scholz's government as the Parliamentary State Secretary at the Federal Ministry for Economic Cooperation and Development since 2021.
The photo was also shared on the Indian National Congress' official Twitter handle on August 22, 2018.
Niels Annen also took to Twitter to share the same photo, calling Rahul Gandhi a "valued partner and close friend."
Here is a side by side comparison of Nathan Anderson and Niels Annen:
Claim :
Photo shows Rahul Gandhi posing with Hindenburg Research's founder and chief Nathan Anderson.
Claimed By :
Facebook, Twitter users
Do you always want to share the authentic news with your friends?
Subscribed Successfully...
Enter Valid Email Id