Politics
FactCheck: Comparisons Of LPG At ₹410 In 2014 And ₹1103 Today Misleading
A viral post is comparing the subsidised prices in 2014 to the non-subsidized prices in 2023 to show that a recent move by the government was an eyewash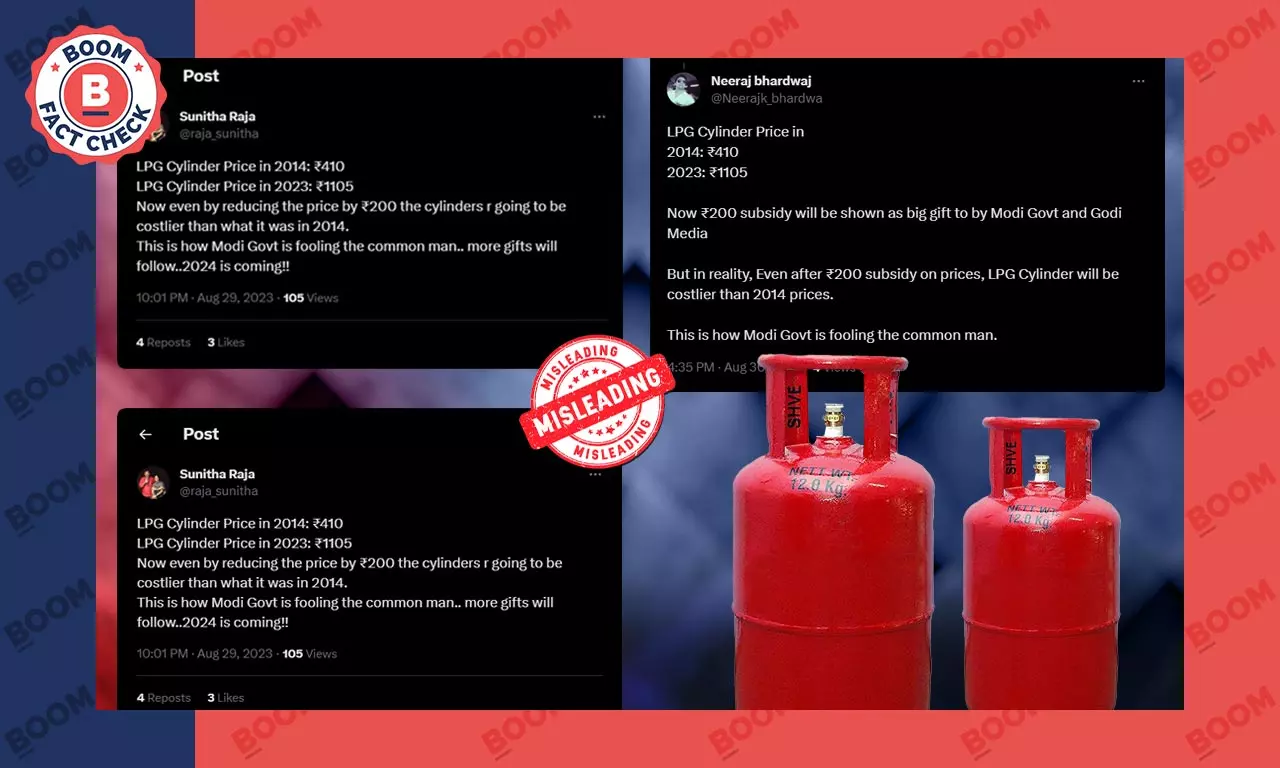 Several viral tweets, showing that a cylinder of liquefied petroleum gas (LPG) costed ₹410 in 2014 and ₹1103 today is misleading. The comparison is an apple to oranges comparison as the 2014 figure represents what consumers paid after a receiving a subsidy compared to the 2023 figure, which represents what consumers paid at the market price.
Further, both prices are reflective of fuel subsidy regimes that vary from each other. In 2014, a consumer could receive a fixed quota of cylinders at a subsidised price upfront. However, changes to the subsidy regime now needs a consumer to buy these cylinders at a market price and then get a subsidy credited to their bank account if they are beneficiaries of an applicable social security scheme.
These tweets can be seen below.
These claims come in the wake of the Government of India providing a reduction in the price of LPG across the board by ₹200 on August 29 on the eve of Raksha Bandhan. This would bring the non-subsidised price a cylinder of LPG down to ₹903 in New Delhi (the benchmark city).
Reuters calls the reason behind this cut twofold: retail inflation in July hitting a 15-month high in July of which LPG is a constituent and a looming election to five states expected later this year.
Beneficiaries of the Pradhan Mantri Ujjwala Yojana would receive an additional ₹200 as part of their scheme benefits, bringing the effective price of a cylinder down to ₹703 in New Delhi post the subsdiy.
The claims mentioned above suggest that the incumbent government has mismanaged the price of LPG over the years due to runaway prices and call this ₹200 cut an eyewash as prices are still above what they were paying before it came to power in 2014.
LPG is a popular household cooking fuel, which governments in India have promoted as a cleaner and hassle-free alternative to traditional fuels such as wood, coal and even dung.
FactCheck
The price comparisons across 2014 to 2023 are misleading as not only do they compare post-subsidy prices in 2014 to pre-subsidy prices in 2023, both these years saw different LPG subsidy regimes.
Therefore, while an individual could be paying ₹414 (not ₹410 as the claim suggests) in 2014, this would only be on a limited number of cylinders based on quota, following which such consumers would need to pay the non-subsidised prices (or retail prices). On the other hand, prices in 2023 are not indicative of applicable subsidies that are now credited directly into a beneficiary's bank account on the basis of an applicable social security scheme: Pradhan Mantri Ujjawala Yojana or PAHAL (the government's income-based direct benefit transfer [DBT] scheme on LPG cylinders).
1. Subsidy regime during the UPA
A report published in March 2014 by the Global Subsidies Initiative of the Institute of International Development (IID), a Swiss independent public policy think-tank, states that pre-2014, there were two primary modes of delivering subsidies to LPG households.
The first was a government-funded flat-rate subsidy of ₹22.58 per cylinder, which remained unchanged since financial year (FY) 2004 - 2005
The second, and the most important one, were the under-recoveries of costs by oil marketing companies (OMC), where they recovered less from the final consumer than what they spent on selling the LPG cylinders. OMCs include Indian Oil Corporation Limited (IOCL), Bharat Petroleum Corporation Limited and the Hindustan Petroleum Corporation Limited (HPCL). The government regulates the prices of fuel in the country by virtue of state ownership of these companies.
The burden of the shortfall faced by these under-recoveries was shared by the government, the OMCs and to a small extent the upstream and midstream oil companies like Oil India Limited and the Oil and Natural Gas Corporation (ONGC). The funds came through the exchequer, and partly through oil bonds before FY2010.
While these subsidies were provided upfront, they, were only extended to a finite number of cylinders of 14.2 kilos (or five kilos) per household per year that the government set as a quota.
From March 31, 2013 onward, the central government set the quota to be six to nine cylinder per household, increasing it from the previous quota of three to five that was introduced by the first household-level cap on cylinders September 2012.
From March 2014, this cap was increased to twelve per year per household of 14.2 kilos (or 34 cylinders of five kilos per year per household).
A cooldown period applied to subsidised cylinders too, which means that consumers had to wait for a period ranging from at least a fortnight to a month (depending on the OMC and quota) to get the next subsidised cylinder, even if the yearly quota allotted to them had not been exhausted. This mean that if consumers wanted to buy a cylinder before the cooldown period expired, they had to do so at market prices.
According to an informational brochure circulated by HPCL, a cap of one cylinder per month applied to households, beyond which they had to buy cylinders at market prices.
"As per Govt. of India notification dated 07.03.2014, effective 01.04.2014 each domestic consumer is entitled to 12 subsidized LPG cylinders of 14.2 Kg / 34 cylinders of 5 Kg in a financial year at subsidized rates. Ordinarily, only one cylinder will be given to each beneficiary every month. Beyond the subsidized entitlement, the consumers can avail LPG cylinders at domestic non-subsidized rates", the brochure says. This monthly cooldown limit would go on to be scrapped by the central government in August 2014, in what was described to be a political move before elections to a number of state assemblies.
BOOM referred to data available with the Petroleum Planning And Analysis Cell (PPAC), a unit of the Union Ministry of Petroleum and Natural Gas (MoPNG), which are reflect these prices. From December 11, 2013, subsidised cylinder were available at ₹414, which would go up to ₹417 in October 2014 due to an increase in dealer commissions. The market prices of the same cylinders would keep on fluctuating though depending on the underlying price of the fuel.
BOOM has previously explained why LPG prices at market prices were higher during the government under the United Progressive Alliance (UPA) than under that by the National Democratic Alliance (NDA) including the breakup of prices of an LPG cylinder.

Also Read: Explained: Why LPG Cost More During UPA Than Post 2014 NDA Regime
The subsidy policy of OMC under-recoveries has been criticised in the IID report for being hyperfocused on urban areas, as that was where LPG cylinders were chiefly used as cooking fuel. The scheme also disadvantaged larger households and joint families. The government had a non-subsidy scheme called the 'Rajiv Gandhi Rural Gramin LPG Vitrak' to encourage the opening of LPG dealers in rural localities, but it was done away with in August 2015.

In 2013, the UPA government also piloted an Aadhaar-based DBT scheme in October 2013 in 121 districts in the country. It would be the precursor to the PAHAL DBT scheme that would launch partially in the November 2014 and would cover the country in January 2015.
2. Subsidy under the current NDA government
The current NDA government has two channels through which it administers its subsidies to consumers of LPG cylinders.
The first is the PAHAL ('Pratyaksh Hanstantrit Labh') that is an income-based DBT scheme administered to those who earn below ₹10 lakh a year (calculated as a beneficiary and their spouse).
While an Aadhaar-based DBT scheme for LPG had already been rolled out in a limited manner, PAHAL launched partially on November 15, 2014 as a modified DBT scheme, covering 54 districts and entirely on January 1, 2015, covering the remaining 622 districts in the country. Those who enrolled in the scheme from January 1 to March 31, 2015, got a subsidy advance of ₹568 upon booking the scheme. From April 1, 2015 onward, the subsidy would be credited electronically into a beneficiary account through the DBT.
The difference between the schemes, however, was that under PAHAL, eligible beneficiaries would now have to pay the market price and receive a pre-determined subsidy (by the government) directly into their bank account. This change, the government said, was needed for three reasons: to weed out duplicates or ghost users, to ascertain genuine users and to target beneficiaries of the scheme more accurately. The scheme also had a suasive measure called 'Give It Up' where beneficiaries of these subsidies could voluntarily forego of it.
On March 16, 2023, the Minister of State for Petroleum and Natural Gas, Rameswar Teli, informed Lok Sabha through a written answer, "As on 01.02.2023, approximately 29.02 crore LPG consumers are enrolled under PAHAL scheme. Under PAHAL Scheme, the LPG cylinders are sold at non-subsidised price and the applicable subsidy to LPG consumers is transferred directly into the bank account of the consumers. The subsidy is transferred either through Aadhaar Transfer Compliant (ATC) or Bank Transfer Compliant (BTC) mode. PAHAL has helped in identifying 'ghost' accounts, multiple accounts and inactive accounts. This has helped in curbing diversion of subsidised LPG to commercial purposes."
This can be found here.
In its most recent handouts, the PPAC has not given the per cylinder subsidy under PAHAL that would be applicable to current retail prices. However, BOOM did come across previous instances of PPAC data showing pre and post subsidy prices post PAHAL.
The second avenue through which the government doles out LPG subsidies is through the PM Ujjwala Yojana, which was launched in 2016, that is targeted at women consumers hailing from certain backgrounds.
Such backgrounds include scheduled castes/scheduled tribes, beneficiaries of PM Awas Yojana (the affordable housing scheme), forest dwellers, tea-plantation tribes or if they are beneficiaries under the socio-economic caste census 2011.
Under the Ujjwala Yojana, the government provided a cash assistance covering the security deposit for the first cylinder and a free refill, a hotplate (stove), a hose and installation and demonstration charges.
Refill cylinders were also provided for free under the Pradhan Mantri Garib Kalyan Package for a limited period of time under, which was the government's initial response to the first wave of COVID-19 pandemic.
For the Ujjwala Yojana 2.0 launched in 2022, for financial year 2022 - 2023 to 2023-2024, these beneficiaries would get ₹200 in their banks accounts as a subsidy per cylinder for up to 12 cylinders a year, which would be applicable after buying cylinders at retail prices.
Data obtained by The Hindu through the Right To Information Act showed one in four Ujjwala beneficiaries only taking up to one refill per year despite the ₹200 subsidy during the last financial year.
In August 2022, ThePrint reported based on a source that the government was planning on abolishing the PAHAL scheme to reign in expenditure and focus on Ujjawala Yojana, while in June last year, Pankaj Jain, Petroelum Secretary, said that no subsidies had been released under PAHAL in FY22. Instead, the government had only focused on Ujjwala beneficiaries that year. PPAC data was reflective of this. The same data FY23, ₹823 crores was released under PAHAL while spending ₹6,110 crores on implementing the Ujjwala Yojana.
Last financial year, the government also implicitly subsidised the prices of LPG by compensating OMCs with a one-time subsidy worth ₹22,000 crores. This was due to the underlying prices of fuel rose from $415 per MT to $712 per MT, which was not fully passed on to the end consumer, leading to under-recoveries worth ₹28,000 crores to OMCs.
Also Read: Govt Poster Misinterpreted To Show GST Reduced On Mobiles, LPG & LEDs

Do you always want to share the authentic news with your friends?
Subscribed Successfully...
Enter Valid Email Id