Fact Check
Pic Of COVID Victim's Body Being Dumped In Garbage Van Is Not From UP
BOOM found that the image showing sanitation workers putting bodies of COVID-19 victims in a garbage van is actually from Chhattisgarh.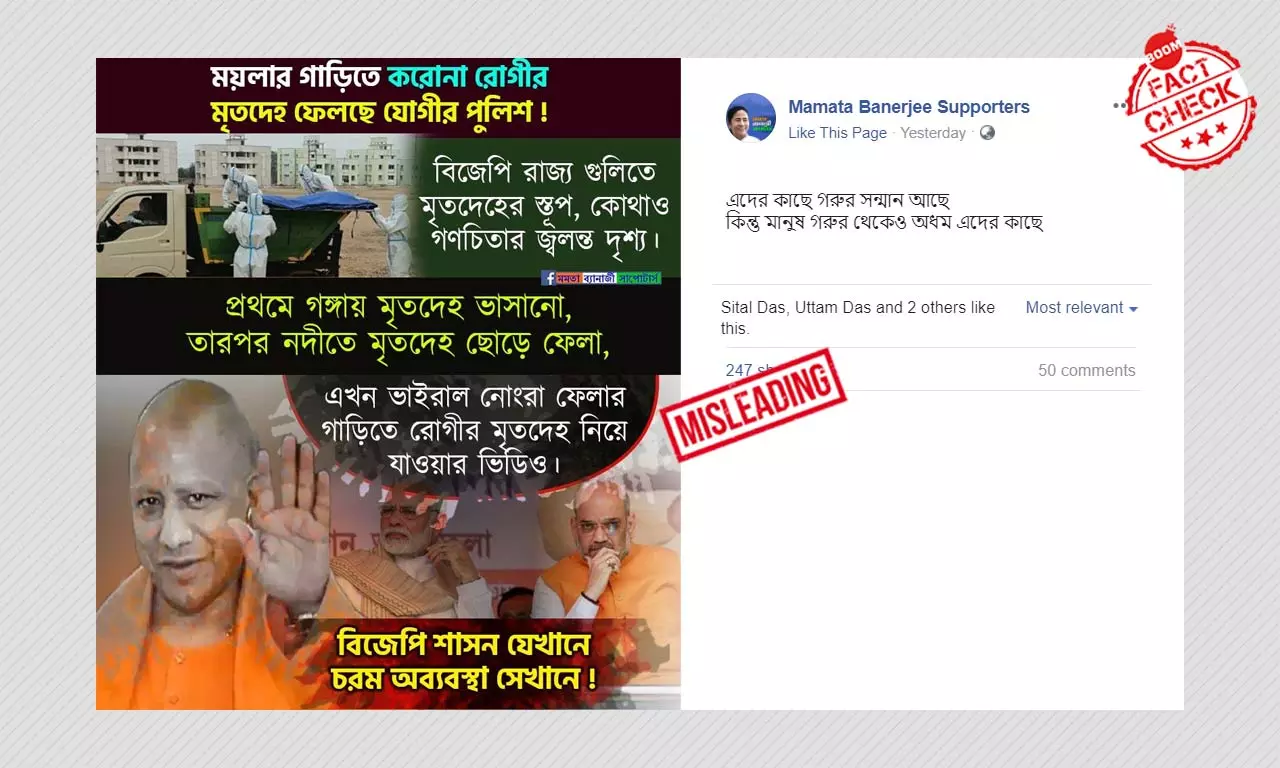 An image showing four persons wearing personal protective equipment (PPE) dumping a body wrapped in tarpaulin in a garbage van is viral on social media with captions misleadingly claiming that the incident is from Uttar Pradesh.
BOOM found that the incident is from Chhattisgarh where a garbage van was used to ferry COVID patients' bodies to crematorium.
Also read: Old Video Of Patanjali CEO In Hospital Viral Amid Allopathy-Ayurveda Spat
Multiple news articles have reported recent instances of bodies found buried in sand along the banks of river Ganga in Prayagraj, Uttar Pradesh.

The text on the photo in Bangla translates to 'Yogi's police is dumping corona patient's dead body in a garbage van. Piles of corpses in BJP states, scenes of mass cremations can be seen. First floating corpse in the Ganges, then throwing dead body in the river, now the viral video of the patient's corpse being taken away in a garbage van. Wherever BJP rules, extreme chaos is there!'.
(Original Text in Bangla: ময়লার গাড়িতে করোনা রোগীর মৃতদেহ ফেলছে যোগীর পুলিশ! বিজেপি রাজ্যগুলিতে মৃতদেহের স্তূপ, কোথাও গণচিতার জ্বলন্ত দৃশ্য। প্রথমে গঙ্গায় মৃতদেহ ভাসানো, তারপর নদীতে মৃতদেহ ছোড়ে ফেলা, এখন ভাইরাল নোংরা ফেলার গাড়িতে রোগীর মৃতদেহ নিয়ে যাওয়ার ভিডিও। বিজেপি শাসন যেখানে চরম অব্যবস্থা সেখানে!")
Click here to view the post and here for an archive.
Also read: Not Me Or Anjan In Viral Photo: Former IAS Officer Alapan Bandyopadhyay

Fact Check
BOOM did a reverse image search of the image and found an NDTV News feed tweet from April 14, 2021 with the same photo. The caption said that a garbage van was used to ferry the bodies of patients who succumbed to COVID-19 in Chhattisgarh.
NDTV also published an article on the incident.

Four sanitation workers, wearing full PPE kits, were seen lifting and dumping the bodies in the back of the van for taking them to the cremation ground in Rajnandgaon, said the report.
Live Hindustan also reported the incident carrying the same photo on April 15.
Also read: Unrelated Photos Peddled As New Zealand PM Supporting Farmers' Protest

Claim :
Photo shows a garbage van ferrying Corona patient's dead body in Uttar Pradesh.
Claimed By :
Facebook User
Do you always want to share the authentic news with your friends?
Subscribed Successfully...
Enter Valid Email Id