Fact Check
Data Doesn't Support BCI's Claim Of Over 99.9% Against Marriage Equality
BOOM did not find any survey which substantiates the Bar Council of India's claim that more than 99.9% of India opposes marriage equality.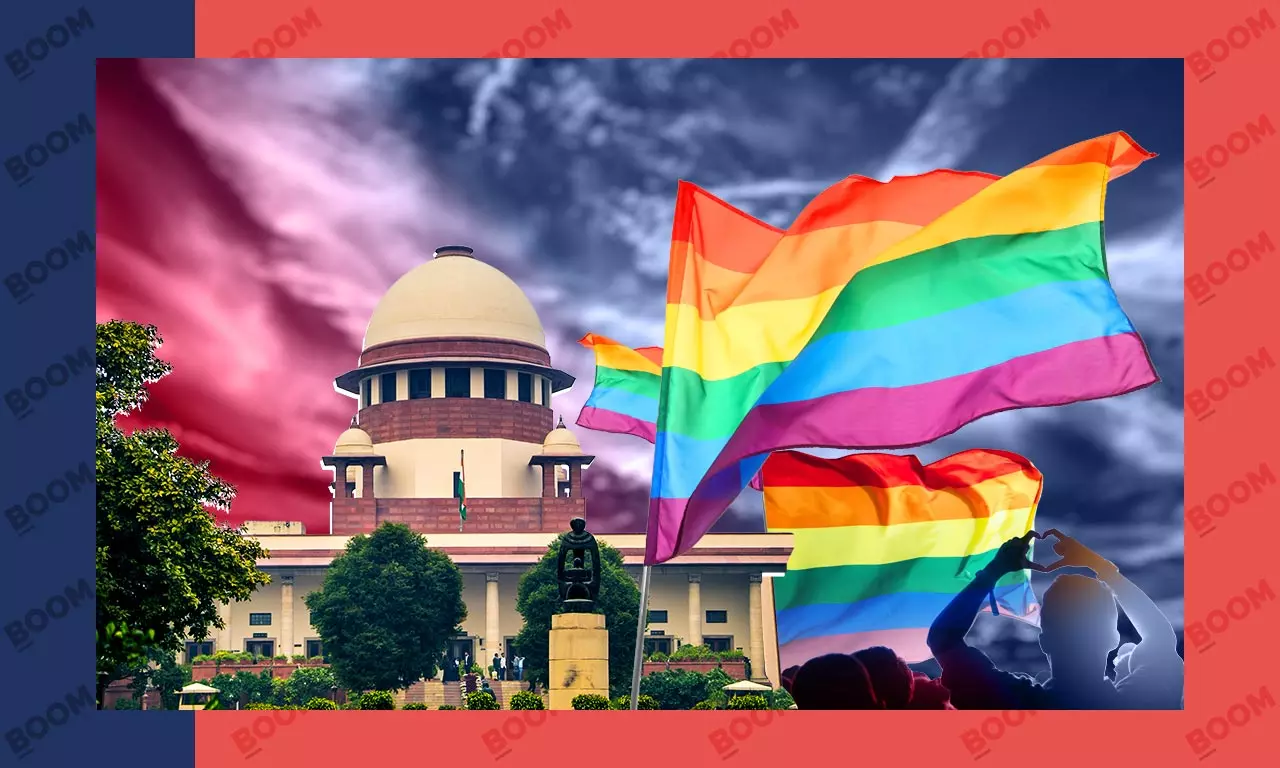 The Bar Council of India (BCI) passed a resolution on April 23, 2023, requesting the Supreme Court to leave the issue of marriage equality to the legislative process and claimed that over 99.9% of Indians are opposed to the idea.
BOOM found that while surveys and polls done on the issue of marriage equality show varying results, none of them come remotely close to the 99.9% figure cited by the BCI.
These publicly available survey results show opposition to marriage equality to be as high as 62%, with another one showing support being as high as 53% among Gen Z (those between the ages of 16 to 21), but none of them concur with a 99.9% opposition to the issue.
"More than 99.9% of people of the country are opposed to "the idea of same sex marriage" in our country," BCI said in its resolution. It added, "As per documented history, ever since the inception of human civilisation and culture, marriage has typically been accepted and categorised as a union of biological man and woman for the twin purpose of procreation and recreation."
The BCI's source of this number remains unclear as their resolution did not mention it. A Right To Information query has also been filed asking about the documents and the research underpinning this data point. Open letters by several student unions as well as the Supreme Court Bar Association have been released against BCI's resolution.
BOOM's inquiries to members of BCI and the Bar Council of Delhi remain unanswered. This story will be updated upon hearing from them.
Currently, the Supreme Court is hearing petitions related to the applicability of marriage equality under existing marriage laws in India. It is doing so by clubbing 20 petitions lying across various courts in India into a single hearing. Lawyers for the government have also conveyed to the Supreme Court that the issue should be discussed through legislative fora instead of courts.

Homosexuality has already been decriminalised in India by the Supreme Court through a judgement in September 2018.
Here are the surveys under question.

1. Ipsos 2016 and 2021
Paris-based market research and data firm Ipsos published two surveys on the issue.
In the first survey released in 2016, the opposition to marriage equality in India came to be at 29%. Support for marriage equality too stood at 29%. 18% of respondents felt that while same-sex couples should receive some kind of recognition, they should not be allowed to marry. The remaining respondents were not sure.
Explicit opposition to marriage equality in India was amongst the highest in the world, tied with South Korea and exceeding by Poland (32%) and Russia (66%).
While the total number of respondents in India was around 500, the total number of respondents around the world was 11,500.
The results of the survey can be seen below.
In the second survey released in 2021, opposition to marriage equality reduced to 18%. Support for it increased to 44% while the share of respondents who felt that while same-sex couples should receive some kind of recognition, they should not be allowed to marry fell to 14%.

This time, the opposition was not as high as in Malaysia (65%) or Russia (52%).
Again, while the total number of respondents in India was around 500, the total number of respondents around the world was 19,069.
The caveat that the survey adds was that the sample in emerging markets like India, Brazil, mainland China, Peru, Russia and South Africa were urban and more educated than the average in their countries.
The results of that survey can be found below.
2. Mood of the Nation
In 2019, a survey done by India Today - C Voter called 'Mood of the Nation' showed a 62% opposition to marriage equality.
14% of respondents did not know how to respond, while 24% responded in support of it.
This survey was conducted in February 2019, after homosexuality was decriminalised in September 2018 and to gauge public opinion before the Lok Sabha elections that would take place in April and May that year.
The story outlining the results of the survey does not delve into more details of the underlying survey like the sample size or demographic details.
It can be read here.
3. ILGA
The International Lesbian, Gay, Bisexual and Trans and Intersex Association (ILGA), a worldwide federation of organisations that enjoys consultative status at the United Nations released their surveys on attitudes on LGBT issues around the world.
This survey showed that respondents in India said 'yes' and 'no' in equal measure at 35% to the question "Should same-sex marriage be legal?". The remaining 30% said that they did not have an opinion on this issue.
A total of 96,331 respondents across 51 countries completed the survey. While an India-specific number was not given, it was greater than 700 since that was the minimum decided upon by the makers of the survey.
The survey can be found here.
4. Varkey Foundation
A survey by Varkey Foundation released in 2017 showed that support among those aged 18 to 21 for marriage equality stood at 53%. It is a non-profit focusing on education and teachers' literacy.
There were a total of 1,033 respondents in India and a total of 20,088 respondents across 20 countries in a survey focusing on how young people think and feel and their take on a cross-section of issues.
The survey can be found here.
5. Azim Premji University - CSDS
A survey conducted by Azim Premji University and CSDS-Lokniti survey does not poll on marriage equality but on the acceptance of same-sex relationships.
A majority of respondents strongly disagreed with same-sex relationships being accepted in society.
"The results indicate a deeply conservative society where one in every two respondents strongly believe that same-sex relationships have no place in society and less than 10 percent accept same-sex couples in society", the study says.
The survey is titled 'Politics and Society Between Elections, 2019' and surveys a variety of social and economic issues.
It can be found here.
Additional reporting by Ritika Jain

Do you always want to share the authentic news with your friends?
Subscribed Successfully...
Enter Valid Email Id