Fact Check
No, This Is Not Celine Dion In A Wheelchair Dancing At Her Son's Wedding
BOOM found that the video shows Kathy Poirier, who was diagnosed with ALS, sharing an emotional moment during her son's wedding.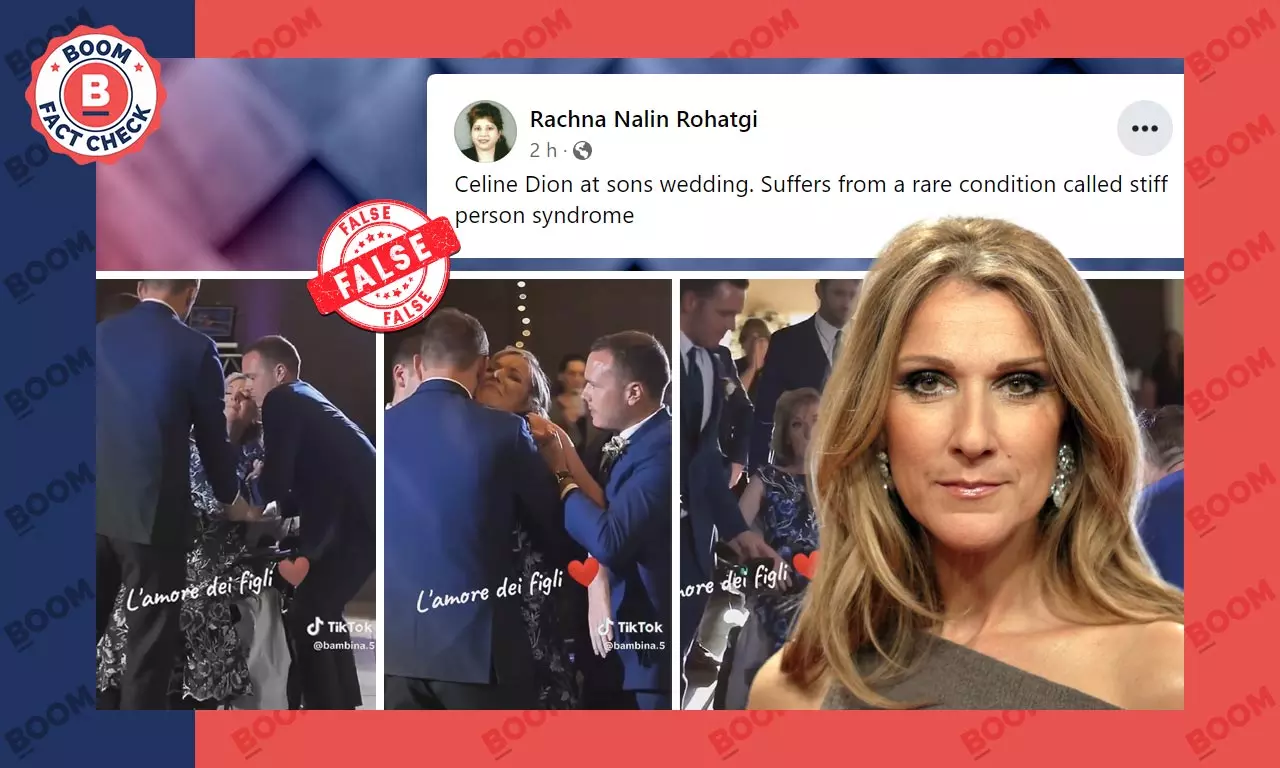 A viral video of a woman in a wheelchair dancing with her son at his wedding, while being supported by her other children is being shared with a false claim that she is singer Celine Dion.
The video shows a wedding hall where a woman is being wheeled in by three men who later help her stand up and hold her and hug one of them and share a small dance with him.
The video started going viral a day after Dion, announced on her social media accounts that she would be releasing new music on April 13, 2023. In December 2022, the 90s singing star known for hits such as 'My heart will go on', announced that she had been diagnosed with a rare progressive neurological disorder called Stiff-Person Syndrome, forcing her to cancel upcoming concerts and shows.
The claim with the video is, "Singer Celine Dion attending her son's wedding, she was diagnosed with a rare neurological condition known as stiff-person syndrome. A reminder that health is the most important aspect of life."
FACT CHECK
We watched the video and found that the woman did not look like the singer Celine Dion and ran a search for "woman in wheelchair dancing with son" and found several results from 2022 about a woman named Kathy Poirier dancing at her son Zak's wedding.
A July 2022 video report by the show Good Morning America, identified the woman as Kathy Poirier who was diagnosed with Amyotrophic lateral sclerosis (ALS) a neurological disease that affects motor neurons, restricting voluntary muscle movement in patients.
In the news show, Poirier speaks to the audience and explains that she was really nervous before the dance because she was worried she would be stared at. Poirier says, "It (the dance) was a moment she had dreamt about for a long time."
In the same show, Zak Poirier, the son who was getting married, says, "Once we were dancing, nothing else mattered except for the moment I was sharing with my mom"
We also found several detailed interviews given by Kathy who is from Florida, US to several news channels where she says she was diagnosed with ALS a few years before her son Zak's wedding. The story was carried by Daily Mail, Fox News and by Indian news outlets such as NDTV and India Times
A search for her name led us to a blog called Grit And Grace With ALS run by Kathy. In an April 11, 2022 post titled 'Incredible Weekend,' Kathy shared photos from the wedding where she can be seen wearing the same dress as in the viral video.
In the same post, Kathy also talks about the dance and says, "Also, we discovered an Instagram video that was shared by the wedding planner, and I posted that below. It was a pretty tearful moment for me, but with the help of my sons we were able to pull it off!"
Kathy in her blog post also shared the full version of the viral video posted on April 11, 2022 by the wedding planners RootsToStems from their Instagram account.
The caption of the Instagram post says, "Zak and his mom, Kathy sharing the most beautiful mother-son dance at last night's wedding. An incredibly moving moment no one will ever forget."

Additionally, we also ran a search on singer Celine Dion's social media profiles including Instagram and Twitter, and found that she did not post any such video about her son's wedding. The singer has three sons, the oldest is 21 years old, and two twins aged 12.
Claim :
Video of Celine Dion in a wheelchair at her son's wedding
Claimed By :
Facebook posts
Do you always want to share the authentic news with your friends?
Subscribed Successfully...
Enter Valid Email Id