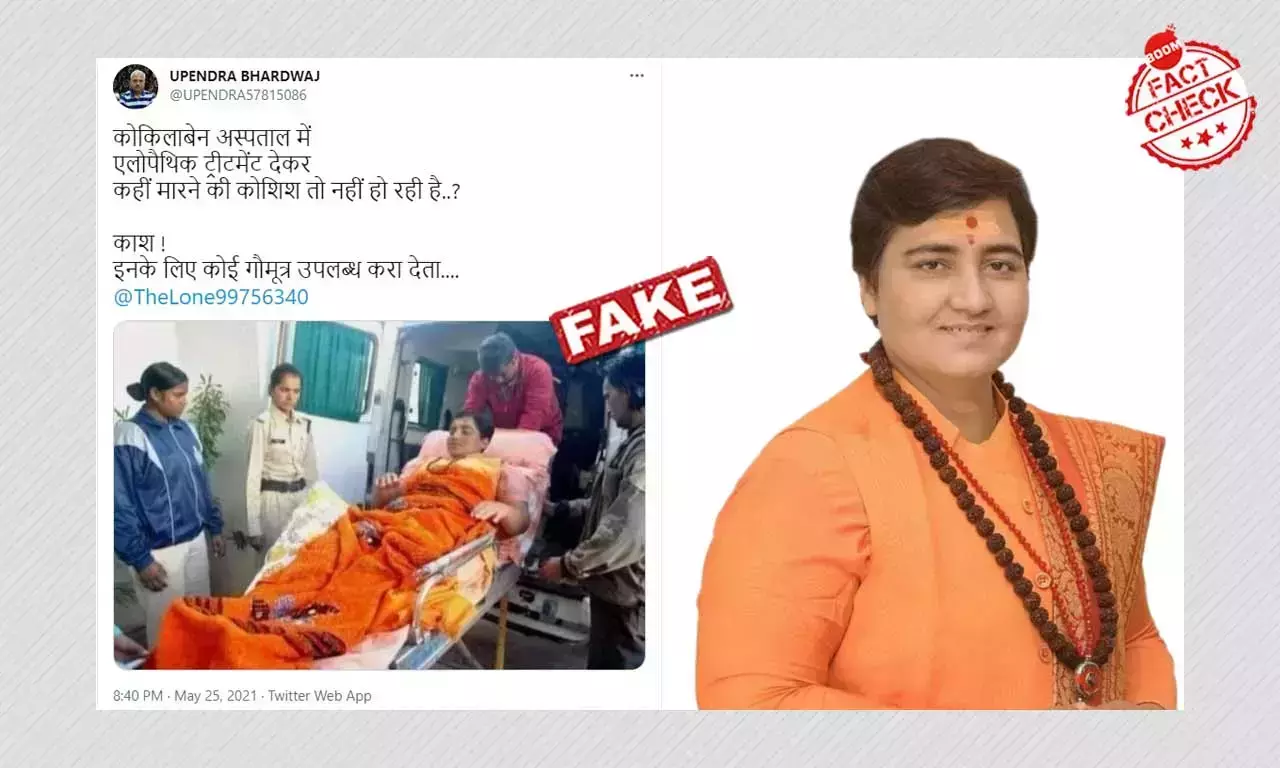 An old image of Bharatiya Janata Party MP Pragya Singh Thakur being taken out of an ambulance on a medical stretcher is viral with a false claim that she has been admitted to a Mumbai hospital with a medical condition.
BOOM found that the image is from January, 2013, when Thakur went to Jawaharlal Nehru Cancer Hospital in Bhopal for a medical check-up.
The image is viral in the backdrop of Thakur's comments on the consumption of cow urine. The Bhopal MP recently sparked a controversy when she made comments on cow urine and its life-saving capabilities. Singh said that extracts of the urine can help keep COVID-19 at bay.
The image has been shared with a claim in Hindi which reads, "Are the authorities of Kokilaben Hospital trying to kill (her) by treating with allopathy medicine? Sigh! Hope somebody could make cow urine available for her."
(Original Text In Hindi: "कोकिलाबेन अस्पताल में एलोपैथिक ट्रीटमेंट देकर कहीं मारने की कोशिश तो नहीं हो रही है..? काश! इनके लिए कोई गौमूत्र उपलब्ध करा देता....)

Another Twitter user posted the same image of Thakur and wrote, "Pragya Thakur who preaches about drinking cow urine to cure corona has been admitted to AIIMS. She has difficulty breathing. Do notice after the campaign of clapping, beating vessels, playing the shunk, now confidence has come from vaccine which means from medicines."
(Original text in Hindi: गौ मूत्र पी कर कोरोना बीमारी खत्म करने के प्रवचन देने वाली प्रज्ञा ठाकुर को #AIIMS में भर्ती करवाया गया है सांस लेने में तकलीफ है ध्यान रहें ताली,थाली,शंख बजाने के सारे अभियान पूरे हो जाने के बाद अब भरोसा वैक्सीन यानि दवाई से ही आया है!! पाखण्ड विज्ञान की शरण मे.)
The tweet is archived here.
The image is viral on Facebook with similar claims.
BOOM ran a reverse image search and found an article published on January 10, 2013.
The article was headlined as, "Malegaon blast accused Sadhvi Pragya has cancer" and carried the viral image. The image was captioned as, "In this January 9, 2013 photo, 2008 Malegaon blast accused Sadhvi Pragya Singh Thakur is being taken to the Jawaharlal Nehru Cancer Hospital for medical examination, in Bhopal."
The report said, a mammography test was performed for her ailment and doctors at the hospital have advised her to get admitted for further treatment but she had refused to be admitted stating that she would require to perform a ritual.
The image was republished on an article by Amar Ujala on May 2016.

BOOM did not find any recent reports on Thakur's health and her being treated in Kokilaben or AIIMS hospital. In a report published on Aajtak on December 2020 Thakur was admitted to AIIMS for treating her retina. In June 2020 she fainted during a party event and was rushed to a hospital.
Also Read: ABP Ananda Peddles Old Video From Uruguay As Cyclone Yaas In Odisha
Do you always want to share the authentic news with your friends?
Subscribed Successfully...
Enter Valid Email Id