Fact Check For Rahul Gandhi: There Is No Dynasty In Infosys
Blame Infosys promoters for edging out a professional board and CEO, but they cannot be accused of promoting dynasty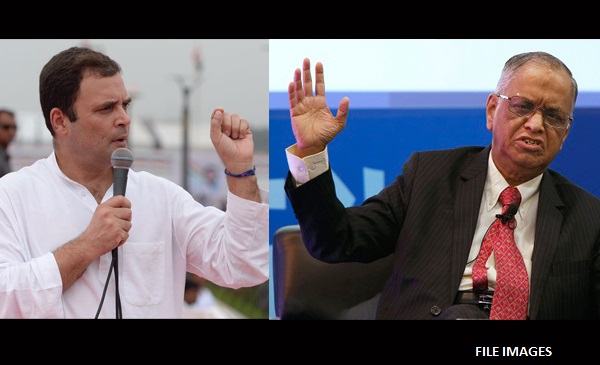 File Image: Rahul Gandhi & N R Narayana Murthy
Congress Vice-President Rahul Gandhi in a Q&A session at University of California in Berkeley on September 11, took on the controversial question of dynasty, defending his lineage and leadership in the Congress.
Gandhi also made an effort to justify dynastic politics by arguing that India has always been run by dynasties across various fields.
Rahul Gandhi on existence of dynasty in every sphere #RGinUS at @UCBerkeley pic.twitter.com/u0MUcQpIpX

— Congress (@INCIndia) September 12, 2017
"Most parties in India have that problem So…Mr. Akhilesh Yadav is a dynast. Mr. Stalin is a dynast, Mr Dhumal's son is a dynast… even Abhishek Bachchhan is a dynast. So that's how India runs. So don't get after me because that's how they India is run. By the way, last, I recall, Mr. Ambanis kids were running the business. That's also going on in Infosys. So that's what happens in India," Gandhi said in a reply on dynasty.
So Gandhi mentioned 6 cases to drive home his point. While the Congress vice-president maybe justified to cite the other cases, he has clearly got his facts wrong about Infosys.
Infosys recently emerged out of an open war between its promoters lead by N R Narayana Murthy and professionally managed board of directors – a war that not only resulted in the exit of its first outsider CEO Vishal Sikka but also the Chairman of the board R Sheshasayee and other board members. This also resulted in former CEO and promoter Nandan Nilekani making a comeback as non-executive chairman in a bid to steer the ship.
The IT company's six promoters have also been praised in the past for not bringing in any of their children in management positions despite having a firm grip over the company. Yes, they were accused of playing musical chairs in a bid to give all the promoters an equal chance of heading the company – in hindsight, a move that cost the company dearly in the post 2008 global financial crisis even as rival TCS widened its lead in terms of revenue and market cap.
The only time allegations of dynasty emerged, were in 2013 when Narayana Murthy was brought back to head the board, seven years after he gave up his executive position in the company. This was done to assuage shareholders who were upset with the way the company trailed its rivals. Murthy had then appointed his son Rohan Murty as his executive assistant, inviting suspicion if the move was part of succession planning. But in June 2014, Murthy brought in Vishal Sikka as CEO and exited the company's board along with his son, putting to rest all speculations about the possible emergence of dynasty in the company.
While Murthy's conduct in recent times has come under severe criticism, one can never accuse him of having done anything openly to promote his son or daughter in the company. The success of Infosys over the years has also been Murthy's rigid stand on corporate governance and separation of ownership and management. If at all, Murthy and his co-promoters can only be accused of not willing to give up control and allow the company's CEO and board a free hand in running a public listed company.