Why Is Jack Dorsey Trending After...
Why Is Jack Dorsey Trending After PM Modi Meets Elon Musk?
Former Twitter CEO Jack Dorsey makes it up to the Twitter trending list yet again as Elon Musk reacted to his controversial interview.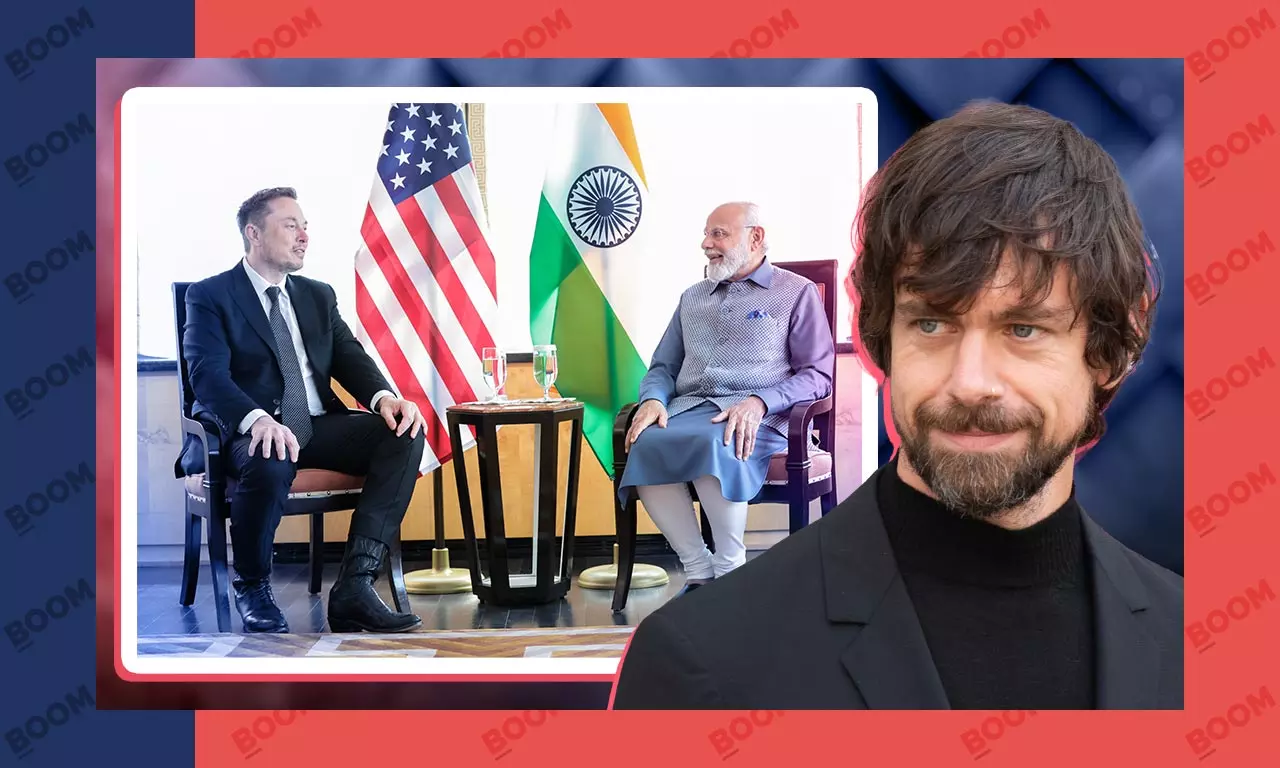 While Twitter is flooded with photos of Yoga Day and updates from Prime Minister Narendra Modi's visit to the United States, Jack Dorsey, the former Twitter CEO is the top trend on the social media platform.
Amidst the trending Twitter hashtags of #InternationalYogaDay and #ModiInUs, Jack Dorsey started trending soon after the news of PM Modi meeting the new Twitter chief Elon Musk.
According to Google Trends, people have been searching 'Who is Jack Dorsey', 'Jack Dorsey Elon Musk' and 'Jack Dorsey Statement'.
It is Dorsey's controversial interview that brought his mention back amongst Twitter users. Earlier this month, Dorsey said that when he was CEO of Twitter, he received requests from the Indian government to restrict accounts of people documenting the farmers' protests which happened in 2020 and 2021 against three farm laws. This, he alleged, was followed up by exerting pressure and threatening to raid Twitter employees.
Prompted by the three controversial laws, farmer protests had started in November 2020 by thousands of farmers who had been camping at Delhi border points. After the year-long protest, Prime Minister Narendra Modi, in November 2021, repealed the three contentious farm laws, acknowledging the failure to convince the farmers.
Dorsey made these remarks in an interview with the YouTube channel Breaking Points. During the interview, the former CEO was asked about the pressures he had received from foreign governments during his time as CEO of Twitter.
"It manifested in ways such as: 'We will shut Twitter down in India', which is a very large market for us; 'we will raid the homes of your employees', which they did; And this is India, a democratic country," Dorsey said in the interview. The Indian government had dismissed his comments, saying that it was an 'outright lie'.
Though the Indian government said Dorsey's claims were "outright lies", a reply to an RTI filed by BOOM on the number of social media accounts—particularly those on Twitter—blocked, says otherwise. BOOM on April 12 had filed an RTI with the Ministry of Electronics and Information Technology (MEITY) seeking the number of Twitter accounts blocked between 2018-2023 and the reasons for the same.
According to the RTI reply received on May 11, the Indian government under Section 69A of the Information and Technology (IT) Act blocked 6,775 URLs in 2022 which include webpages, websites, accounts, channels, pages on social media platforms etc. as compared to 2,799 URLs in 2018.
Speaking to India Today's Foreign Affairs Editor Geeta Mohan, Musk responded to Dorsey's claims on Wednesday. He said, "Twitter doesn't have a choice but to obey local governments. If we don't obey local government laws, then we will get shut down." Musk met PM Modi on Day 1 of the latter's three-day state visit to the US.
Post the meeting with Modi, the Twitter owner said following the laws of any given country is their only resort if they want to work there. "There are different rules and regulations for different forms of governments, and we will do our best to provide the freest speech that is possible under the law," he said.
'I am a fan of Modi': Musk
In an interaction with media post his meeting with PM Modi, Musk also said that he is a "fan" of the Indian prime minister, adding that Modi offered him an invitation to visit India, which he plans to do next year.
He said, "I'm tentatively planning to visit India again next year. I'm looking forward."
Talking about Tesla's venture into Indian market, he said, "I am confident that Tesla will be in India and will do so as soon as humanly possible. I would like to thank the prime minister for his support and hopefully we will be able to announce something in the not so distant future."
Tags

Do you always want to share the authentic news with your friends?
Subscribed Successfully...
Enter Valid Email Id
---