Explainers
Heard That Viral Vanshika's Breakup Call? It Was A Myntra Ad Campaign
The audio clip of Vanshika's 'break up' that went viral was actually a campaign by Myntra. Can such seeding advertisements be dangerous?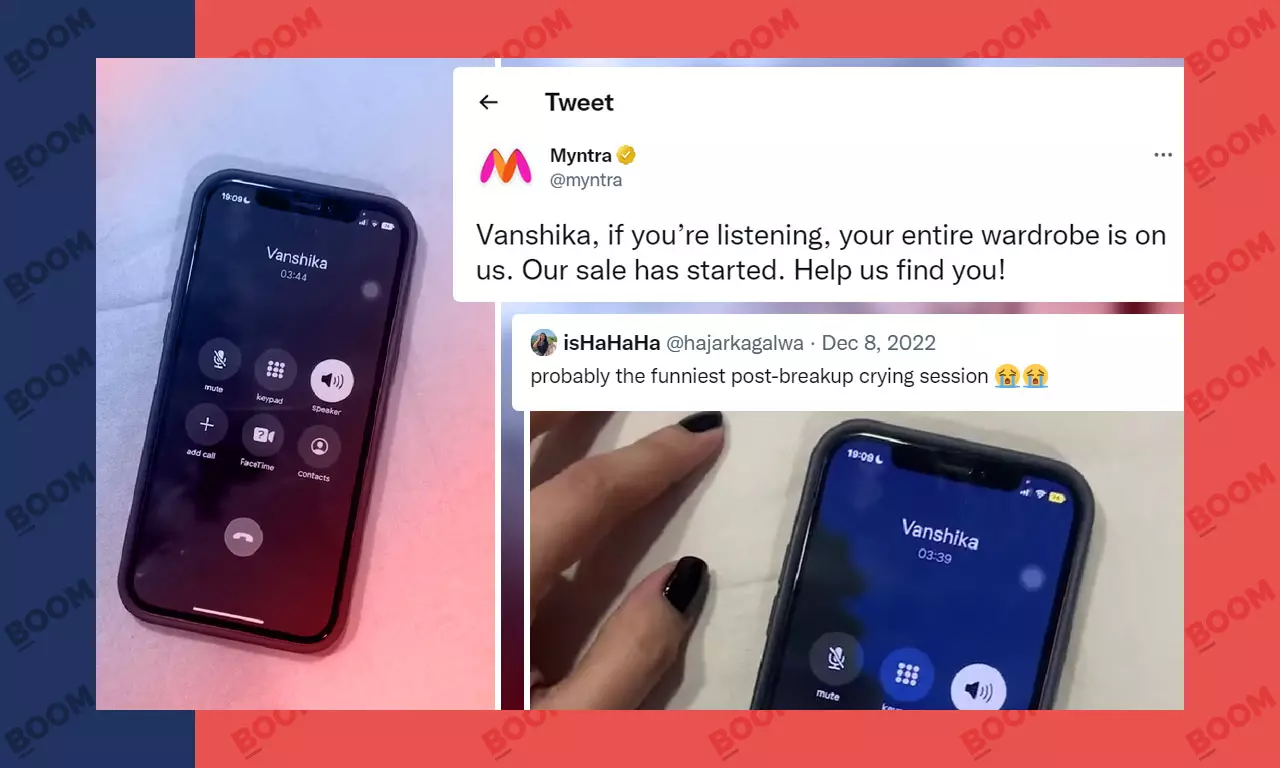 In the first week of December, a post-breakup conversation between a girl called Vanshika and her friend was apparently leaked online. In the recording, Vanshika cries to her friend after her boyfriend Akaash breaks up with her just before their 'two-month relationship anniversary'. She says that all her efforts at waxing, threading, and even learning about football went in vain. And then she says that she regrets not waiting for the Myntra sale to buy the expensive shoes.
It instantly went viral.
The 2.20-second phone conversation was tweeted by the Twitter handle '@hajarkagalwa' on December 8, 2022, with the caption, "probably the funniest post-breakup crying session??." The handle had around 33,000 followers in December 2022.
Except for that one mention of Myntra, nothing in the clip suggested that it could be choreographed.

Click here to view
The viral clip launched several memes with brands from Myntra, Netflix and Dunzo jumping into the trend to offer their support to 'Vanshika'.
"Vanshika, if you're listening, your entire wardrobe is on us. Our sale has started. Help us find you!" Myntra quote tweeted @hajarkagalwa and responded.
Click here to view
A Myntra Marketing Campaign
Some people on social media had back then rightly pointed out that the clip could be a marketing campaign by Myntra. "Is this Vanshika call some staged thing? Myntra sale ad someone said? Because if not, this is a terrible breach of someone's privacy," tweeted Sohini (@Mittermaniac).
Nearly a month after the viral tweet was posted, Saksham Jadon, founder of the "meme marketing" agency Youngun, which has worked with brands Myntra, Netflix, and Spotify, revealed that "Vanshika" was actually an ad campaign for Myntra.
In the interview, the founder explains that "meme marketing" involves seeding advertising by "creating an ad which does not look like a typical ad".
Meme Marketing and 'Seeding' advertising
Citing an example of a campaign for credit card payment app company CRED, Jadon said that "We seeded these ads online through meme channels but the rest of the conversations were all organic". He pointed out that the ad they created was picked up by a Twitter meme page with 2.6 million followers helping boost CREED marketing campaign.

"The idea is to focus on creating more campaigns such as CRED's Bidblast and Myntra's Vanshika campaign. We aim to make such services our USP in the advertising industry," he told Storyboard18 in the interview.
Youngun calls itself a 'meme marketing agency' on its official website.

Click here to view
The Twitter influencer who tweeted the 'Vanishka' video

The same seems to have occurred during the 'Vanshika' campaign where the Twitter influencer @hajarkagalwa tweeted the 'Vanshika' breakup video which later went viral.
After this revelation, BOOM checked old tweets and other interactions of the Twitter handle "@hajarkagalwa" which posted the 'Vanshika' video. We found several instances in the past where Isha had interacted with the official handle of Myntra.
These interactions pre-date the December 'Vanishka breakup' tweet, and they go back to September 2022 and January 2022.
Click here to view.
Myntra had quote tweeted a tweet reply from Isha where she had responded to a tweet by Myntra which is sort of a social media campaign.

Click here to view
Back in January 2022, Isha interacted with Myntra's Twitter account thanking it for sending an item she had ordered.
Click here to view
We also noticed that this account quote tweets and retweets content put out by several brands posted on their official Twitter accounts.
Another ad campaign by Youngun for Subway, which has been referred to in the Storyboard interview is a young woman tweeting a photo of her eating at a Subway asking people to edit out a man in a helmet standing behind her in the distance.
Like the Myntra 'Vanishka' campaign, this too uses a Twitter influencer account for the seeding technique to the campaign.
The Twitter handle '@harshitasaratka' on December 20, 2022, tweeted with the caption, "can someone pls remove that guy in the background and let me enjoy my sub???"
The tweet was later quote-tweeted by Subway India's official handle, a similar advertising pattern to Myntra. The quote tweet got around 62.8 thousand views.
But, What About Disclosure For Ads?

In both these cases, there is no disclosure of whether this was an ad/promotion or whether they were connected to the brands.
A few days after Youngun founder Jadon's interview came out, Communications strategy consultant Karthik Srinivasan published on his blog a piece titled 'Exploring the fundamentals of meme marketing'. Using examples of Vanshika Myntra campaign and Subway campaign, he says that the idea of 'seeding advertising' using influencers to promote on social media without disclosure is disruptive and runs counter to the Advertising Standards Council of India's (ASCI) guidelines.
"Now that we know for sure that the 'Vanshika' video was not some organic piece of content/meme and was initiated by Myntra, via the agency Youngun, shouldn't '@hajarkagalwa' add a clear disclosure that "probably the funniest post-breakup crying session ??" was advertising Myntra's sale?" questions Srinivasan in his blog.
He also points out that the ASCI mandates a disclosure when social media influencers work with brands and agencies in advertising. He terms this advertising strategy as 'subterfuge' which he states, "is to create an impression about something being natural and organic and use that misdirection to propel virality."
The ASCI's guidelines which Srinivasan refers to are for influencers and labels. It says that while posting ads on social media they should make a clear disclosure to the public.
The guidelines go on to list various criteria that influencers and companies need to adhere to for ad campaigns that they post on their social media accounts — Facebook, YouTube, Twitter, and Instagram.
Here are the guidelines:
Click here to view
Karthik Srinivasan told BOOM that the ASCI guidelines are for standard TV or print advertising and do not take into consideration digital marketing through influencers.
"ASCI is thinking of product promotion as a print ad or TV ad. From that template, they are thinking celebrities will stand in front of a camera and later post that on Twitter, Instagram and TV, that's their basic approach. But now they are seeing something completely different, I don't think they have even conceived of this idea (seeding advertising)," he said.
Srinivasan claims that agencies often pay money to large influencers in the case of seeding advertisements. "The idea is that most agencies in the name of seeding their product on social media what they do is actually pay these large influencers a fairly big chunk of money for two things - one to reply and a second to retweet," he says.
He explains that in the case of a tweet reply by an influencer to an official brand handle's tweet, it is more of a gray area to identify or disclose in the standard guidelines that have been set.
"In a reply, it becomes quite interesting like somebody with one million followers suddenly replying to a brand handle with only 30 followers, this would give that particular tweet a sudden boost. That's the seeding technique. So once they create content on behalf of a client and take it to live on Twitter, what they do is pay 10 different influencers with a large following to actually spur a conversation," he said.
He says that influencers tweet replying is a gray area that ASCI has not even considered. "Even more gray area is retweeting which is quite amazing because these influencers don't need to add any text at all, click on retweet and it goes to one million users instantly. ASCI needs to look beyond to make them accountable," he said.
Srinivasan cited the example of the marketing technique used by Uber of not being a formal player in the transport sector and yet it took over the market space, and how a similar technique is being used for seeding advertising.
"Uber's modus operandi to become a serious player and then everybody started saying they have taken over by completely not being a formal player at all. This is something similar in terms of a gray area with (seeding advertising) because that's probably where they are also heading that the idea will become so big that nothing can be done," he says.
Can Seeding Advertising Be Dangerous?
Srinivasan explains that such a Myntra or a Subway ad is harmless. "But imagine a crypto or a medical product that can harm people in some way. So you need to proactively do something," he said.
However, he says that because a retweet is new gray area, he isn't sure what ASCI can do in such a scenario.
"The problem also is the very idea that it seems organic is why it goes viral. So when you remove the veil of naturalness, it may not go viral. This is their business model in itself. If ASCI comes and says you need to add a hashtag, for example, the subway tweet would not go viral at all. If it's an honest disclosure and people then decide to interact with the ad and choose to engage with advertising which is not wrong at all and perfectly fine," he adds.
"ASCI doesn't have that kind of power, all they can do is fine. But whether they track the fine, whether they are paid or not, or whether they can go beyond just wrapping these influencers is not something that's known. So all they might do is probably release another news report saying we have come up with new rules." Srinivasan says about potential steps ASCI could take.
BOOM reached out to ASCI for a response regarding how the advertising guidelines would come into play in the case of the Myntra 'Vanishka' ad campaign but they haven't responded yet. We also reached out to Myntra for a response. The story will be updated upon receiving the responses.
Do you always want to share the authentic news with your friends?
Subscribed Successfully...
Enter Valid Email Id