Explainers
6 FIRS, 150 Arrests: Search For Amritpal Singh Explained In Numbers
Pro-Khalistan leader Amritpal Singh has been on the run since Saturday after Punjab Police launched a crackdown to nab him.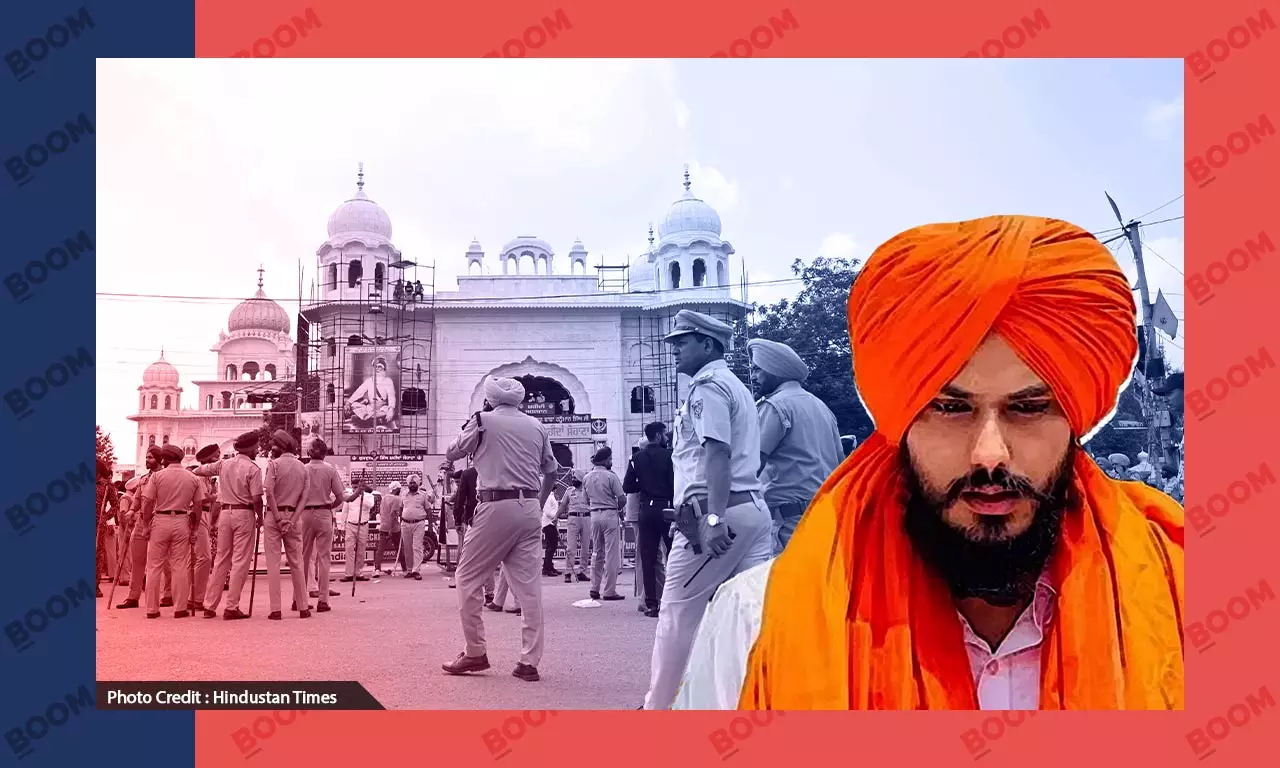 Punjab separatist leader Amritpal Singh has been on the run since March 18 after police invoked National Security Act (NSA) against him. The internet was snapped across Punjab on March 18 in light of the incident and has now been restored in parts of the state. Several of Singh's aides were arrested in a massive crackdown on the Khalistani organisation 'Waris Punjab De'.
Meanwhile, the Punjab and Haryana High Court on Tuesday pulled up Punjab Police over its failure to apprehend separatist leader Amritpal Singh. "You have a force of 80,000 police. How he has not been arrested?" the high court asked Punjab Police. "The entire police is after him. If he (Amritpal Singh) has escaped, this is intelligence failure...," the high court observed.

As efforts to nab Singh are on, here is a look at the case in numbers:

Over 150 arrested
Police have said that more than 150 people have been arrested in Punjab for "disturbing peace and harmony" amid the ongoing crackdown. The Indian Express quoted Punjab Police IG Sukhchain Singh Gill saying that NSA had been imposed on Daljit Kalsi, Bhagwant Singh alias Pardhanmantri Bajeke, Basant Singh Daulatpura, Gurmeet Singh Bukkanwala and Harjit Singh, Amritpal's uncle. They have been lodged in a jail in Dibrugarh, Assam.
Six FIRs
Singh, a pro-Khalistan activist, is facing six criminal cases. The cases include an attempt to murder case and assault on police officials. One of the first cases filed against Singh was of kidnapping by a person named Varinder Singh on February 16, The Tribune reported. He has now been booked under cases under the Arms act and rash driving.
The Punjab government has said that it invoked provisions of the National Security Act (NSA) against Singh while the state is also probing his role in five criminal cases.
Four days of crackdown
It has been four days since Singh escaped police arrest. Reports said that Singh switched multiple vehicles on Saturday as he gave slip to the cops who were tracking him. From Mercedes to Brezza SUV and a motorcycle, Singh tried "changing appearance" to get away from the police, The Tribune reported.
Mobile internet and SMS services were suspended in the state since Saturday as the police said the clampdown was imposed to "prevent any incitement to violence and any disturbance of peace and public order." The ban was lifted in most parts of Punjab by Tuesday afternoon, The Hindu reported.

Over 10 Twitter handles suspended
Over 10 Twitter handles, including of some journalists, news organisations and activists from Punjab, have been withheld. Among the suspended Twitter handles are that of Canadian politician Jagmeet Singh, poet Rupi Kaur, voluntary organisation United Sikhs and MP from Sangrur Simranjit Singh Mann. The disclaimer upon clicking on their Twitter accounts says 'Account Withheld - This account has been withheld in Indian in response to a legal demand'.
Newslaundry reported that Twitter accounts of Indian Express reporter Kamaldeep Singh Brar, Pro Punjab TV bureau chief Gagandeep Singh, freealnce journalist Sandeep Singh and digital activist Pieter Friedrich were also suspended.
Who is Amritpal Singh?
A pro-Khalistan leader and chief of WPD, Singh in his speeches would often stoke passion as he spoke about the alleged atrocities against the Sikh community in Punjab, especially during the rule of late Prime Minister Indira Gandhi in the early 1980s. Born in Amritsar's Jallupur Khera hamlet in 1993, he studied in a school near his village, Feruman in Punjab. In 2008, he took admission in Lord Krishna Polytechnic to study mechanical engineering in Kapurthala, Punjab. But he did not complete his degree and went away to Dubai in 2012 where he helped his family's transport business. He came to India on separate occasions in 2013, 2016 and 2019. In 2022, he decided to return to India permanently.
During the pandemic, Singh rose to prominence as one of the "voices in favour of the Sikhs" and someone who would carry forward the legacy of a well-known actor and activist, Deep Sidhu, who died in a road accident in February 2022. Sidhu also headed an outfit named 'Waris Punjab De' and was a prominent voice during the farmer protests.
Do you always want to share the authentic news with your friends?
Subscribed Successfully...
Enter Valid Email Id