From Earth to Mars: The ISRO Story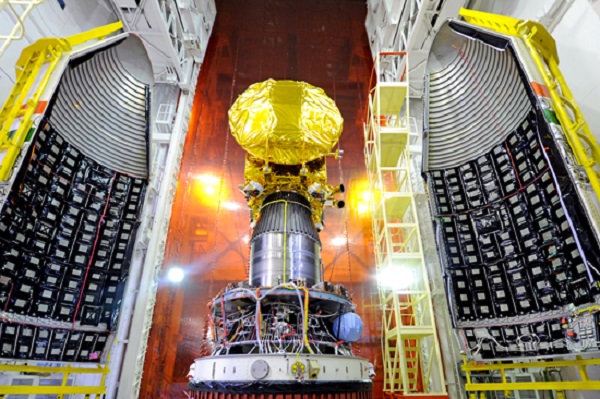 The Mars Orbiter attached to the PSLV C25 launch vehicle.
On April 1, 1975, the Indian Space Research Organisation (ISRO) was formally recognised as an independent research entity. Forty years later, it has made giant strides in consolidating India's space capabilities, making us one of the world's leading spacefaring nations.
The Mangalyaan, better known as India's Mars Orbiter Mission completed 800 orbiting circles of the red planet in April. The month also marked 40 years since India's first satellite, Aryabhatta, was launched for us by the Soviet Union. A look at India's space program today makes it hard to imagine the humble beginnings of the ISRO. From using a church to house its space program's headquarters, to bringing a satellite to the launch station on a bullock cart, the ISRO today has come a really long way.

The humble beginnings of ISRO. (Source: Indian Defence News)
Working under low budgets, the Indian space program used the St. Mary Magdelene church, in Thiruvanathpuram, Kerala as its main office in its early years. In 1964, India launched its first rocket from the Thumba Equatorial Rocket Launching Station. The parts of the rocket were brought to the launch pad on a cycle and assembled at the launch station marking our first rather humble venture in space technology.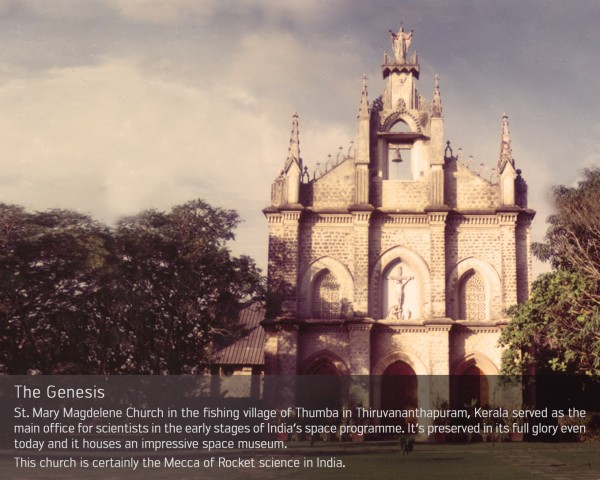 St. Mary Magdelene Church in Trivandrum (Source: ISRO)
India's first satellite was named Aryabhatta, built and completed by the ISRO with Soviet assistance in 1975. It was launched on April 19 that year from Kapustin Yar by the Soviet Union. Since then, the ISRO has spearheaded India's space program and consolidated it's position as a globally recognized and trusted space launching platform.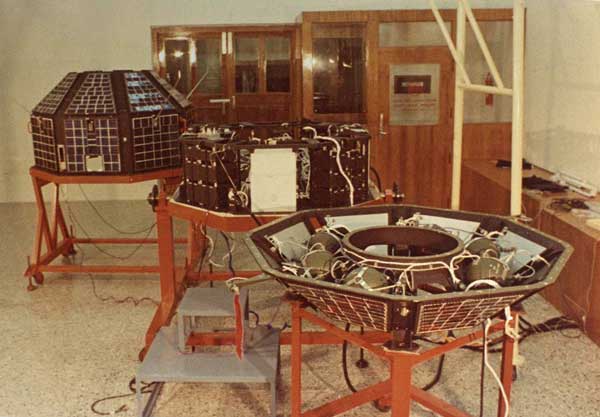 Aryabhatta - India's first satellite. (Source: ISRO)
ISRO: The early years
Table 1

| Project | Year | Application | Comments |
| --- | --- | --- | --- |
| Bhaskara 1 | 1975 | Experimental/Earth Observation | N/A |
| Rohini | 1980 | Experimental | First successful launch of SLV3 |
| APPLE | 1981 | Experimental/Geostationary Communications | N/A |
| INSAT1A | 1982 | Communication Satellite | N/A |
| INSAT1B | 1983 | Communication Satellite | N/A |
| Indo-Soviet Mission | 1984 | Experimental | First Indian in space |
| IRS1A | 1988 | Remote Sensing Satellite | N/A |
| INSAT1D | 1990 | Communication Satellite | N/A |
| IRS1B | 1991 | Remote Sensing | N/A |
| SROSS C | 1992 | Multi Purpose | First successful ASLV mission |
| INSAT2A | 1992 | Communication Satellite | First indigenous satellite |
| INSAT2B | 1993 | Communication Satellite | Indigenously built |
| IRSP2 | 1994 | Remote Sensing Satellite | 1st successful PSLV mission |
| | | | |
Recent activities by the ISRO
In the last three years, the ISRO has launched 11 Indian satellites for various commercial and strategic purposes including communication, mapping and remote sensing. These include:
Table 2

| Sr No. | Project | Launched By | Cost (Rs.Cr) |
| --- | --- | --- | --- |
| 1. | RISAT1 | PSLV | 90 |
| 2. | SARAL | PSLV | 85 |
| 3. | GSAT10 | Procured Launch | 406.82 |
| 4. | IRNSS1A | PSLV | 90 |
| 5. | Mars Orbiter | PSLV | 108.4 |
| 6. | GSAT14 | GSLV | 173.5 |
| 7. | GSAT7 | Procured Launch | 485 |
| 8. | INSAT3D | Procured Launch | 485 |
| 9. | IRNSS1B | PSLV | 90 |
| 10. | IRNSS1C | PSLV | 90 |
| 11. | GSAT16 | Procured Launch | 581 |
ISRO's utilization of funds allocated towards it by the government has been highly effective. In the last three years the output that ISRO has provided is indicative of this fact.
Table 3

| Year | Revised Budget Estimates (Rs.Cr) | Amt. Unspent (Rs.Cr) | %Utilization |
| --- | --- | --- | --- |
| 2011-2012 | 4432.03 | 641.24 | 85.53 |
| 2012-2013 | 4880.03 | 23.75 | 99.51 |
| 2013-2014 | 5172 | 3.05 | 99.94 |
The Antrix Corporation
The Antrix Corporation, formed in 1992, is the commercial wing of the ISRO and conducts launches of satellites and payloads for other countries. The services rendered by Antrix serve as a valuable source of foreign exchange and a medium for India's soft power projection.
Antrix began commercial space launches in 1999 and has since launched over 40 missions for 20 countries across the world. The projects have earned significant revenues and foreign exchange. According to data available, the following are the revenues generated by Antrix between 2007-2014:
Table 4

| Sr No. | Year | Revenue (Million USD) |
| --- | --- | --- |
| 1. | 2007-2008 | 20.56 |
| 2. | 2008-2009 | 24.42 |
| 3. | 2009-2010 | 12.15 |
| 4. | 2010-2011 | 17.99 |
| 5. | 2011-2012 | 2.19 |
| 6. | 2012-2013 | 3.99 |
| 7. | 2013-2014 | 5.57 |
Antrix has also undertaken various technology development programs for other countries. These include establishment of ground stations for receiving data from the IRS remote sensing satellites, building of two communications satellites for European customers, providing tracking support for over 70 space missions of foreign clients, providing d2h services and telecommunication services in India as well as abroad and consultation services for Indian and foreign clients.
Indian industry players and the ISRO
ISRO's relations with private industry players goes back to the initial days of the Indian space program. Firms like Godrej, Larsen & Tubro and Tata have played crucial roles in developing ISRO's technological prowess. The ISRO is now focused on enhancing the participation of Indian private industry players in the space sector. The move is aimed at integrating Indian industry players into manufacturing of standard components and mechanisms, so that the ISRO can improve its own focus on cutting edge research and development activities.
The Mars Orbiter Mission (MOM), which was completed successfully at a mere US$24 million is an example of how the involvement of Indian Industry can substantially improve the efficiency of ISRO's operational methods. Key components of the MOM including supply of various systems like composite systems, antenna subsystems, propulsion subsystems, optical payload subsystems and inertial sensor subsystems were provided for by Godrej, Larsen & Toubro, General Optics Asia Limited, Tata Advanced Material Limited among others.
ISRO: Looking ahead
The future space programs to be undertaken by ISRO envisages development of advanced launch vehicle systems including next generation Geosynchronous Satellite Launch Vehicle (GSLV MkIII), capable of delivering heavier payloads,, earth observational satellites with improved resolution, advanced communication satellites, completion of the Indian Regional Navigation Satellite System (IRNSS constellation), development of space transportation systems and satellites for planetary exploration purposes. Some of the important projects envisaged include the Astrosat, Chandrayaan-2 & Aditya-1.
One of the most significant projects on-going with the ISRO is the IRNSS satellite constellation, which aims to reduce India's dependence on the US based GPS systems. The constellation of seven satellites will provide real time location data, accurate up to 20 meters within India and extending 1500 km into the Indian subcontinent, in addition to being a secure means of procuring mapping data for the Indian security establishments.
The ISRO has also successfully tested the indigenous cryogenic engine system, which will be capable of carrying larger payloads (4-5 tonnes) significantly boosting India's space launch capability. The project is a source of pride for the Indian scientific community as one that took over two decades to complete and bore witness to one of India's most severe spy scandals. The engine will also be part of the third stage of the GSLVD5 launch vehicle. The successful launch of the GSLVD5 has also significantly improved India's space launch capability by ensuring self reliance in launching communication satellites up to 2000 kg into geosynchronous transfer orbit.
The ISRO has also improved India's communication capability by extending coverage of satellite television (D2H) to 100% of the Indian land mass. In addition, about 1.75 Lakh satellite communication terminals are supporting various applications like village telephony, data connectivity, broadband connectivity, Automatic Teller Machines (ATM) of banks, etc. It also estimated that up to 56000 classrooms have achieved satellite connectivity, another step toward achieving the goal of smart classrooms and education in India. ISRO has also been working on improving the tele-medicne network in India that will connect patients at a remote hospital to a specialty hospital for tele-consultation. 60 specialty hospitals connected to 308 remote and rural hospitals and 16 Mobile Vans.
ISRO has signed various agreements with international space agencies, including NASA and the Chinese National Space Agency. The important agreements with NASA include the NASA- ISRO Synthetic Aperture Radar (NISAR) mission for scientific studies on Earth, signed in September 2014, Agreement for Spacecraft Communication and Navigation support for India's Mars Orbiter Mission, signed in June 2013 and the Framework Agreement for cooperation in the exploration and use of outer space for peaceful purposes, signed in February 2008, among others.
ISRO has also signed a Memorandum of Understanding (MoU) with the China National Space Agency (CNSA) on cooperation in the peaceful use of outer space on September 18, 2014 at New Delhi. The agreement paves the way for possible collaboration in research and development of scientific experiment satellites, remote sensing satellites and communications satellites and launch, tracking and control services for satellites including in-orbit operation and management.
ISRO: Scandals and Controversies
Despite these successes, the ISRO has had its fair share of controversies. The most recent incident saw the CBI register a case against senior officials of the ISRO in a scandal involving the Antrix corporation's fraudulent allocation of the S-band frequency to Devas Multimedia, a satellite technology company, which made false claims about its proprietary technology. The case rocked the Indian scientific community and had ramifications reaching up to the highest levels of government. In other cases, employees have been falsely accused of espionage and complaints of work pressure have gone unheeded resulting in large scale dissatisfaction among the work force.
The ISRO has a workforce of approximately 15000 employees. Between 1995 and 2010, 684 scientists of the ISRO have died (almost 45 per year) and the organization has so far withheld the cause of deaths. Reports have attributed this to work pressure, however no official statement has ever been issued on the causes. The organization has also been the center of controversy involving spy scandals and false allegations which have significantly affected the morale of senior scientists and slowed down the progress on the indigenous cryogenic engine, which was finally successfully tested in May 2015. These issues are similar to those faced by scientists in the Indian nuclear establishment. Despite the sensitive nature of these incidents the Indian government is yet to make any official statement or inquiry into the matter.
Dr. Radhakrishnan, the Chairman of the ISRO, recently stated that the organisation is now on the lookout for younger minds to add to its team. He added that the technologies developed by students at tech-fests would be taken up by the ISRO if found to be suitable. On an average India has 1.5 million engineering pass outs every year. If the ISRO manages to successfully tap into this pool of talent it may not be long before India realises its first manned space mission.