Fact Check
Doctored Video Of Kanhaiya Kumar Speaking On Islam Revived
A doctored and misleading video of Kanhaiya Kumar speaking about Islam is viral again.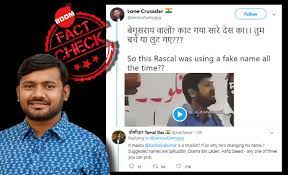 A video on Twitter purporting to show Kanhaiya Kumar has embraced Islam, is fake and doctored.
The video is a compilation of three separate statements made by the Communist Party of India (CPI) candidate from Begusarai, Bihar, last year. BOOM had previously debunked the same viral clip in November 2018.
A Twitter account named 'L̶o̶n̶e̶ Crusader' tweeted a video with the caption, 'बेगूसराय वालों? काट गया सारे देस का।। तुम बचे या लुट गए??? So this Rascal was using a fake name all the time??'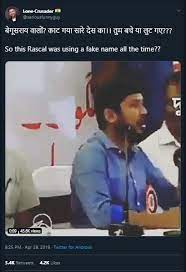 Click here to view, and here for an archive.
The tweet with the 35-second clip already gained around 3,400 retweets and 4,200 likes, at the time writing this article.
The same clip is now viral on Facebook as well.
Click here to view an archive.
This misleading tweet came at a time when Bihar's Begusarai went to polls on Monday in the fourth phase of general elections on April 29, 2019.
Kanhaiya Kumar appears to be saying the following in the viral clip.
"Our history is linked to this place. We all haven't walked all the way from Arab to this country. We have grown up here and the specialty of that religion…and the older religions that practiced untouchability was the reason why people embraced this religion. Because this (religion) talks of peace, of equality. In the mosque, social hierarchy is not practiced. On this basis we have embraced this religion and we will not leave it."
However the video is a compilation of three separate clips which have taken Kanhaiya's statements out of context. Jump cuts in the video can be seen at 26 and 31 seconds.
The clips have been culled from a speech made by Kanhaiya in August last year at Naded, Maharashtra where he spoke about Islamophobia and the importance of education for the Muslim community in India.
In the first clip Kanhaiya is not speaking about Islam as his own faith but rather loosely quoting Maulana Abul Kalam Azad.
Watch the video below (YouTube counter 11.49)
The other two clips where Kanhaiya says, "We will save ourselves as well as our community and the country and this is our moral responsibility. Allah has a lot of power" and "Allah taala will keep us safe" are also taken out of context.
Kanhaiya speaks about politicians that project themselves to be saviors of the Muslim community. It is in this context that he advises Muslims to oppose such leaders and urges them to press such candidates to speak about education and jobs.
Claim :
Video shows Kanhaiya Kumar is actually a Muslim
Claimed By :
Twitter users
Do you always want to share the authentic news with your friends?
Subscribed Successfully...
Enter Valid Email Id