Digvijaya Singh Shares Picture Of Damaged Metro Pillar From Pakistan As Bhopal
Once again the picture of a damaged metro pillar from Pakistan resurfaces. This time Congress leader Digvijaya Singh falls for it.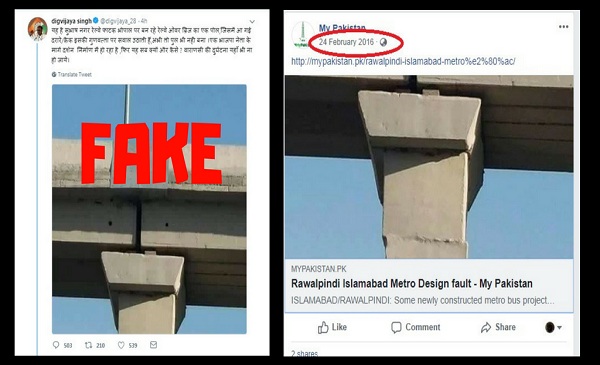 Veteran Congress leader Digvijaya Singh on Sunday shared an old photograph of a shoddily constructed metro pillar from Pakistan and claimed it was from Bhopal.
The former chief minister of Madhya Pradesh's tweet in Hindi reads as, "This is one poles of the bridge being built over Subhash Nagar railway crossing in Bhopal. The bridge yet to be completed already has cracks in it, raising questions over its quality. How is this happening when this is taking place under the guidance of a BJP leader? (Hope that ) the accident that took place in Varanasi is not repeated here."
यह है सुभाष नगर रेल्वे फाटक भोपाल पर बन रहे रेल्वे ओवर ब्रिज का एक पोल,जिसमें आ गई दरारे/क्रैक इसकी गुणवत्ता पर सवाल उठाती हैं,अभी तो पुल भी नही बना ।एक भाजपा नेता के मार्ग दर्शन निर्माण में हो रहा है ,फिर यह सब क्यों और कैसे ? वाराणसी की दुर्घटना यहॉं भी ना हो जाये। pic.twitter.com/oycXREebp0

— digvijaya singh (@digvijaya_28) June 10, 2018
However, the same photo was earlier shared in 2016 and 2017 as Delhi Metro and Hyderabad Metro respectively.
Fact-checker SM Hoaxslayer traced the image in July 2016 to Pakistan along the Rawalpindi to Islamabad Metro line.
This is not in Hyderabad neither in Metro nor in PVNR. Actually it's in Rawalpindi, Pakistanhttps://t.co/q8wilsOq0T https://t.co/WKGrXmn8rf

— KTR (@KTRTRS) August 3, 2016
At the time of writing this story, Singh's tweet had nearly 500 replies from Twitter users who pointed out that it was fake.
But it was Madhya Pradesh Chief Minister Shivraj Singh Chouhan who had the last word as he posted both photos and tweeted that let alone on the ground, they (Congress) couldn't even build a bridge on their Twitter handle.
पता नहीं इनको ऐसा क्यों लगा कि मध्यप्रदेश में आज भी उनके ज़माने जैसी धाँधलियाँ होती होंगी!

यह वह हैं जो ज़मीन पर तो छोड़िए, अपने ट्विटर हैंडल पर भी पूल ठीक से नहीं बना पाए। pic.twitter.com/3xhjKUoa5M

— ShivrajSingh Chouhan (@ChouhanShivraj) June 10, 2018