Did PM Modi Pay Tribute To Nathuram Godse? A FactCheck
Several posts showing the PM garlanding a bust of BJP ideologue Deen Dayal Upadhyaya, and paying tribute to VD Savarkar have been passed off as Modi paying obeisance to Nathuram Godse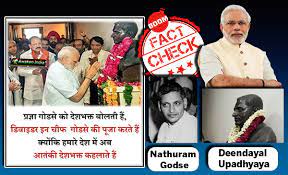 A viral post that purports to show Prime Minister Narendra Modi paying tribute to a bust of Nathuram Godse - Mahatma Gandhi's assassin, is fake. The bust is that of former Bharatiya Jana Sangh leader and Rashtriya Swayamsevak Sangh (RSS) member Deen Dayal Upadhyaya.
The caption with the post reads, "Pragya calls Godse a patriot, divider-in-chief (a reference to Time magazine's cover) pays tribute to Godse, because terrorists are now called patriots in our country."
(Hindi: प्रज्ञा गोडसे को देशभक्त बोलती है, डिवाइडर इन चीफ गोडसे की पूजा करते हैं, क्यूंकि हमारे देश में अब आतंकी देशभक्त कहलाते हैं |)
It was Godse who had fired the fatal shot at Mahatma Gandhi on January 30, 1948.
This, and other similar posts are going viral after Bharatiya Janata Party's candidate from Bhopal - Pragya Thakur's recent statement in which she hailed Nathuram Godse as a patriot.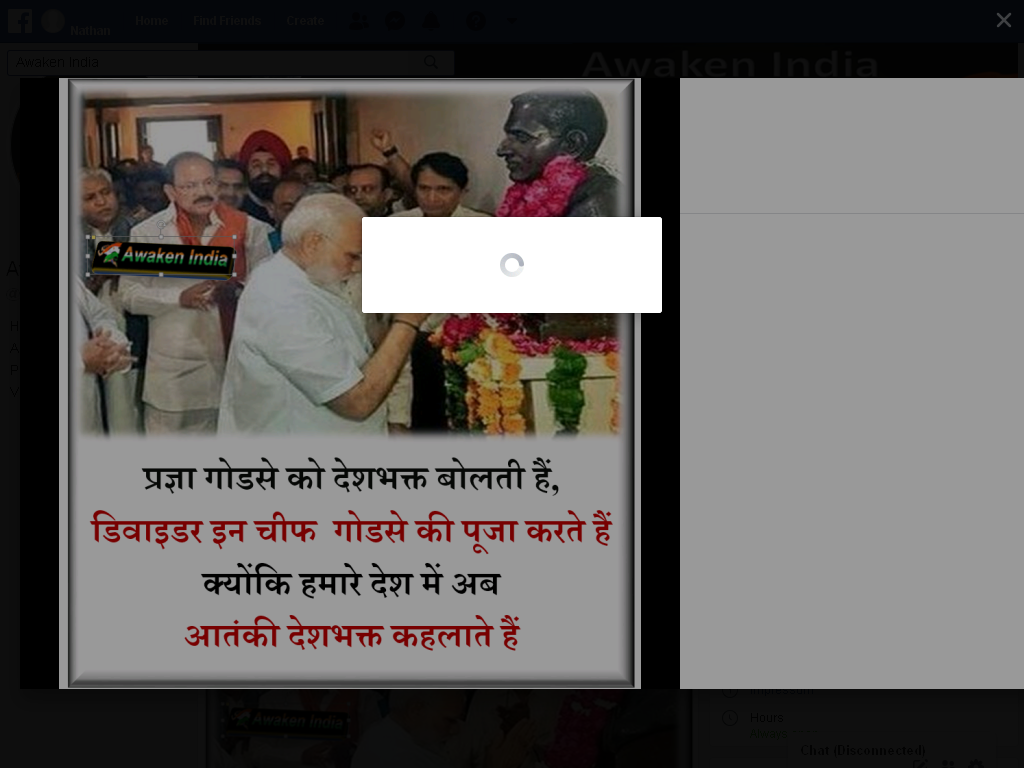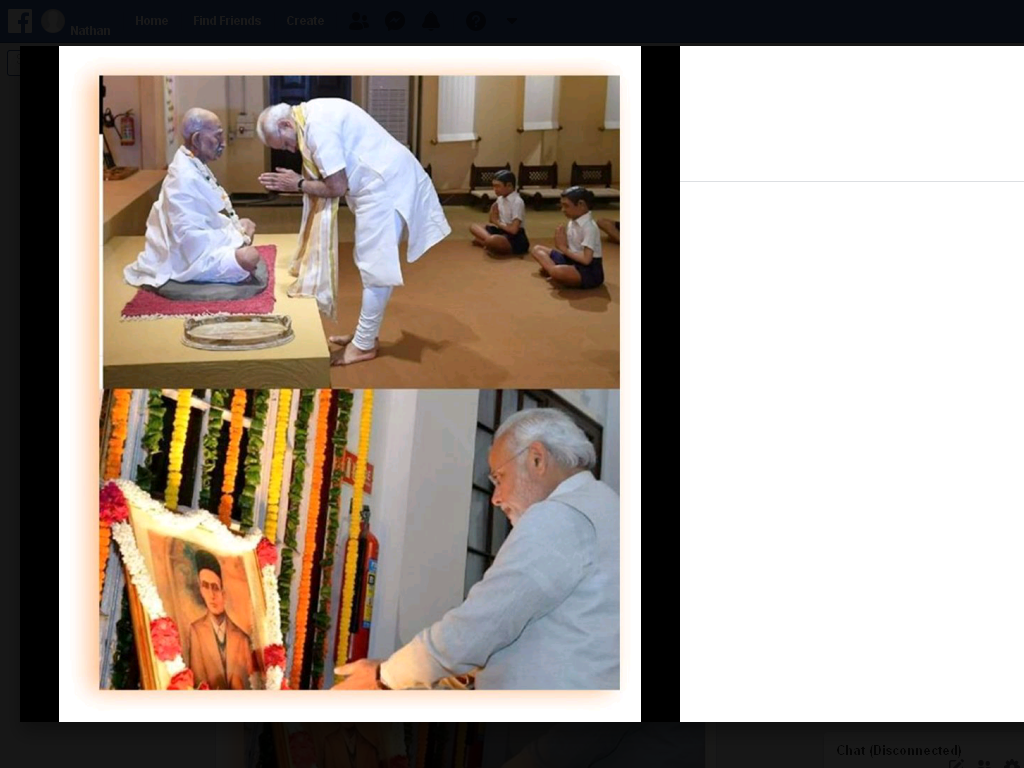 The archived versions of the posts can be viewed here, here and here.
Following an uproar Pragya Thakur backtracked on her comment saying the party's line was her line but stopped short of an apology.
She apologised to the public on May 17, 2019 for her comments on Godse, through a tweet.
In his harshest critique yet, the prime minister told a news channel in an interview that he would never forgive Pragya Thakur for insulting Gandhi. (Read about it here)
Fact Check
BOOM ran a reverse image search on the Facebook post wherein Modi can be seen standing with folded hands in front of, what seems to be like,
a bust of Nathuram Godse.
Also Read: Did Gandhi Ask Savarkar To File Mercy Petitions, As Rajnath Singh Claims?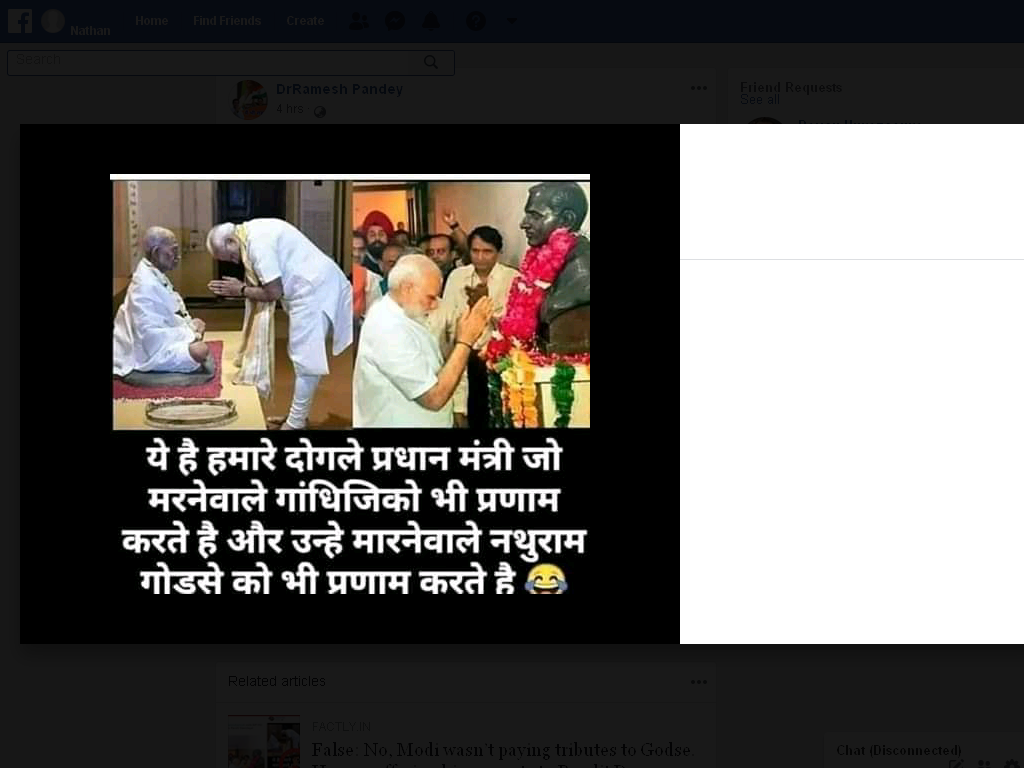 We found a similar image shared along with some news reports published in 2017.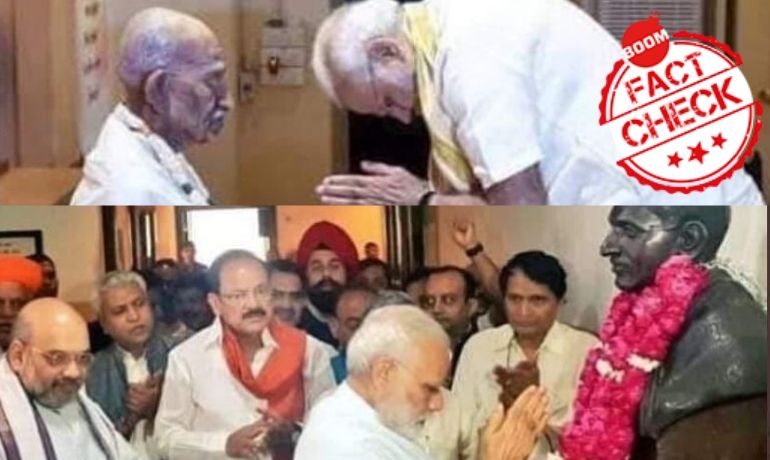 According to an India Today article, the occasion was the 37th BJP foundation day and the prime minister, along with a coterie of senior ministers, was visiting the BJP headquarters in New Delhi.
Here, the PM and other leaders paid tribute to party ideologue Deen Dayal Upadhyaya. This is the same image that has been shared with a false caption claiming the bust is that of Nathuram Godse.
In the videos above it is clearly mentioned that the PM and other BJP leaders had garlanded the bust of Deen Dayal Upadhyaya.
This is a portrait of VD Savarkar, not Godse
In another post Modi can be seen paying floral tributes to a portrait claimed to be, again, that of Godse. But the claim is false as it is a portrait of
Vinayak Damodar Savarkar.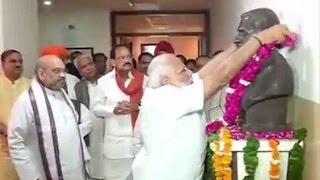 Updated On:
2021-10-18T16:52:00+05:30
Claim :
Prime minister Narendra Modi is paying tribute to Nathuram Godse
Claimed By :
Facebook pages