Fact Check
Did Modi Promise To Deposit Rs 15 Lakh In Every Account?: A FactCheck
With the prime minister never revisiting the topic and party president Amit Shah calling it a 'jumla' in an interview; the opposition has weaponised the claim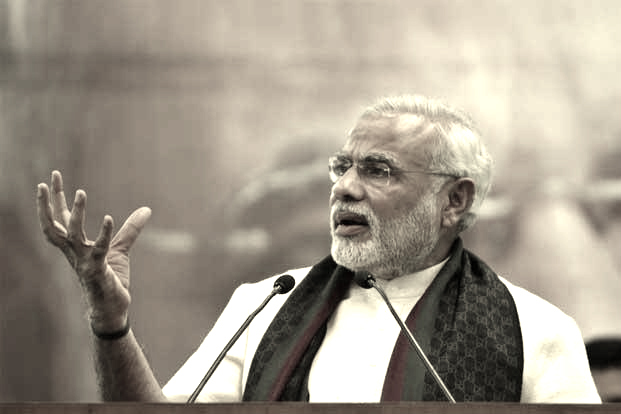 It is a statement that has haunted Prime Minister Narendra Modi and the Bharatiya Janata Party (BJP) since 2013.
No other election pitch from the run-up to the Lok Sabha polls in 2014 has had such recall value for the average Indian than the supposed promise of crediting 15 lakh rupees to every account.
With the prime minister never revisiting the topic and party president Amit Shah calling it a 'jumla' in an interview; the opposition has weaponised the claim.
Sample the below posts from the Indian National Congress' official social media accounts.
Did Modi Ever Make Such A Promise?
The short answer is no.
The earliest mention of '15 lakh' finds place in Narendra Modi's public rally on November 7, 2013 in Chhattisgarh's Kanker.
Then challenger for the PM's post, Modi stuck to BJP's electoral pitch of fighting corruption and black money, in his speech.
While speaking from the dais, Narendra Modi said, "The whole world says that all the crooks in India deposit their money in banks abroad. Black money is hoarded in banks abroad. My brothers and sisters of Kanker, tell me, this stolen money should come back or not? This black money should come back or not? Shall we take back every penny hoarded by these crooks? Doesn't the public have a right over this money? Should this money not be utilised for the benefit of the public?"
"If even once, the money hoarded by these crooks in banks abroad, even if we bring only that back, every poor Indian would get
free of cost Rs 15 to Rs 20 lakhs, just like that. There's so much money."
In his speech, the said amount is a reference to the quantum of black money stashed overseas and not a promise to credit every account with 15 lakh rupees. A election rally rhetoric to make his point forcefully on black money and what his government intends to do if voted to power.
Though it is not clear where he got such an estimate from.
There is also no mention of the 'Rs 15 lakh-in-each-account' promise in the 2014 election manifesto on BJP's official website.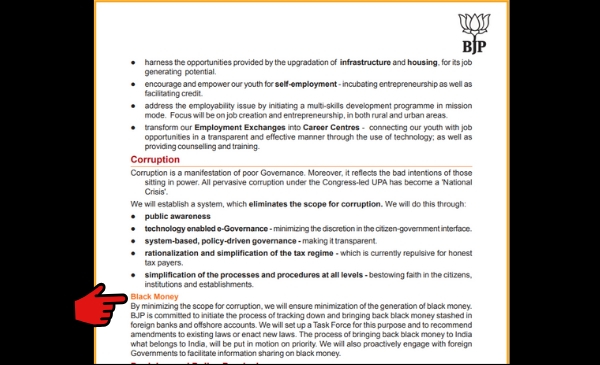 A Right To Information (RTI) seeking to know the date when 15 lakh rupees would be deposited into each account, drew a reply from the PMO's office which said it did not count as 'information' under the RTI Act 2005. The query was filed 18 days after demonetisation was announced in November 2016. Read more about it here.
BJP's Defence Backfires
Party President Amit Shah, during a 2015 interview with ABP News tried to set the record straight on what Narendra Modi meant. Shah's explanation, however, was overshadowed by the fact that he called it a 'jumla' or gimmick.
Shah said: "See, this is a jumla. 15 lakhs will not be credited in anyone's account. They (the opposition) know it, you know it and even the country knows it. The idea is to bring back the black money and utilise it for the betterment of poor people. Schemes will be made for the economically backward people. No one will ever get cash and they all know it. This is a way of delivering a speech...a metaphor. Whatever black money comes back, will be used for formulating schemes for the poor, and this is what he (Modi) wanted to say.
Ramdas Athawale, minister of state for social justice and empowerment, had also claimed people will get Rs 15 lakh "slowly" and not in one go. Athawale said the government does not have so much money and it has asked the Reserve Bank of India (RBI), but it did not oblige. The union minister told reporters in Sangli, Maharashtra on December 18, 2018.
Not just party leaders but their supporters too, have been responsible for fanning the claim into an urban legend and adding to the confusion.
Fake news website Postcard News, a vocal supporter of the BJP and the prime minister, in 2017 claimed in its headline, 'Finally PM Modi has deposited Rs 15 lakhs in each and every Indian's account'.
Claim :
Modi Promised To Deposit Rs 15 Lakh In Every Account
Claimed By :
Social Media
Do you always want to share the authentic news with your friends?
Subscribed Successfully...
Enter Valid Email Id