Chandrayaan 2: Did Mamata Banerjee Take A Dig At ISRO? A FactCheck
BOOM found that the article, falsely credited to India Today, is from a blog that routinely peddles fake news.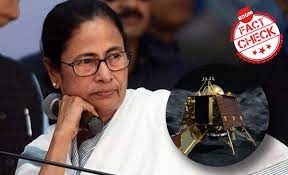 A Bengali blog impersonating India Today has falsely attributed a comment to West Bengal Chief Minister Mamata Banerjee claiming she mocked Indian Space Research Organisation (ISRO). The article is in a blog titled India Today Daily News and claims Banerjee took a dig at ISRO for taking up the lunar mission Chandrayaan 2 and "failing at it miserably."
ISRO launched the lunar mission Chandrayaan 2 on July 22 this year. On September 7, the mission's lander Vikram lost contact with ISRO just two kilometres ahead of its landing on the surface of the moon.
The article titled, "There is no need to do the work that you cannot do, said Mamata" (Original text in Bengali: যে কাজটা পারবেন না সেটা করতে যাবার দরকার নেই ইসরো কে বললেন মমতা) has been published with a photo of Banerjee and a representative photograph of a lander.
Published on September 9, the article criticises Banerjee for taking a dig at ISRO's lunar mission and her anti-India comments. An excerpt from the article reads, "At a time when the entire nation is dejected and everyone is with ISRO by encouraging them, the West Bengal chief minister's comments are in real bad taste. She has given anti-India statements in a bid to go against the BJP and Narendra Modi in the past. And even in this regard, she has not stepped back. She has challenged the ISRO to go against the BJP."
It further states that Banerjee has made statements against ISRO, an institution that Indians are proud of.
The same post is viral on multiple pages on Facebook.
Fact Check
The article in the blog post has been credited to India Today and also has a logo of the media outlet.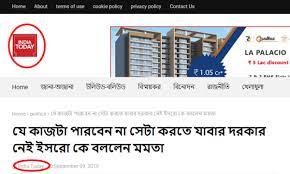 BOOM searched using relevant keywords but were unable to find any such news reports on India Today. Although the blog uses India Today's logo, the articles are not plagiarized from the site.
Multiple unverified reports on website
We also scanned through various articles on the site and found that multiple are unverified and misleading. Among them, was a report on Pakistan Prime Minister Imran Khan falling sick because of getting drenched in the rain with his alleged girlfriend. BOOM Bangla also fact checked an article which falsely claimed the death of a Bangladeshi while celebrating India's failure in the lunar mission.
The URL of India Today's news website is www.indiatoday.in while the fake article was carried by indiatodaydailynews.blogspot.com, hosted as a blog on the Blogspot.

Banerjee had congratulated ISRO's lunar mission with two consecutive tweets on September 7.
Claim Review :
There is no need to do the work that you cannot do, said Mamata