Did Mamata Banerjee Say 'Will Slap Modi For Calling TMC Tolabaaz'? A FactCheck
Mainstream news channels misreport Mamata Banerjee's remarks on PM Modi. Misquote "tight slap of democracy" as "tight slap".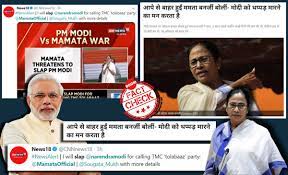 Several mainstream news outlets including ABP News, News18 and Aaj Tak misquoted Mamata Banerjee on Tuesday when they reported that the West Bengal chief minister threatened to slap Prime Minister Narendra Modi for his 'tolabaaz' (extortionist) remark about the Trinamool Congress Party (TMC).
The war of words between Modi and Banerjee has sunk to new lows in the ongoing Lok Sabha elections with the two often launching acerbic attacks against each other.
In February, the prime minister took a swipe at the TMC when he said the party was known for "triple T -- Trinamool, Tolabaazi, Tax". A remark he repeated this week. 'Tolabaazi' in Bengali loosely translates to organised extortion.
The curious case of Triple T and how it is ruining West Bengal. pic.twitter.com/URQuBCL5VS

— Chowkidar Narendra Modi (@narendramodi) May 6, 2019
In response, Banerjee launched a fiery tirade against the prime mister at a campaign in Raghunathpur, Purulia on May 7, 2019.
"Money doesn't matter to me. So when Narendra Modi comes to Bengal and says that Mamata Banerjee's party is only about tolabaaz (extortionists) I feel like giving him a tight slap of democracy," Banerjee said as she raised her right hand in a gesture of giving a slap.
BOOM also accessed the entire speech of Banerjee from her official Facebook page where she can be heard making the same statement . Watch the video from 13 minutes and 31 seconds.
However, the word 'gantantra' or democracy was missing in several news reports that were published soon after her speech.
Note that the same statement has been reported differently i.e. including the word 'democracy' by the Times of India, India Today, NDTV, and the Indian Express among others.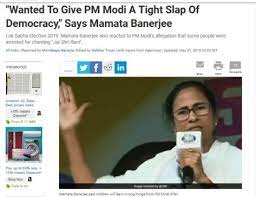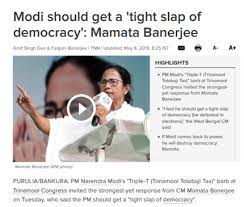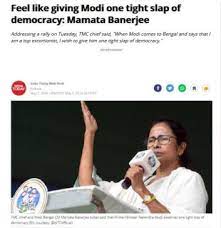 TMC's verified Facebook page also posted on Tuesday attributing a quote to national spokesperson Derek O'Brien that 'Delhi Media' had "got it wrong again".