Fact Check
Did Former Defence Minister AK Antony's Wife 'Baptise' The INS Vikrant? A FactCheck
Elizabeth Antony confirmed to BOOM that Hindu rituals were performed for the launch of INS Vikrant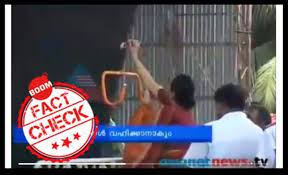 A viral tweet claiming Elizabeth Antony, wife of former Defence Minister AK Antony, 'baptised' the INS Vikrant, is misleading as Hindu rituals were performed during the induction of the ship into India's naval fleet.

INS Vikrant was launched on August 12, 2013. The 37,500 tonne carrier built at the Cochin Shipyard in Kerala, is the first aircraft carrier to be built in India. The vessel put India in a select group of countries capable of building such a carrier. Read more about the launch here, here and here.
The image from 2013 has been revived in wake of current Defence Minister Rajnath Singh performing the Hindu ritual of a Shastra Puja (a religious ceremony for weapons) in France recently while taking the delivery of a Rafale fighter jets.
The tweet by a fake account named Don Grieshnak sarcastically claimed, "Former defence minister A K Antony's wife Elizabeth Antony drew a cross on INS Vikrant and baptised it during its launch… None had any problem… hallelujah."
The tweet was retweeted 7,100 times and garnered 10,000 likes at the time of writing this article.
A baptism is a ceremony performed to officially induct a person into the Christian church.
A check of various news reports published in 2013 show Hindu rituals were performed for the launch of the INS Vikrant.

BOOM found a 2013 press release by India's Press Information Bureau and a 2015 article on the Indian Navy's official website which stated the following about the launch.

"Amidst chanting of hymns from the Atharva Veda, Vikrant, India's first aircraft carrier, decommissioned on 31 January 1997, was reborn today as Smt Elizabeth Antony, wife of the Defence Minister Shri AK Antony, christened India's first Indigenous Aircraft Carrier (IAC) as 'Vikrant' meaning "courageous" or "victorious" in Sanskrit."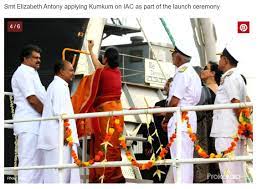 We also contacted Elizabeth Antony and asked her about the launch of INS Vikrant which led her to draw the sign of a cross on the carrier.

"According to Navy protocol, during the launch of INS Vikrant Navy had arranged all the set ups required for a Hindu ritual," Elizabeth Antony told BOOM.

"There was garland, coconut and every other requirements which we see normally for Hindu Pujas. The priest performed puja and later asked me to apply kum-kum (vermilion) to the carrier praying to the god I believed. Since I'm traditionally a Catholic Christian, I believe in Jesus, hence when they asked me to apply kumu-kum I drew a cross' she said.

"Antony is secular and always respected every individuals religious choices and religion is very personal according to me," she added.

When asked the reason for choosing her for the launch she said "aircraft are inaugurated by men and ships are done by women. I was lucky enough to do the launch of INS Vikrant".


BOOM also checked the videos during the launch of INS Vikrant, NDTV footage clearly shows a priest performing Hindu rituals chanting Sanskrit shlokas before the carrier.
Claim :
A check of various news reports published in 2013 show Hindu rituals were performed for the launch of the INS Vikrant.
Do you always want to share the authentic news with your friends?
Subscribed Successfully...
Enter Valid Email Id