Did Congress Workers Shout Communal Slogans In Rajasthan After Poll Win?
The video was shot at a protest held after a brutal murder of a Muslim man in Rajasthan and not after Congress' recent victory in the state.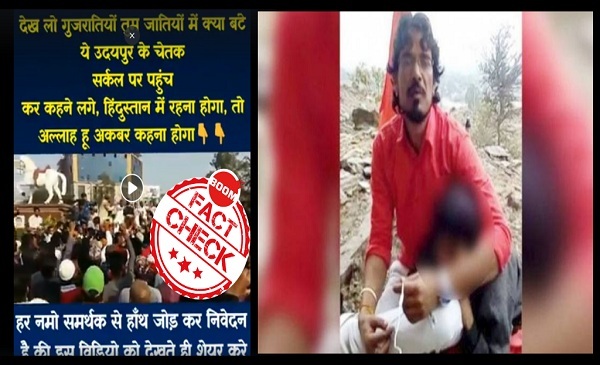 A 2017 video of protests by Muslims in Udaipur, Rajasthan after the brutal murder of a Muslim man in the state, is viral on social media with a misleading context.
The video which has Muslims shouting communal slogans is viral as Congress workers sloganeering to celebrate their recent electoral victory in Rajasthan.
The video is viral on Facebook with a caption in Hindi that loosely translates to, 'Congress workers sloganeering after the recent win in Rajasthan. What now? If you want to stay in Hindustan, you have to say Allah-Hu-Akbar. Hear you deaf Hindus!"
(In Hindi - "हरामखोर कांग्रेसियो राजस्थान जीत पर लगे नारे!!
अब क्या ?? हिंदुस्तान में रहना है तो अल्लाहु अकबर कहना होगा ??? सुनो बहरों हिंदुओं!!!")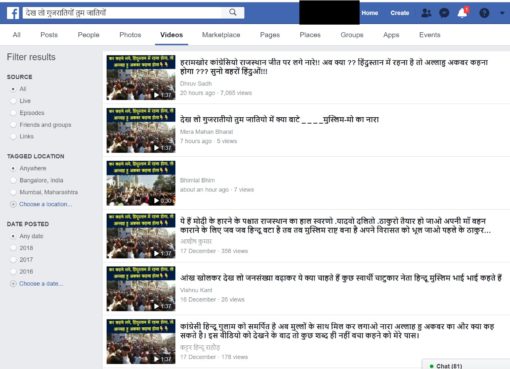 The same video was viral in December 2017 too, with the caption in Hindi that translates to, "Look you Gujaratis and the rest of the India (Hindi "देख लो गुजरातियों और समस्त भारतीय सनातन धर्मावलबियों तुम जातियों में क्या बंटे ये उदयपुर के चेतक सर्कल पर पहुँच कर क्या कह रहे हैं देखो, सुनो और समझो). The same caption has been added as text on the video and is being shared on WhatsApp too.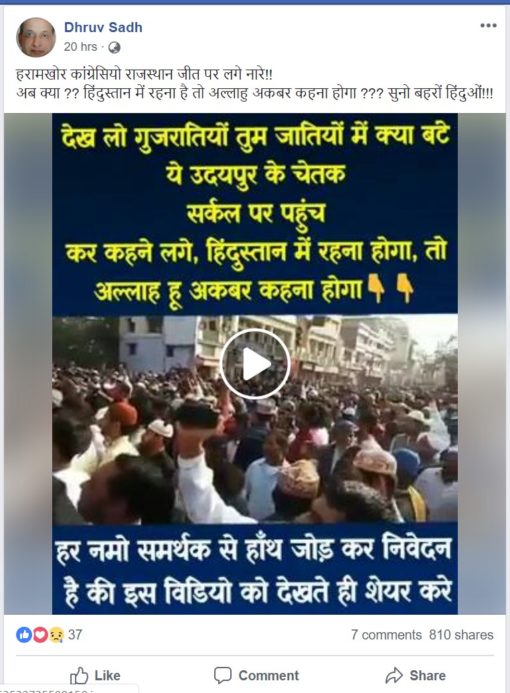 The one minute and thirty-seven-seconds long video, shows a group of around 100 men standing near a statue and shouting slogans such in Hindi. The group shouts slogans like "Hindustan hamara hain" (India is ours), "Narendra Modi hai hai" (Down with Narendra Modi), "Shiv Sena hai hai" (Down with Shiv Sena), "Bajrang Dal hai hai"(Down with Bajrang Dal) "Hindustan mein rehna hoga, Allah-u-Akbar kehna hoga" (If you want to stay in Hindustan, you have to chant Allah Hu Akbar) and "Bhagwa atankwaad band karo (Stop saffron terrorism).
FACT-CHECK
BOOM analysed the video and found that the video was shot on December 8, 2017 in Udaipur at the Chetak Circle in the city. (Read more about the video here) The rally was held by Muslim communities in Udaipur to protest against Shambulal Regar, who brutally murdered Mohammed Afrazul, a Muslim labourer.
The murder made headlines across the country as Regar recorded the barbaric crime on camera and justified the killing. (Read more about it here)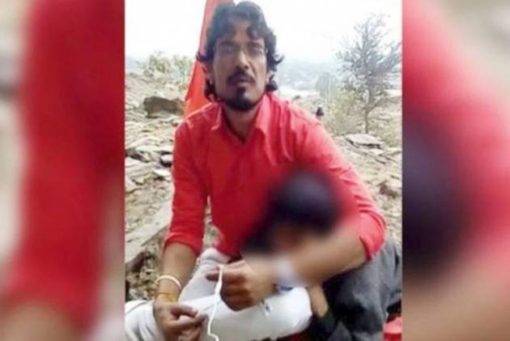 A screengrab from the video where Shambulal Regar brutally hacked a Muslim labourer to death.
Following the video of Regar, tensions prevailed in Rajasthan and a temporary internet ban was also placed in parts of the city to curb rumours. The incident, also sparked anger among the Muslim community in the state who held protests in various places and also led to Hindu groups holding counter protests.
BOOM was also able to find the same video on YouTube dating back to December 2017 witth many local Hindi language news channels also reporting on the story.
Updated On:
2020-02-10T15:52:44+05:30
Claim Review :
After Victory In Rajasthan Election, Congress Workers Shout If You Want To Stay In Hindustan, You Have To Say Allah-Hu-Akbar
Claimed By :
Social Media