Did An Ailing Kanhaiya Ask Begusarai Voters To Vote For An Opposition Candidate? A FactCheck
The viral post claims that an ailing Kanhaiya has appealed to the voters to cast their votes in favour of RJD's Tanvir Hasan as he (Kanhaiya) is pulling out of election due to health reasons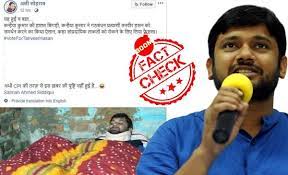 An old image of a bedridden Kanhaiya Kumar wearing a neck brace is being shared on Facebook with a false claim that the CPI candidate urged voters in Begusarai to vote for another candidate as his health deteriorates.
The misleading post comes at a time when Bihar's Begusarai went to polls on Monday in the fourth phase of general elections on April 29, 2019.
Kanhaiya Kumar will face off against Bharatiya Janata Party's Giriraj Singh, Rashtriya Janata Dal's Tanvir Hasan in the closely watched contest.
The image, which shows Kanhaiya lying beneath a blanket, has gone viral with the caption which says, "So this is it. Kanhaiya Kumar has appealed to people to vote for alliance candidate Tanvir Hasan as his (Kanhaiya's) health condition deteriorates. Says, he has done this to stop the rise of communal forces. CPI is yet to come out on the issue."
(Translated from Hindi: यह हुई न बात…कन्हैया कुमार की हालत बिगड़ी, कन्हैया कुमार ने गठबंधन प्रत्याशी तनवीर हसन को समर्थन करने का किया ऐलान, कहा सांप्रदायिक ताकतों को रोकने के लिए लिया फैसला।)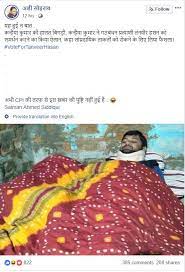 You can view the viral post here and access its archived version here.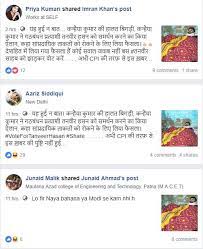 Fact Check
BOOM tried reaching out to Kanhaiya. We were able to get in touch with one of his aide's who told us that the CPI leader was absolutely fine and was visiting booths on Monday.
"The news is absolutely fake and Kanhaiya is visiting the booths right now," he said.
BOOM also ran a reverse image search on the viral image and found that the same picture was posted on a Kanhaiya Kumar fan page on Facebook on February 4, 2019.
While the page is not verified, it does share minute-by-minute updates of Kanhaiya's campaign in Begusarai.
The caption with the picture reads, "Unwell from several days. Will get well soon and fight for your rights. Jai Bhim! Lal Salam!!
(Hindi: कई दिनो से बिमार हूँ । जल्द स्वस्थ होकर आपके सवालों के लिए लड़ता रहूंगा
जय भीम! लाल सलाम ! ! )
BOOM also checked the CPI leader's official Facebook page that has a picture of him after casting his vote. The picture posted at around 9.18 am shows him in good health.
Claim Review :
Photo shows Kanhaiya Kumar pulling out of election due to health reasons, appeals to vote for RJDs Tanvir Hasan
Claimed By :
Facebook posts