Did Aamir, Salman And Shah Rukh Khan Meet Jharkhand Mob Lynching Victim's Widow?
BOOM spoke to representatives of the actors and Tabrez Ansari's family members who rubbished the viral posts.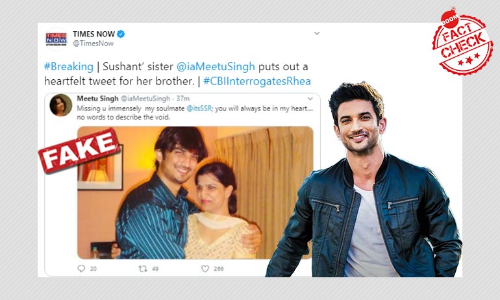 Multiple videos doing the rounds on social media claiming leading Bollywood actors met Tabrez Ansari's family, who was lynched by a mob in Jharkhand, are false.
The videos, which have been made in the format of a news bulletin with unrelated footage, narrate how actors Aamir Khan, Salman Khan and Shah Rukh Khan went to Jharkhand to meet the bereaved and share their grief.
BOOM spoke to Aamir Khan Productions' spokesperson, who rubbished the rumours. "This is absolutely untrue. Mr Khan is travelling for work, so there could be no possibility of the claimed meeting," she said.
Tabrez Ansari, a daily wage labourer was tied to a pole and assaulted by a mob in Jharkhand on June 18, 2019. He was forced to chant "Jai Shri Ram and "Jai Hanuman". Ansari was arrested on charges of theft and sent to judicial custody, but died of his injuries in the hospital.
The viral video claims that after Bollywood superstars Salman Khan and Shah Rukh Khan, Aamir Khan took the initiative to reach out to Tabrez Ansari's widow, Shaista Parveen. A cropped image of Aamir Khan has been placed beside a devastated Parveen to show how Khan interacted with them, in the 11 minute long video clip.
The video had more than 4 lakh views at the time of writing this article.
The archived video can be viewed here.
BOOM was able to ascertain that Aamir Khan's image used in the video is old and unrelated. We found that the image, where he can be seen wearing a pink T-shirt, has been on the internet since 2012 and doesn't have similarities with how Khan looks currently with a beard.
Furthermore, a clip from the video, where Khan can be heard saying, "I am injured emotionally, because I feel angry, helpless and want to leave everything and help him. It was very difficult for me to see this...," and getting emotional while speaking, has been cleverly included to portray how he has been affected.
BOOM found that the video is originally from the launch of Satyamev Jayate's Season 3.
The video further attributes an unrelated comment, "Let people be from any religion or caste. If such an incident happens with any individual, then it is a really sad thing for our country," falsely to Aamir Khan.
The same post has a compilation of old and unrelated clippings of Salman Khan and Shah Rukh Khan interacting with the press, to falsely claim that they spoke about Tabrez Ansari.
Did Salman Khan donate Rs 2 lakhs to Tabrez Ansari's family?
Meanwhile, another set of viral posts were doing the rounds last month to claim that Salman Khan has lent his support to Tabrez's family and will bear the legal expenses.
BOOM reached out to Tabrez's distant relative from Bokaro Afzal Anees, who denied such claims. "There has been no such communication from Mr Salman Khan's office. We are looking into the legal proceedings of Tabrez and we have not been communicated about any such developments. Also, rumours about Shah Rukh Khan meeting Tabrez's family are false."
We also spoke to the SP, Karthik S, who rubbished the claims.
BOOM made repeated attempts to reach out to Salman Khan, through his manager. The article will be updated when Khan responds.
ALSO READ: Family Members Rubbish Video Claiming Jharkhand Lynching Victim's Wife Attempted Suicide
Claim Review :
Aamir Khan meets Tabrez Ansaris family
Claimed By :
FACEBOOK POSTS