Family Members Rubbish Video Claiming Jharkhand Lynching Victim's Wife Attempted Suicide
BOOM reached out to Tabrez Ansari's uncle and cousin who rubbished the rumours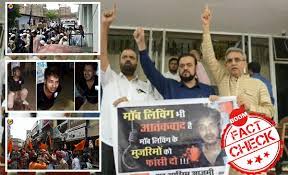 Family members of Tabrez Ansari, who was lynched by a mob in Jharkhand in June, has rubbished a viral video claiming Ansari's wife attempted to commit suicide by trying to hang herself.
The video, viewed more than 83000 times at the time of writing this article, has been shot with a voice-over in an attempt to appear like a credible news bulletin.
It has been captioned as "wife of Tabrez Ansari has hanged herself." (Original caption in Hindi: तबरेज अंसारी की बीवी ने लगाई फांसी)
The video opens with a dramatic voice over, narrating how Shaista Parveen could not bear the loss of her husband and decided to end her life.
"Namaskar, welcome to Around News. Tabrez Ansari's wife received a serious mental blow after his death. News is coming in about Tabrez Ansari's wife hanging herself."
It further states that Shaista Parveen was driven to take the decision since the accused weren't arrested yet.
The video then makes a passing mention how Parveen was saved when "her chacha (uncle) quickly reached and rescued her."
The archived video can be viewed here.
Interestingly, the video uses several footage of marches and rallies that erupted countrywide to protest the lynching of Tabrez Ansari.
The video has a watermark of ROUND WORLD NEWS, www.SkyIndianews.com.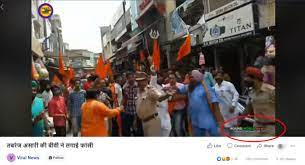 The clip could not be found on the website, which is an entertainment website, covering Bollywood trade news.
BOOM found that videos with similar narrative are viral on YouTube as well.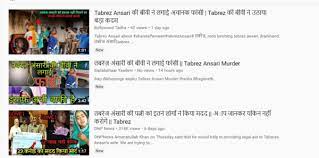 BOOM reached out to Ghulam Ansari, Tabrez's cousin, who said, "I live in Bokaro and I am in constant touch with Tabrez's family. I spoke to them last night. They are currently staying in Kharsawan and such reports are completely baseless."
We also reached out to Maqsood Ansari, Tabrez's uncle who said, "This is absolutely false news. I have been with the family since the time of the tragedy. Naturally Shaista will take time to recover from the shock. But she did not take any such drastic step."
BOOM also spoke to Karthik S, SP, who rubbished such rumours. "We did not receive any such information from the family. The area is much peaceful now and these are being purposefully spread to create tension again."
Claim Review :
Tabrez Ansaris wife Shaista Parveen hangs herself
Claimed By :
FACEBOOK POSTS and YouTube videos