Did A Child Mock Rahul Gandhi By Chanting 'Modi' 'Modi'? A FactCheck
A doctored video claims a young boy mocked Rahul Gandhi by chanting Modi's name.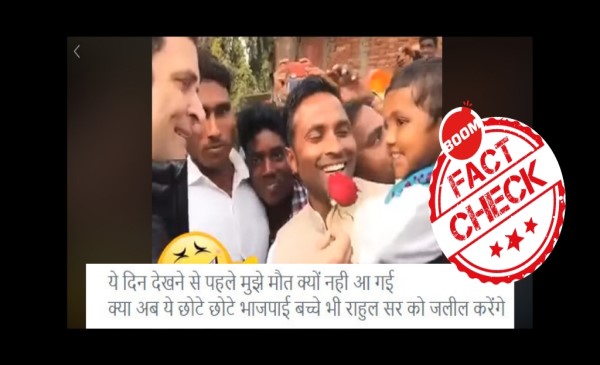 A viral video on Facebook claiming Rahul Gandhi was insulted by a little boy who chanted 'Modi Modi' while Gandhi was trying to talk to him, is fake. The original video has been doctored by tampering with the audio.
A Facebook page called Aam Press on January 25, 2019 shared the 17 second video showing Gandhi talking to the kid and offering him a rose with the caption in Hindi, "ये दिन देखने से पहले मुझे मौत क्यों नही आ गई|क्या अब ये छोटे छोटे भाजपाई बच्चे भी राहुल सर को जलील करेंगे" (Why did I not die before witnessing such a day. Will young BJP supporters also insult Rahul sir!). The post received nearly 70,000 views and more than 600 shares.
The video has also been shared by other Facebook users with the same caption.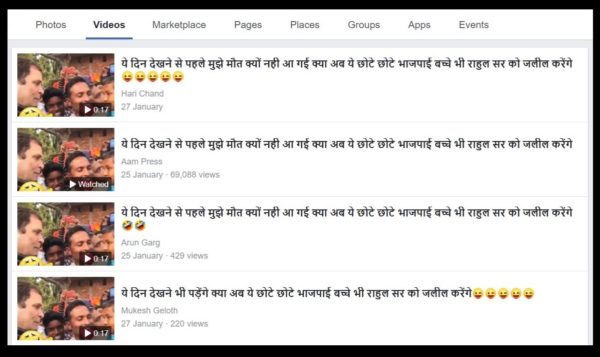 FACT-CHECK
BOOM looked through the 17 second video and found that the chant of 'Modi Modi' appears towards the end when the young boy's face is turned away from the camera.
In the video Gandhi can be seen offering a rose to the boy who is in the arms of his father and saying, "Hold the mic" in Hindi. Towards the end of the edited video, Gandhi asks the boy, "what do you wish to say" to which a chant of audio of "Modi Modi" can be heard as a reply.
BOOM looked for the original video and found it on Gandhi's official Instagram account uploaded in January 23. According to the caption on the Instagram account the video was shot in Amethi, Uttar Pradesh.
In the original video, the young boy who appears to be shy does not say anything. The video towards the end shows Gandhi asking boy, "What do you wish to say" and the boy turning his face away from the camera and the man holding him in his arms asking him to "say something" but the boy remains quiet.
Claim Review :
No, A Child Did Not Insult Rahul Gandhi By Chanting Modi Modi
Claimed By :
Aam Press Page