Sports
Dhoni The Captain May Have Quit, But India Still Needs Dhoni The Player
Imagine a Mahendra Singh Dhoni, at his fittest self, with a bat in hand and no captaincy worries to trouble. He could actually prove to be more than just a handful for Team India in 2019 World Cup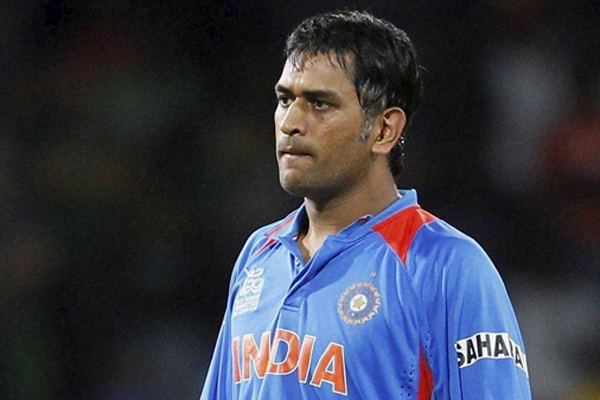 Mahendra Singh Dhoni is an uncomplicated cricketer. Equally simpler are his decisions. From giving the last over to a little known Joginder Sharma in the 2007 World T20 finals with an in-form Misbah-ul-haq of Pakistan at the other end, to Wednesday's call 'to give up the reins' of the ODI and T20 team's leadership - Dhoni may have consistently left you 'jaw-dropped' with his decisions.
But for the man who had dared to dream big from the dusty half baked pitches of Jharkhand to the hugely competitive cauldron of Indian cricket, Dhoni's every move seem to represent the blocks of a jigsaw puzzle that falls in place with calm and ease.
On or off the field, it is with this same panache, however brash it may seem to others, that MSD had taken crucial decisions producing some of the best results for the team and Indian cricket.
His 'street smart captaincy' at the 2011 World Cup finals, promoting himself at number 5 ahead of in-form Yuvraj Singh perhaps left many to ponder. But Dhoni returned with 10 balls to spare and a World Cup in his kitty.
On Wednesday, he had set off yet another 'helicopter shot' similar to the one that set the Wankhede stands on fire on a humid April afternoon in 2011. But this time the shot was not aimed at winning more laurels. Rather it sent shockwaves among fans and fellow players alike.
Either ways, none of us are likely to hear the real story till Dhoni writes a book.
Timey Decision
But before the rumour mills start turning, a closer look at Dhoni's decision tells us why giving up captaincy is not only timely for this Indian team but also perhaps part of a well planned out strategy aimed at the 2019 World Cup. Dhoni is likely to play an important role there, if his form permits.
That Virat was knocking at the doors was inevitable post his superlative year leading India's Test team back to the number 1 spot. But to say that there was any pressure on Dhoni to give up the baton to his deputy in the shorter formats of the game is a bit too much.
Also Read: Yuvraj Singh Arrested For Casteist Slur He Used In 2020: All You Need To Know
MSD might have been struggling with the bat against his own standards, a poor average of 27.8 in 2016. But the fact that he had led the men in blue to an ODI series win against the Kiwis at home and away series triumphs against Zimbabwe earlier last year along with a T20 series win against Australia in January 2016 shows that all was not lost. He was still firmly in the saddle.
The 2015 World Cup setback and the ODI series loss Down Under would had taken the sheen off his captaincy, forcing him to think about how to plan his eventual exit. Virat's brilliant performance as test captain would have only given Dhoni the conviction that this was indeed the best time to move out for the deputy to take charge in all formats.
Also, post the 2015 unsuccessful World Cup campaign in Australia, a moist eyed MSD had hinted at continuing till the 2019 edition in England. But he had never said in what capacity?
Now we know that Dhoni the player will still continue. So how does shifting roles between Virat & Dhoni help prepare for a World Cup that is 28 months away.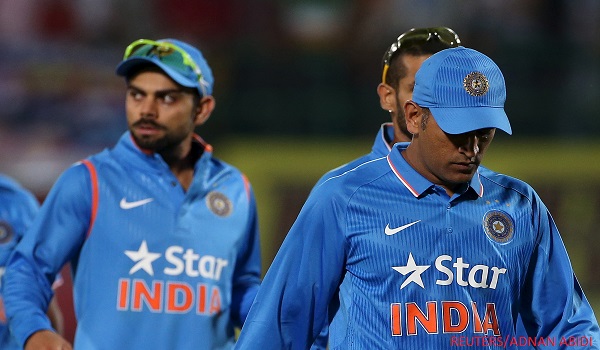 Mahendra Singh Dhoni (R) and Virat Kohli
To start off, Dhoni & Virat are miles apart when it comes to the style of captaincy.
Dhoni true to his 'captain cool' image is hardly expressive on the field letting the individual player make his statement, realize his mistakes, and help him evolve in to a better cricketer. Some of the players in the Indian side have gone on to record to say how MSD had mentored them.
But Virat, though as aggressive as his predecessor when it comes to wielding the willow, shows it in his captaincy too. He is a skipper as expressive as perhaps the original angry man of Indian cricket - Saurav Ganguly, a mould completely different from MSD. No wonder, sooner the transition, the better for the team before the next world cup.
This transition certainly needs time unlike in the test arena where a seemingly frustrated Dhoni had thrown in the towel from the entire format mid Australian tour and Virat had no option but to take over.
With hardly five months left for the Champions Trophy, the other major ICC event which India had won in 2013 under MSD's captaincy, the time was perhaps ripe for Kohli to take over the mantle. Leading the team in a major ICC event before the World Cup is perhaps the best way forward for Team India and its new skipper.
More than anyone else MSD himself would have been aware of this. Nothing else explains the sudden resignation 48 hours before the selectors were to meet to decide on the ODI team to play England from January 15.
BCCI would have known it but there is no evidence that they had ever talked to Dhoni about it because no one associated with Indian cricket ever expected the selectors to name anyone other than Dhoni as the captain for the ODI series against England.
Cricket Commentator Harsha Bhogle's tweet sums it up.
Road ahead for Dhoni
Hence without doubt this renunciation certainly has a trademark 'Dhoni-logic' to it. So where does this leave India's greatest captain ever in the shorter format?
Dhoni has clearly mentioned that he would be available for selection which means he would continue to play in the team till he or the selectors feel he is not good enough.
Undoubtedly the fittest among the current lot and with nothing to prove, MSD may actually last till the 2019 world cup and play a vital role with Virat and Kumble in the Indian think tank.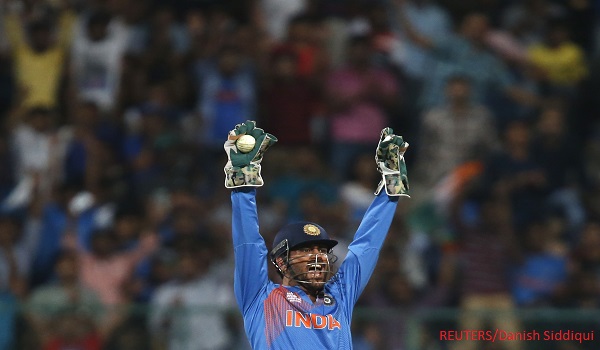 India's captain and wicketkeeper Mahendra Singh Dhoni appeals unsuccessfully for the wicket of Bangladesh's Soumya Sarkar
Also what makes Dhoni's role still vital in the one day team is the absence of a wicketkeeper who could reach anywhere close to what Dhoni does with the gloves.
The manner in which India had to bring back Parthiv Patel in Test cricket after Wriddhiman Saha got injured is testimony to the vacuum that MSD has left behind. The likes of Sanju Samson and Naman Ohja have hardly grown to that stature.
Hence it would be foolish to even suggest that MSD's days in the team are numbered just because he is no more the decision maker in the team.
The Indian selectors can only be relieved on being given enough time to find a proper replacement for Dhoni behind the stumps.
But where does this take Dhoni as a batsman? With no official say in the decision making process as of now, could MSD's self-imposed relegation affect his batting?
A look at cricket history gives some interesting insights. Strong leaders of the game who had even been shunted out of captaincy unceremoniously had hung around to make it big with the bat or the ball. Dhoni after all took this decision himself.
Shaun Pollock, who took over South Africa's captaincy in 2000 post the Hanse Cronjie betting saga, was shunted out after the World Cup debacle at home in 2003. But he remained a vital cog of the Proteas's pace attack till 2008. Nasser Hussain, Saurav Ganguly, Younis Khan and Ross Taylor are other classic examples of sacked captains who proved that there is still a lot left in them for the team.
Imagine a Mahendra Singh Dhoni, at his fittest self, with a bat in hand and no captaincy worries to trouble. He could actually prove to be more than just a handful for Team India in 2019 World Cup.
Perhaps that is where Dhoni would also hope to bow out with a last hurray.
Do you always want to share the authentic news with your friends?
Subscribed Successfully...
Enter Valid Email Id