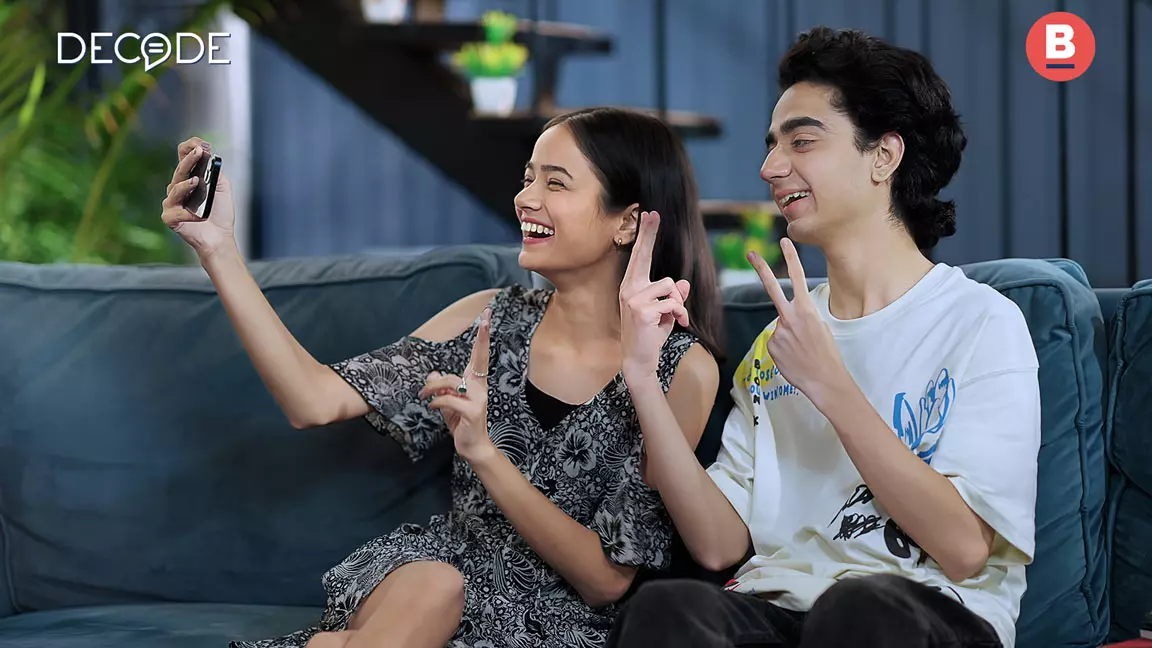 Anantya always had a knack for recording herself on camera–be it unboxing toys or playing dress-up. Now as missmyanand, 13-year-old Anantya is a social media personality with 13.7 million followers on YouTube and 600,000 followers on Instagram.
The 'influencer' culture has grown rapidly over the past decade and that includes child personalities or "kidfluencers" with large followings on social media. These pages are usually run by the children themselves or their family members. Anantya's page is managed by her mother Nisha, who says their first upload was 9 years ago. "We record trending reels, sketches, and moraled story formats and work collaboratively with Anantya and her friends," said Nisha.
Anantya also collaborates with brand companies. As her videos started gaining popularity, these brands began reaching out to her for projects and now 6 years in, Anantya has created content with big names like Disney, Byju's etc. Anantya's team generates a steady income through sponsored content and other monetisation policies of social media platforms. "Saturdays are blocked as shoot days and pre-production and post-production are handled by me," Nisha added.
The Rs 900-crore influencer market advertising industry's booming space is expected to reach Rs 2,200 crore in 2025. Although these kidfluencers are essentially child entertainers; unlike television stars, their legal protection is limited to NCPCR guidelines that either aren't well-known or not well-implemented.
In fact, in 2020, the Supreme Court sought the Centre's response on a petition requesting a suitable legal framework to regulate access of minors to social media platforms. The petition prayed, "Formulate an appropriate law regulating minor's access to social media by laying down an appropriate age limit for such access."
So does the legal vacuum impact the rights of children who find their lives plastered on the internet for millions to see? And can parental consent be absolute if there exists a dichotomy in parents claiming the revenue for their child's performance, while also regulating control over the child's access to social media?
Arjun Adrian, lawyer at Software Freedom Law Centre, said, "As a minor, I might not understand the content that is being uploaded by my parents, but when I become a major I may object to that. At present, a minor doesn't have the right to delete that data." Alongside this, social media companies find it hard to operationalise verified parental consent. According to Adrian, there is not much information or knowledge about the guidelines addressing these concerns.
Are Child Labour Laws Equipped For Influencer Culture?
According to the Child Labour (Prohibition & Regulation) Act enacted in 1986, employment of children is prohibited in certain specified hazardous occupations and processes and regulates the working conditions in others. This Act was then amended in 2016 and the Child Labour (Prohibition & Regulation) Amendment Act 2016 prohibits the employment of Children below 14 years in all employment and also with the provisions for prohibition on employment of adolescents (14-18 Years) in the scheduled hazardous occupations and processes.
Albeit still a grey area, the National Commission For Protection of Child Rights has observed the increase in monetising children's content and has thereby issued guidelines for the children who are involved in films, TV, OTT platforms, news and social media. NCPCR states that content created by the child or his/her family/guardian for economic gains shall be treated as children working in a family enterprise as provided under Section 3A and 3(2)(a) of the Child Labour and Adolescent Labour Act, 1986.
Still, a child's choice to remain private continues to be blurred. Given the consent comes from the adults, the child is not afforded the same degree of choice. As YouTube began garnering widespread viewership, family vlogging channels boomed in the 2010s. This popularised content chronicles the day-to-day lives of creators, starting from 'morning routines' to 'house tours', thus adding a 'celebrity' element to private lives.
Anantya's content team includes 3-4 people. "When Anantya hit 13 last year, there was a drastic change in her attitude towards filming," said Nisha. Their schedules remain quite packed with shoots beginning at 10 am in the morning and sometimes extending to 8-9 pm. If the video is branded, Anantya's team negotiate the price, but the independent videos are monetised on YouTube. Nisha is open to shifting their base from Noida to Mumbai in the future if Anantya's assignments demand it.
The young ages of these influencers mean that all monetary transactions are handled by their parents. So the reigns over their careers as well as the gains from it, are under parental authority. This in effect, adds a layer of complications to the question of whose labor it is that runs the show.
"Guidelines not the law after all"
Megan Rakesh, an 11-year-old singer from Bangalore has been performing online since the lockdown. Her profile is handled by both her parents and Megan's interaction with the account is limited. "We only show her what's relevant. She's still young, so she must not be exposed to social media as much," said Anne, mother of Megan.
Her father Rakesh says, her musical journey began with gigs, where Meg would perform alongside his band. So their relationship with their viewers is a continuous and organic one. "Each gig brings exposure to her talents, and that's how brands such as Hard Rock Cafe have been able to reach us." Unlike mymissanand's team, all performances, content creation and collaborations of megandthemiracles are managed solely by the parents.
For Megan, some brand deals are "barter", whereas bigger brands come forward with payments. Rakesh is careful to pick which to proceed with and admits that their priorities lie in focusing on Meg's musical talents. "We get several collab emails, but we filter most out and try to keep ones that Meg is personally interested in," said Anne. One of Meg's collaborators is ProCraft, who sponsors the guitars that she plays with. The parents agree that these relationships matter more than the money. Similarly, Anantya's mother does not see her videos as employment. "If she were employed, her video frequency would be higher," Nisha believes.
Determining whether these kidfluencers are actively "employed" or their social media presence is merely recreational is the subject of ongoing debate. Parents usually claim that they're the ones managing the account, communicating with the brands and working in the production; hence, they're the labourers behind the operation. Alongside, because the kid's access to the account is monitored, they're protected from the service part of the industry.
For instance, Rakesh argues that Megan's talent for singing is what brings in the deals and their target is never to convert the account into anything more than a space where she can hone her skills. Anantya's mother, on the other hand, argues that she might go from one video a week to two videos a month, as and when Anantya's school schedule changes. This suggests that the child's real life takes precedence over the "reel life" and that any rehearsed performance is just a result of their child's interests and not "influencing" of any form. However, as soon as any income or sponsorship is generated against these interests, it complicates the situation.
NCPCR guidelines focus on the working hours and conditions for child and adolescent performers in the entertainment industry. They restrict children to a maximum of five hours of work per day with regular breaks, while adolescents should not work more than three hours without a one-hour rest, keeping their daily work, including rest, within six hours.
Overtime work for children and adolescents is not permitted. As reflected by Dr Nisha Dewani, Associate Professor of Law, Maharaja Agrasen Institute of Management Studies, each child/adolescent is entitled to at least one day off, determined by the producer and displayed in a workplace notice.
However, as pointed out by Avaantika Chawla, Children's Rights Advocate, and Assistant Professor, at Jindal Global Law School, there may be a need to add more specificity with respect to social media platforms since they are a different ball game altogether. "The NCPCR guidelines deal with it to some extent but are just guidelines at the end of the day."
Minor's Right to Compensation Not Guaranteed In Practice
Moreover, for a lot of these 'kidfluencers', the monetary value is also credited to the parent's account. The NCPCR guidelines protect the wages noting, "At least twenty per cent of the income earned by the child/adolescent from the production or event to be directly deposited in a fixed deposit account in a nationalised bank in the name of the child/adolescent which may be credited to the child on attaining majority."
For instance, Anantya's parents have started a company in the mother's name where Anantya's income is deposited. According to Nisha, all profits from this company would invariably go to their "only daughter" when she grows old.
According to Arjun Adrian, one thing that could be introduced would be greater control for the minor, through a right to compensation. More often than not the revenue rests with the parents. "The child won't know that such a compensation right exists for them because compensation rests on a different footing than the revenue generated," Adrian added.
Chawla suggests that the law mustn't take away the child's agency and that both parents and children are educated on online safety. "There is a need to amend the IT act to offer greater protection to children on Social Media Platforms and better implementation of the POCSO in conjunction with the IT act," Chawla explained.
Dewani agrees that there are concerns within the legal fraternity and advocacy groups regarding the potential lack of ethical consistency in safeguarding a child's choice to be online. While laws and regulations are designed to protect children from online risks, ethical dilemmas emerge concerning children's autonomy and rights. "Laws often focus on age-based restrictions and parental consent, but balancing protection with a child's right to privacy, expression, and digital literacy is an ongoing challenge," Dewani added.
When asked what potential regulations could be helpful in the influencer industry, Dewani suggested, "Clear disclosure rules, akin to the FTC guidelines in the United States, can enhance transparency by necessitating that influencers explicitly disclose paid partnerships and sponsorships." Alongside, age verification requirements for child influencers, as seen in the UK, can protect young social media users from inappropriate content and undue influence.
However, the effectiveness of these regulations hinges on awareness, accountability, collaboration among stakeholders, and adaptability to the evolving influencer landscape which is currently lacking. The true efficacy of NCPCR guidelines will be determined by rigorous implementation, enforcement, and their ability to adapt to the ever-changing digital sphere.
No Consensus on Data Privacy Concerns in Influencing
Prateek Waghre, Policy Director at Internet Freedom Foundation, "There are multiple strands of thought on how suitable parts of the internet are for minors to be exploring." However, as Waghre notes, there is no consensus on the most appropriate regulations for the influencing industry. Invariably if accounts are operated by parents, the verifiable consent then becomes not enough of a safeguard in terms of data protection.
Economist and gender policy specialist, Mitali Nikore echoed that there is a grave mismatch if the contract is made for the work of the child, yet the parents claim a greater portion of the labour. "It's almost as if you're claiming the child is your property, hence you deserve the income." The founder of Nikore Associates agreed that there has to be a clearer definition and employment framework for a child influencer. Otherwise, there is nothing preventing production companies from maximising their advertising.
Nikore implored what separates a consenting adult on social media and the options available to them from a child who has limited access to their content. "Sometimes we look back to our posts from a few years ago and wish we didn't post some things. Now magnify that to a child creator with millions of followers," Nikore said. As adults, we're able to carve out our online presence from scratch. But a child content creator's image is imprinted on the internet forever, not awarding them the same confidentiality. "If a child is not grown up enough to give consent or go on their profile, how can we assume they're grown up enough to be influencers."

Do you always want to share the authentic news with your friends?
Subscribed Successfully...
Enter Valid Email Id
---