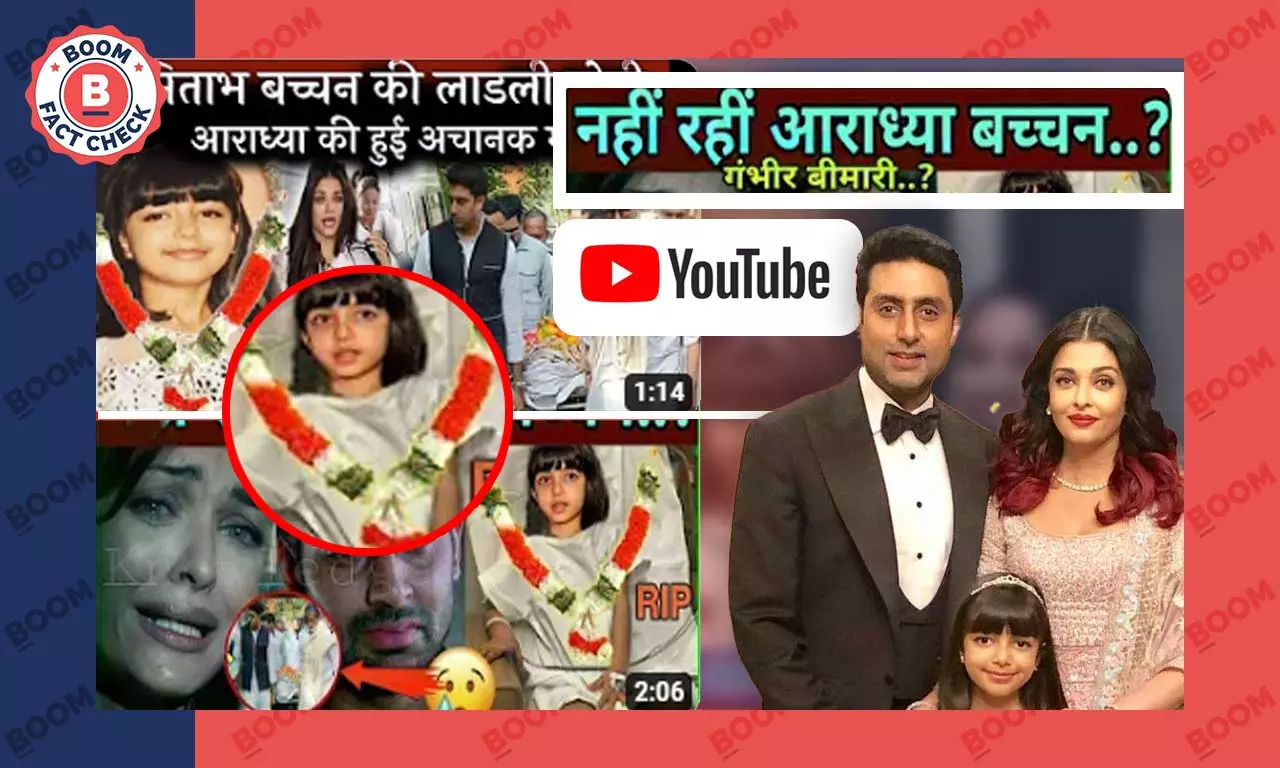 Aaradhya Bachchan, 11-year-old daughter of Aishwarya and Abhishek Bachchan, and granddaughter of Amitabh and Jaya Bachchan recently filed a petition in the Delhi High Court seeking action against nine YouTube channels posting defamatory and false information about her. The videos posted by these channels make a slew of false claims regarding Aaradhya's mental and physical health and the most popular videos are ones that go as far as claiming that she has already died.
The Delhi HC has since ordered the nine channels named in the petition to take down all misleading and fake content related to Aaradhya Bachchan and her health.
The channels use misleading titles such as "Aaradhya Bachchan no more" or "Aaradhya Bachchan death" and combine these with morphed thumbnails showing a garland around Aaradhya's neck or cotton in her nostrils. Some videos even carry thumbnails where Aaradhya's family members are crying. Most of the videos follow a similar pattern: they have a short duration (under 2-3 minutes) and they repeat the same claim over and over and wait till the end to fact-check the video and reveal that the rumours, in this case, Aaradhya's death-- are false.
One of the channels named in the petition, Bollywood Shine, is a verified YouTube channel with 103k subscribers. Its video on Aaradhya titled, "Aaradhya Bachchan's Death | Bachchan Family Sad News | Aaradhya Bachchan News | Bollywood News" has over 6,000 views.
Click here to view the video and here for an archive.
Knowledge Twist, another prominent channel posting about Aaradhya's death has not been named in the petition but carries some of the most viewed videos around the topic. Its video titled, "Bachchan family's beloved Aaradhya dies?" has over 1 million views (archive here). While the video midway clarifies that the news is fake, it carries a clickbait-y title and thumbnail which helps it garner views in large numbers.
Knowledge Twist and its related channel Mini TV have collectively uploaded similar videos 9 times in the past year.
Another YouTube channel, Bollywood Chingari, follows a similar pattern.
Aaradhya's Health Issues
Other videos also claim that Aaradhya Bachchan suffers from mental health issues as a consequence of her parents' separation or divorce, while others claim she has a disability which makes her unable to walk normally. One video, uploaded by verified channel Bollywood Bai with 2.19 million subscribers shared a video titled, "Aishwarya Rai Daughter Aaradhya Bachchan Walking Abnormally", which has over 1 million views (archive here). The video labels Aaradhya's playful walk as "abnormal" feeding into the narrative that she is physically unwell. Another video claiming Aaradhya has polio is shared with the title, "OMG! Sad News Aaradhya Bachchan Suffers With Polio | Aishwarya rai Today News | Bollywood News" (archive here)
Other videos with titles such as "Aaradhya Bachchan Mentally ill Because Of Parents Divorce" are also popular (archive here). Verified channel Celebrity Flow has also shared a video titled "Aaradhya Bachchan Mentally Stressed After Parents Abhishek Bachchan & Aishwarya Rai Divorce" (archive here).
The petition filed by the Bachchan family clearly states that Aaradhya is of sound health, is "living a normal and regular life" and has "not been hospitalised." It also clarifies that Aaradhya was attending public events with her mother Aishwarya Rai Bachchan at the time of the the creation or uploading of such videos.
BOOM spoke to Siddharth Pillai, Co-founder and Director of RATI, an NGO working against child sexual abuse online. Speaking about the mental distress that children who are targeted through such misinformation go through, he said, "This is a very stressful and anxious time for children, and a psychological first-aid has to be administered through counselling. There is also a lot of panic and fear about the content blowing up, especially if it hasn't been taken down yet."
RATI works with children who have been the target of online disinformation, doxxing, sexual abuse, and harassment and helps them with reporting their grievances, while also providing them mental and legal resources.
He also pointed out that children who have not revealed to their parents about the harassment they are facing could also experience feelings of isolation. In his experience, content takedowns are the most effective way to ensure a high recovery rate. "While some children are very resilient throughout the process, we have found that content takedown is still the best solution to boosting their confidence and mental health," he added.
What You Can Do
Reporting a specific video or a channel on YouTube is a known practice, but it does not provide the complainant with enough space to explain the issue in detail. Often, the results may not be as effective, or even match up to the complainant's expectation.
In such cases, Pillai recommends using the grievance officer mechanism. "Under the IT Rules, large social media platforms, also known as significant intermediaries, have to provide a grievance officer in the country. The publicly available form online is a better means to present a broader context of the matter."
He also spoke about the GAC or the Grievance Appellate Committee, where complainants can raise an issue if they are not satisfied with the findings or the decision of the grievance officer. "This method of using public facing government interfaces works well for us too. The process to petition content takedown has become easier because of it," Pillai said.
Apart from this, RATI itself hosts a hotline called Meri Trustline (6363176363), where people can register their complaints and seek the NGO's help for redressal. In such cases, it is very helpful if the complainant has screenshots or some sort of evidence to support their case. "The first video takes the longest and is the most difficult to take down, but after that, the system falls in place," he added.
The Challenges Behind Fact-Checking YouTube
The format and algorithm of YouTube is such that fact-checkers find it increasingly difficult to counter misinformation on the platform. Ruby Dhingra, Managing Editor at Newschecker, explains, "Fact-checking YouTube videos is a challenging task that requires considerable time and resources. One of the biggest challenges is the length of the videos. With both long and short videos on the platform that consist of multiple claims, it takes time to watch the entire video and identify claims that need to be debunked."
"YouTube does not provide any suggestions on what is viral. There are no counters to monitor which videos are popular, making it harder to prioritise which videos to fact-check first," she added.
Speaking about the bad actors that manufacture and spread this misinformation, Dhingra explained how they have loopholes to safeguard themselves from being called out. "Bad actors have become cautious and have found ways to evade detection. Clickbait videos, like clickbait articles, often include disclaimers at the end that make it difficult for fact-checkers to call out the content as false," a pattern that can also be seen in the celebrity death hoax videos we have analysed.
"Although such creators mention that aspects of their content may not be true or based on speculation, the majority of their content still carries misinformation. This can be particularly misleading as many social media users do not watch videos till the end," Dhingra said.
It Doesn't End At Aaradhya Bachchan
Scores of YouTube channels exist that regularly post videos about celebrity deaths. Among other minors, videos claiming to report on the death of Viaan Kundra, Shilpa Shetty Kundra and Raj Kundra's son, are also popular. Check here, here, and here.
Verified pages like Bollywood Time, Bollywood Shine, and Bolly Station regularly post false celebrity death videos, and these videos account for most of their content. Pages like SK Bollywood (17k subs) and Sanjay News (100k subs), though unverified, garner significant views and even run ads on their page.
Out of these channels, BOOM reached out to Knowledge Twist, Bolly Pakora, Bollywood Times, and Bollywood Chingari, the only channels that carried an email address in their bios. All four channels have declined to comment.
BOOM has also reached out to YouTube for a comment. This story will be updated if they respond.


Do you always want to share the authentic news with your friends?
Subscribed Successfully...
Enter Valid Email Id
---