Gig Workers Face The Brunt As G20 Summit Puts Food Delivery On Hold
In light of the G20 summit in Delhi, the authorities have halted food and commercial delivery services by companies such as Swiggy, Zomato, Blinkit and Zepto in the New Delhi district.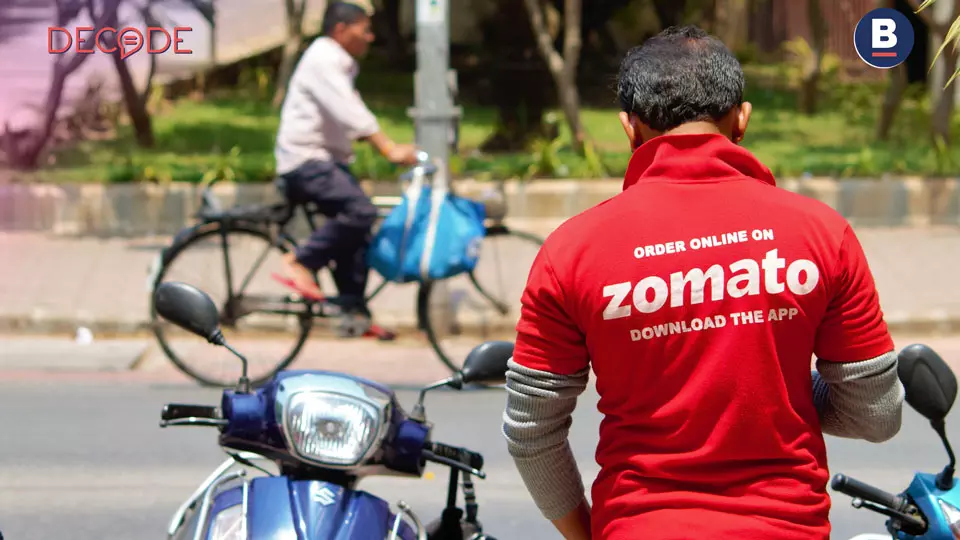 Prince*, a 24 year old Swiggy delivery executive, sits by his electric bike outside a food outlet in Delhi, as he awaits the food package which he is supposed to deliver in the next twenty minutes. "I am able to make around Rs 800-900 per day, if I complete the designated target for the day," he said. Although, not barely enough, Prince sends the bulk of this meagre sum to his father who lives by himself in a village in Bihar. He then manages his personal expenses with whatever is left.
Fearing his financial prospect for three days starting from September 8, Prince said, "I send money to my father daily, I don't know how we will manage three days without any earning. I do not have any savings to fall back on."

He rides an electric bike which is an expensive alternative to motor bikes as he has to pay Rs 1300 per week for its battery. "I do not have a license which is why I opted for this mode of conveyance. But with no income for three days, I will have to somehow ration my spendings to squeeze out this Rs 1300," he said.

Just like Prince, there are hundreds of food delivery executives in Delhi who will be left with no new income for three days, that is from September 8 to September 10, in the wake of the G20 summit. Delhi is all set to host the G20 Summit, with leaders from around the world expected to attend the event at Pragati Maidan.

The G20 comprises the world's 19 countries, as well as the European Union. India presently holds the presidency, which is rotated among the members on a yearly basis.

The authorities of the national capital have announced several restrictions ahead of the event, one of them being the halt in food and commercial delivery services by companies such as Swiggy, Zomato, Blinkit, and Zepto for the given period in the New Delhi district. However, medicines and other essential items will still be delivered. Postal services, lab sample collections, vehicles for hotels and hospitals, and services involved in housekeeping, catering, trash disposal, etc, will be permitted only after verification.
The New Delhi district essentially covers the centrally located Lutyens' Delhi, spanning all the way to the National Capital Territory's southwestern borders to Gurugram. The district is further divided into three subdivisions namely Chanakyapuri, Delhi Cantonment and Vasant Vihar.
Citing security concerns, the operation of the gig workers in the district has been halted. Decode spoke to 12 gig workers from both Swiggy and Zomato who talked about the repercussions of this decision for them.
From Hand To Mouth
Mitesh*, a middle-aged Zomato delivery executive told Decode how a halt in three day income can cost them their monthly rationing. "The office-goers and the full time employees can afford to lose their earnings for three days. But for us it can topple our lives. I have a family of four to look after, EMI of my bike for which I have to pay Rs 4500 monthly, along with the data plans and petrol bills," he said.
Mitesh logs in for 9 hours in a day and hardly takes a day off from his work. He earns around Rs 700-800 daily, from which he is able to save next to nothing. "It is only after spending so much time on the road, that I am able to manage my daily expenses. Delivery executives like me, live hand to mouth," he said.

The gig workers employed by these food delivery companies receive remuneration on the basis of per-order payout, which is proportional to factors like distance traveled and time taken, surge pay and incentive pay.

Swiggy pays its executives Rs 20 per order, for covering a distance of 4 km or less. Zomato on the other hand, pays Rs 10 per km. Apart from this sum, which the delivery executives make for each delivery, the aggregators (Swiggy and Zomato, in this case), pay them incentives within the range of Rs 200-300 for completing a daily target. This target differs from day-to-day, it could be 20 orders on some days and 27 on other days. The target is mostly towards the upper limit during festive seasons or on weekends.

Increasing fuel prices, inconsistency in incentives, decreasing money in hand and on top of all this, a coerced break from work have unleashed horror on these gig workers. "If you call us partners, treat us like one. We are not slaves. We are working tirelessly to make ends meet and there is no social security whatsoever" said Naseem*, a Swiggy delivery executive, who recently returned to his job after a two-week bout of illness, and was hopeful to make up for the days lost.
The Gig Reality: Uninsured And Unassured
All the gig workers-cum-delivery executives who spoke to Decode unanimously believed that a longer notice period from the government's end was required before this rather sudden announcement was thrust upon them. Although the restrictions are not meant for entire Delhi, many of the executives said that they would prefer not going out for work due to the excessive checking and traffic restrictions in the capital.
"We do not have any savings with us. Naturally I will have to borrow money from somebody in the face of this drought," said Bhanu*, a former day laborer who joined Zomato a few months ago when he felt his body was becoming too frail for the heavy manual labour.

According to Bhanu, the gig job has just begun to yield money for him as it took him months to wrap his head around the technicalities of the job.

Speaking to Decode, Muhammad Mukhtar Alam, spokesperson of Gig Workers Association, elaborated on how the delivery executives do not stand true to the core gig economy thesis as majority of them are not part-time employees. Instead, they work full time but are still left uncovered by the purview of social security.

A gig worker is a professional who, instead of receiving a regular income, receives payment based on completing one-time projects or gigs. The Code on Social Security Bill 2019 defines gig worker as, "a person who performs work or participates in a work arrangement and earns from such activities outside of traditional employer-employee relationships".

Alam said, "I know a few who even work for 12 hours a day, yet they do not enjoy the perks and insurances of a full time salaried employee. In an ideal situation, these workers should have gotten some remuneration from their aggregators for those three days."

It is really unfortunate that they have been left unattended to look after themselves, he added.

Except for the state of Rajasthan which has become the first state to pass a bill extending social security to them, gig workers in India are not legally protected. While the government has included gig workers in the draft labour law reforms under the Social Security Code, they have not been included in the clauses addressing wages, occupational safety, and industrial relations.
*The names of the subjects have been changed to protect their identity

Do you always want to share the authentic news with your friends?
Subscribed Successfully...
Enter Valid Email Id
---