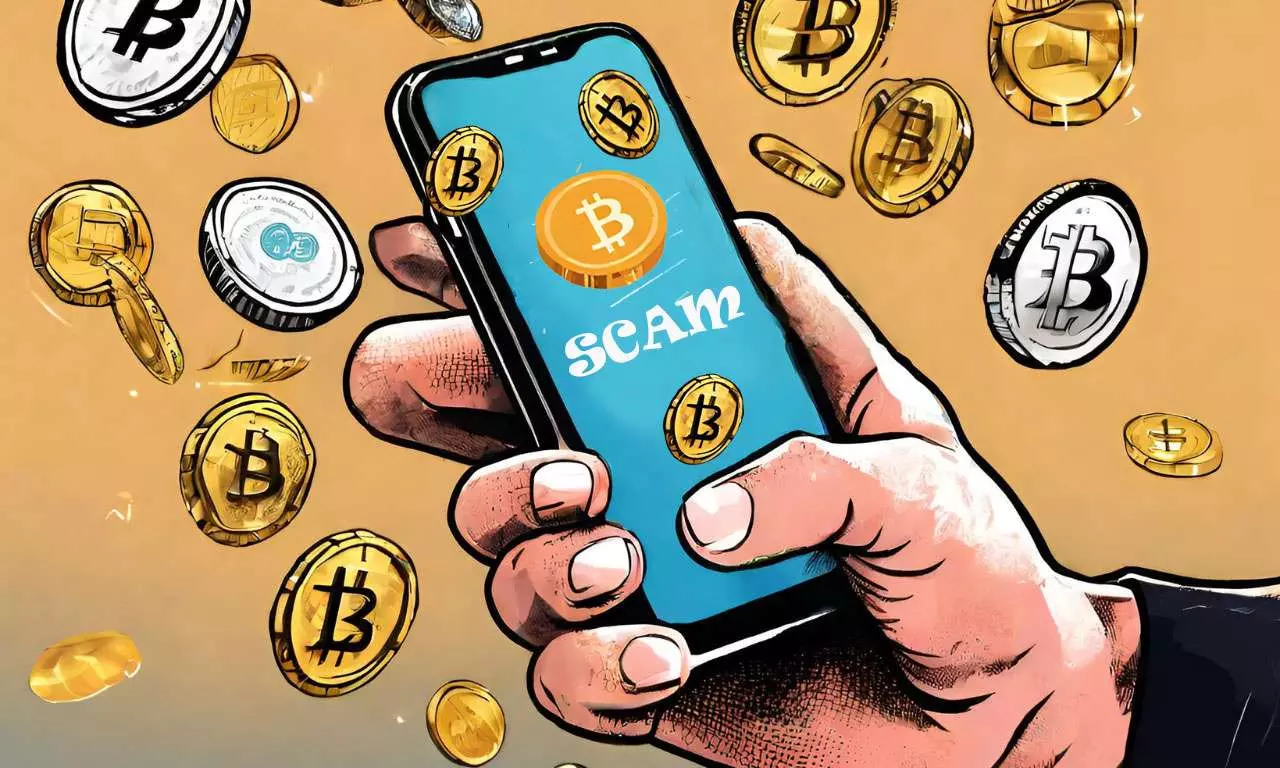 Jagdish Sharma, a sub-inspector from Himachal Pradesh is not a rookie. He knows about frauds and scams all too well. If anyone shouldn't have been duped in a cryptocurrency fraud, it's him, said his colleagues, as Sharma is known to be an excellent investigator.
Sharma's initial reluctance to invest in the cryptocurrency that his colleagues told him about was surpassed by his desire to make quick bucks.
So in 2020, he first invested 50,000 rupees; it doubled. The next year he invested 5 lakh rupees. "Since people around me were making good money, I invested 5 lakh rupees more at the end of 2021," he said. The catch was that the money was only visible on the website.
In September 2022, When Sharma wanted his real money, the agent asked him to invest in another coin—the DGT coin. By now, Sharma's investment had doubled. But to withdraw, they asked him to invest another 2 lakh rupees.
Sharma's family warned him but he says he was "blindfolded by the truth scammers wanted me to see on the crafted website." "I could see my money rising but could not encash it even after paying 2 lakh rupees more," he added.
That's when Sharma realised the trap.
The multi-crore cryptocurrency scam which started in 2020 has come as a blow to the Himachal Pradesh police. The ongoing probe extends to police officials who allegedly acted as agents to dupe other police officers and government employees. A senior investigator, who wanted to remain anonymous, said, "It seems many of us are involved in it. They are not the main scammers," he added.

DGP Sanjay Kundu said the police are investigating the case. So far, two people have been arrested. "The main perpetrator Subhash Sharma is in Dubai and we are using relevant channels to bring him back," he said.

He said so far there were reports of fraud of more than 400 crore rupees and around 50,000 people are believed to have invested in it.
The Scam
It all started in 2017-18 when a fake crypto- Korvio coin was launched. A website was designed to give it a legit colour. Culprits first targeted their friends and relatives who were enticed to rope in more people like a multi-level marketing scheme.

People who were initial investors became part of this network; government employees were the main target. The scam started in Punjab's Mohali, got popular and in the next few years reached Himachal Pradesh. Investors gave their money to these agents through online and offline modes, who further created their accounts on the websites. People were happy to see their investment growing on the website.
When some suspicion was raised over the entire investment system, the scammers introduced 'DGT Coin', High paynext and 'BTPP Token. The scammers returned investment with profit to initial investors from the amount deposited by new investors. Neither there was any market-linked currency nor the amount was invested in the market. The entire amount was with scammers who used to pay from their kitty to maintain the faith amongst MLM customers. With initial investment returned with huge profits people pushed more funds through the agents who used to get a commission.
The scammers went off the radar by mid-2022.
The scam rocked Himachal Pradesh Vidhan Sabha this monsoon session, after which the government constituted an SIT headed by a DIG rank IPS officer Abhishek Dullar. Dullar said, "Police have been raiding properties relating to the accused. So far 8 FIRs have been filed while more than 100 complaints have reached the police."
The Trap
Jagdish Sharma has lost 9 lakh rupees.

Sharma, a cop, surfed the website of Korvio Coin and talked to people about it. It was the time when everything was going smoothly and people had just started investing. A few lucky investors getting good returns indirectly worked as an advertisement. Sharma knew some colleagues who had purchased a flat in Mohali, another constructed a multi storey house in his village in Kullu district. "They had earned huge profits from cryptocurrency," Sharma recollected.
Daulat Ram, a constable, was inspired by an inspector rank officer of his police station in Kangra district. "SHO Sahab invested and earned money from cryptocurrency," he said.
When Daulat Ram got around 5 lakh rupees from a property settlement within the family, he was feeling lucky. His wife asked him to deposit the money in a Fixed Deposit, but he says he listened to the SHO at the police station and got trapped.

"I invested 3 lakh rupees in September 2021," he said, adding, "I was assured 100 per cent growth within one year." He said the SHO himself had invested a big amount. "He (SHO) used to show me the increasing value of coins on the phone. I could see my money increasing only on my phone. I could not withdraw it." When he contacted the agent he realised that many of them had been scammed including the SHO himself.

Another constable, who has investigated several cyber crime cases also fell for the scam. He told Decode that he probed the scheme, checked the website, and spoke to some investors including his colleagues.

"There should be a reason for doubt. The website looked legit. A proper website with accounts of investors. Those who invested could see their money increasing from time to time. When my seniors had invested in it, I stopped reading between the lines. I had read about cryptocurrency scams but the increasing value of my coins blindfolded me," he said, requesting anonymity.

He invested 37,000 rupees in 2020 and it doubled in a year. Then he borrowed 4 lakh rupees from a friend and took a loan of 2 lakh rupees. He added another 4 lakh from his savings and invested 10 lakh rupees in November 2021.

"When I contacted the agent, who has invested funds of several cops and others, he was reluctant and gave different dates. My senior cautioned me that it could be a scam. When I spoke to colleagues who have invested in it, they started enquiring about money. "

The agent showed him his bank statement revealing he had also invested in it.

Gradually, everyone started realising that the whole cryptocurrency was a fake one created on a fake website.
The Investigation
There are more cops, and other government employees, who invested in the cryptocurrency— the scheme that was floated by Himachal Pradesh's Mandi resident Subhash Sharma and his aides.

The SIT has arrested two aides of Subhash Sharma—the mastermind — who is believed to be in Dubai. Himachal Police has approached central agencies to bring him back. The police arrested Hemraj and Sukhdev of Mandi district from Gujarat. The police have now initiated a process to identify and confiscate the property of Sharma and other scammers.

Similar cases were registered in Punjab's Mohali and police arrested three– Sham Sharma from Punjab and Ashwini Kumar and Sunil Sharma from Himachal Pradesh last week. They were allegedly recruited by Subhash Sharma.
Sunil Sharma was a constable in Himachal Pradesh Police who took voluntary retirement in 2017 and joined Subhash's network in Mohali. The Mohali police have traced transactions of 198 crore rupees from Sunil's account. There are more police involved in the scam.
As per the probe, there are around a dozen cops who were actively involved as agents in this scheme. Mandi police have received a complaint against a woman constable for defrauding a victim of 11 lakh rupees. The victim said that the woman cop posted in Hamirpur district led him to another woman constable in Mandi district in 2021. "She (mandi cop) told me about the cryptocurrency plan. I thought it could be another ponzi scam but she showed me details of some cops, other employees who had invested and some of them had even got a good return," he said.
"I thought why would cops market any scam? Had it been a scam, they would have sensed it and not invested," he said. Almost a year after when he asked the constable, to whom he had given the money, about the withdrawal of the amount as assured, she cited some technical snag.
"That also did not raise a red flag in my mind and six more months passed. When I asked her again, she said there was some issue and the market had collapsed. When I pressurised her, she threatened me to keep quiet or she would implicate me in some case," said the victim. The police are verifying his charges.

SSP Mohali Sandeep Garg said that the mastermind had more than 200 agents under him who might have duped around 50,000 people.
"How foolish can one be?" that was the first thought that came to Sharma's mind whenever he came across frauds. "I have lectured many people to stay aware, and not to fall for any scam or easy money game. But I don't know when I became a victim of it myself," Sharma told Decode.

Do you always want to share the authentic news with your friends?
Subscribed Successfully...
Enter Valid Email Id
---