Dexamethasone- Steroid For Treating COVID-19: All You Need To Know
The steroid was seen to reduce deaths in COVID-19 patients on ventilation as well as on oxygen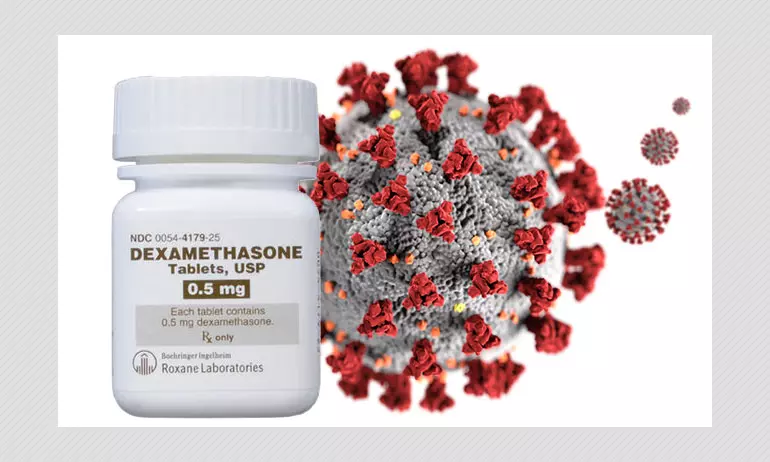 As the COVID-19 cases and deaths surge to over 86 lakh and 4 lakh globally, an Oxford University trial claimed that a steroid called dexamethasone reduces mortality of COVID-19 by one/third in ventilated patients.
This trial conducted by Dr. Peter Horby and Dr. Martin Landray for the United Kingdom's Randomised Evaluation of COVID-19 Therapy (RECOVERY) Trial shows preliminary results that the low cost dexamethasone is beneficial in reducing mortality in COVID-19 patients on ventilators or using oxygen.
It is also the first drug found to reduce mortality in COVID-19 patients.
The study's findings have been lauded by the World Health Organization (WHO) and the organization took to Twitter to appreciate the efforts of the British government.
What Is Dexamethasone?
Dexamethasone, a corticosteroid is used against inflammations and allergic reactions. It has been specifically used to reduce swelling, eye inflammation and tumours of the brain and spine.
The drug prevents the white blood cells from reaching the areas of swelling in the body and in turn preventing infections.
It has been in use since the 1960s and has been listed on the WHO Model List of Essential Medicines since 1977 in multiple formulations, and is currently off-patent and affordably available in most countries.
Heartburn, muscle weakness, and improved blood sugar levels are some of the commonly seen side-effects of the drug.
What Has The Trial found?
This study which is a part of the RECOVERY trial gave the drug to 2104 participants in a randomized control trial while over 4321 participants were prescribed to usual care. The complete study and results have not yet been published.
The participants received six mg of the drug once daily for ten days.
Among the patients who received usual care alone, 28-day mortality was highest in those who required ventilation (41%), intermediate in those patients who required oxygen only (25%), and lowest among those who did not require any respiratory intervention (13%).
Dexamethasone significantly (p-values) reduced deaths by one-third in ventilated patients and by one fifth in other patients receiving oxygen only. According to these results, 1 death in around 8 ventilated patients or around 25 patients requiring oxygen alone could be prevented by the drug.
However, no changes were observed in patients who were not on respiratory support.
Peter Horby and Martin Landray, two of the Chief investigators of the study and Professors at the Nuffield Department of Medicine, University of Oxford believe that dexamethasone should now become standard of care in these patients as it is instantly available and affordable worldwide.
What Are Experts Saying?
Research studies across the world have been scrutinized as papers in renowned medical journals have been published without being peer-reviewed. Furthermore, there have also been many studies that have been retracted in the process.
The findings of this study have been received with both- scepticism and encouragement.
Dr. Atul Gawande, an endocrinologist, a public health researcher, and professor at Harvard University, Boston tweeted that even though the findings were interesting, he would wait for the published paper.
However, many other medical practitioners, public health research scholars disagreed with his tweet.
Dr. Vincent Rajkumar, an oncologist with the Mayo Clinic, Minnesota tweeted that they follow the same practice in oncology of releasing results and publishing papers later. He even asked his followers in India to trust in the drug.
India, however, has been providing steroids to its COVID-19 patients since the beginning, according to Dr. Behram Pardiwala, Internal Medicine Expert, Wockhardt Hospitals, Mumbai. Dr. Pardiwala stated that India has been giving steroids such as dexamethasone, prednisolone and methylprednisolone to its patients since the beginning of COVID-19.
Also Read: Dexamethasone Used In India Since COVID-19 Arrived: Dr Pardiwala
What Is The Recovery Trial?
The Randomised Evaluation of COVID-19 Therapy (RECOVERY) is a range of trials to check the effectiveness of the touted medicines such as lopinavir and ritonavir, low dose dexamethasone, azithromycin, Tocilizumab- an antiinflammatory, convalsecent plasma, hydroxychloroquine, and remdesivir against COVID-19.
These trials are being conducted by the University of Oxford through a grant they have received through the UK National Institute for Health Research.
It has already shared results of dexamethasone and hydroxychloroquine. The trial found that hydroxychloroquine (HCQ) has no clinical benefit on patients hospitalised with COVID-19. Following these results, the WHO has stopped the trials of HCQ in its Solidarity Trials. The WHO has however not said anything on the drug being used as prophylaxis.
Updated On:
2020-06-19T16:55:42+05:30