Congress Election Manifesto: 5 Key Takeaways
BOOM takes a look at 5 major measures in its manifesto that the Congress Party has proposed to implement, if voted to power in May 2019.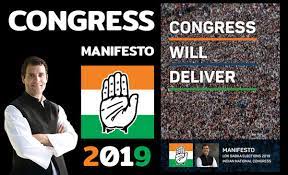 The Congress Party on Tuesday released its manifesto for the 2019 Lok Sabha Elections. The manifesto encompasses a wide range of issues ranging from promising to implement it's ambitious minimum income guarantee scheme or NYAY to proposing a separate budget for farmers.
BOOM takes a look at 5 major measures in its manifesto that the Congress Party has proposed to implement, if voted to power in May 2019.
1) Minimum Income Support Programme or Nyuntam Aay Yojana (NYAY)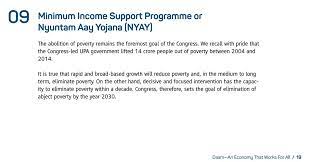 The much talked about NYAY scheme, which the Congress Party unveiled a week ago finds mention in the manifesto with the stated goal of the scheme that it promises, 'No Indian Family Shall Be Left Behind'.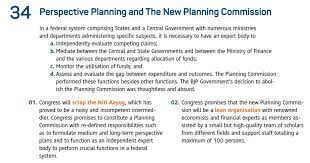 Congress with this program plans to target 5 crore families who constitute the poorest 20 percent of all families in the country. Each family would be guaranteed a cash transfer of Rs. 72,000 a year.
2) Focus On Jobs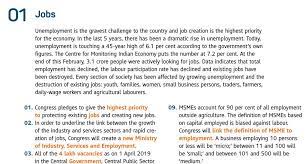 The first section in the manifesto is 'Jobs', which the party has been attacking the ruling Bhartiya Janata Party (BJP) for failing to deliver during its rule.
Will fill all 4 lakh Central Government and institutional vacancies before March 2020
As a condition for devolution of funds to the healthcare and education sectors and to Panchayats and Municipalities, Congress will request State Governments to fill all vacancies, estimated at 20 lakh, in the 2 sectors in local bodies.
Create an estimated 10 lakh positions in every gram panchayat and urban local body
Launch a 'Water Bodies Restoration Mission' and 'Wasteland Regeneration Mission' to create 1 crore jobs.
3) Making Loan Default By Farmers A Civil Offence Instead Of Criminal One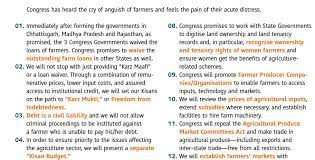 The party has promised not only to provide "Karz Maaf" or loan waivers to farmers but also to set them on the path to "Karz Mukti," or Freedom from Indebtedness. The party's manifesto claims to achieve this through a combination of remunerative prices, lower input costs, and assured access to institutional credit to set farmers on the path to
In another major promise, the party has also said that they will not allow criminal proceedings to be instituted against a farmer who is unable to pay his/her debt, by making loan defaults by farmers a civil liability instead of a criminal offense.
4) Amending AFSPA, removing sedition, and making defamation a civil offence.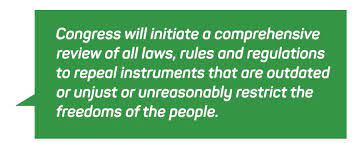 Under, 'Review of Laws, Rules and Regulations' section, the Congress party has promised to laws which it states essentially laws directed against civil violations and can be subjected to civil penalties.
To make 'Defamation' which comes under Section 499 of the Indian Penal Code a civil .
Amend the Armed Forces (Special Powers) Act, 1958 in order to strike a balance between the powers of security forces and the human rights of citizens and to remove immunity for enforced disappearance, sexual violence and torture
Omit Section 124A of the Indian Penal Code (that defnes the offence of 'sedition')
5) Scrap NITI Aayog
Days after the Congress President Rahul Gandhi had tweeted that the Congress would be scrapping the NITI Aayog, it has found mention in the manifesto under the section ' - Good Governance Through Independent And Accountable Institution'.
The NITI Aayog was established in 2015 by the BJP government replacing the Planning Commission which was established on March 15, 1950, with former Prime Minister Jawaharlal Nehru as the Chairman.
Updated On:
2020-09-09T14:50:19+05:30