Can An Optical Illusion Measure Your Stress Levels? A FactCheck
BOOM reached out to professor Akiyoshi Kitaoka, creator of the optical illusion, who rubbished the claim.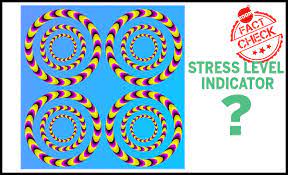 An image, part of an optical illusion art made by Japanese psychologist Akiyoshi Kitaoka is being shared on social media with false claims that it can measure the level of stress of a human mind at a given point of time.
The optical illusion image is viral on both WhatsApp and Facebook.
It contains four winding circles positioned in a blue square background. Each set of the circles contains three rings in yellow, black and violet, which appear to move, in a first glance.
The viral message along with the image reads, "Japanese Psychiatrist Akiyoshi Kitaoka created images designed to help viewers of the images determine their state of mine. Essentially, if you look at these images and they appear to be still (RELAXED), moving slowly (MID-STRESS) and faster moving around (HI-STRESS) and faster moving around (HI-STRESS). Your result???"
BOOM reached out to Professor Kitaoka, who rubbished such a theory attached to his piece of optical illusion art.
BOOM received the message on its WhatsApp helpline number (77009606111).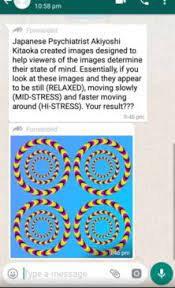 The same message is also viral on facebook.
The facebook post is archived here.
Fact Check
BOOM contacted professor Akiyoshi Kitaoka, who created the art, titled, Rotating snakes...Circular snakes appear to rotate spontaneously. Kitaoka dismissed the association of stress measurement with his works of art.
"You cannot measure any state of mind or stress from watching visual illusion. It has nothing to do with stress."


Akiyoshi Kitaoka, Illusion artist & Professor, Dept. of Psychology, Ritsumeikan University, Kyoto, Japan
Kitaoka teaches Psychology at the Ritsumeikan University, Kyoto, Japan and he confirmed to BOOM that stress cannot be measured while watching visual graphics.
Kitaoka further said that these graphic works of art have been created on CorelDraw, a graphic design software.
More of Kitaoka's illusion images can be viewed on his profile in the Ritsumeikan University's website here.
In fact, Kitaoka also issued a clarification on his profile, after BOOM contacted him on September 18. "Visual illusion has nothing to do with stress," has been stated on his artwork in the website.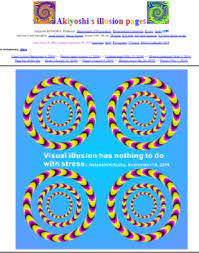 Claim Review :
The illusion image can measure stress level
Claimed By :
FACEBOOK POST AND WHATSAPP MESSAGE