Boom Reports
'Where Will We Go Now?': Joshimath Residents Wait In Limbo Amid Disaster
BOOM spoke to several residents on the ground who have been displaced because of the land subsidence in the area. They are worried about how they will make ends meet and where they will settle if Joshimath really sinks.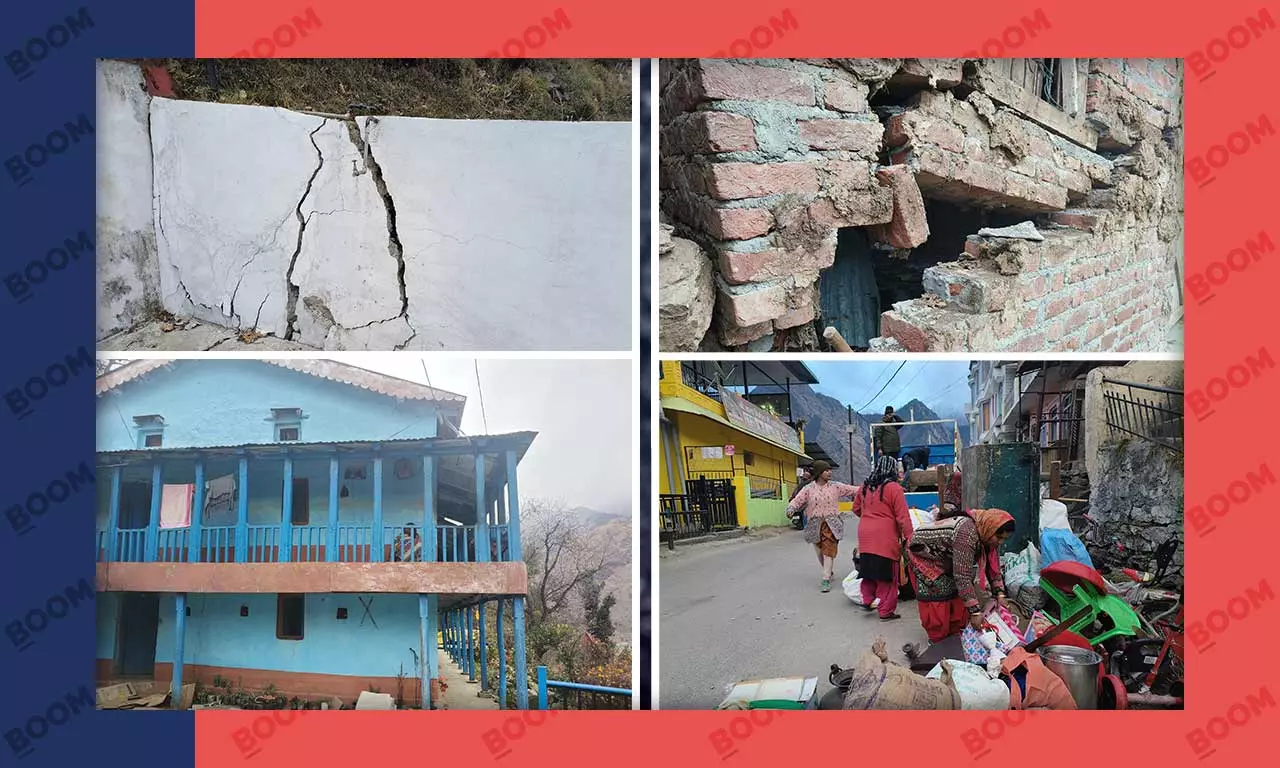 On April 5, 2022, Joshimath resident Deepak Rawat had taken to Facebook to express his frustration about his home being destroyed because of land subsidence. Sharing photos of his destroyed balcony, Deepak had written, "Government, administration have kept mum. Despite being notified, again and again, nothing has been done. The existence of Joshimath is in danger because of land subsidence in several places."
The photos showed chunks from the balcony of Deepak's home had fallen out. Deepak's home had begun developing cracks about eight months ago and parts of their balcony had collapsed. Speaking to BOOM, Deepak said, "I submitted an application with photographs in the tehsil and the nagar palika (municipal corporation) but they didn't pay heed. Later on, we repaired our house and now it has collapsed again."
His family is among hundreds of residents in Uttarakhand's Joshimath who have been asked to move out of their homes and now stare at an uncertain future.
BOOM spoke to several residents on the ground who have been displaced because of the land subsidence in the area. They are worried about how they will make ends meet and where they will settle if Joshimath really sinks.
Land Subsidence Began A Year Ago
Residents blamed unauthorised construction and the Vishnugad-Tapovan hydropower project of the National Thermal Power Corporation (NTPC). Deepak said, "We're not supposed to build over three floors, but people have built till six floors. Then there is the NTPC tunnel, which has rendered the ground below Joshimath hollow."
Last week locals blocked NH8 in protest against the NTPC which built a 12.1 km-long tunnel for its hydropower project. The NTPC meanwhile said that a tunnel had no connection to the current situation. The Indian Express quoted an NTPC statement as saying, "The tunnel built by NTPC does not pass under Joshimath town. This tunnel is dug by a tunnel boring machine (TBM) and no blasting is being carried out presently."
Deepak's wife Anshu told BOOM, "Our houses had been showing cracks, which became bigger and bigger. We spent around Rs 8 to 9 lakhs in repairing. We thought maybe labourers who constructed our home did not build them properly."
Deepak's Facebook post seems prophetic months later as Joshimath has been declared a disaster-prone zone.
The National Remote Sensing Centre (NRSC) of the Indian Space Research Organisation released satellite images showing how the town sank 5.4 centimetres between December 27, 2022 and January 8, 2023.
According to the NRSC report between April 2022 and November 2022, Joshimath recorded slow land subsidence of up to 9 centimetres. The town, which is a gateway to trekking locations and religious places like Badrinath and Hemkunth Sahib, has seen rapid urbanisation in the last few years.
Deepak and Anshu's home isn't the only one that developed cracks in 2022. Their neighbour Usha Bisht said that her home had developed cracks too. Usha said, "We did repair work recently. The cracks appeared around six months ago."

Usha shared images with BOOM of the time her home was repaired because of the cracks.
Joshimath Bachao Sangharsh Samiti convenor Atul Sati told PTI that land subsidence had begun in November 2021 and had affected 14 houses. Sati was quoted by PTI as saying, "We have been drawing the attention of authorities for the past 14 months. But we were not heeded. Now when the situation is getting out of hand, they are sending expert teams to assess things."

For now, two hotels — Hotel Malari Inn and Hotel Mount View — are being demolished by the authorities. Uttarakhand chief minister Pushkar Singh Dhami has visited the location multiple times and authorities have said that even Prime Minister Narendra Modi has was monitoring the situation.
Contingents of the State Disaster Response Force and the National Disaster Response Force have been deployed. According to reports, Army helicopters and teams of the Indo-Tibetan Border Police have also been deployed in Gauchar, which is around 90 kilometres from Joshimath, to tackle emergencies.
'Where will we go now?'

Dhami held a meeting in Dehradun on Friday and said that so far 99 families from Joshimath had been moved to shelters. ANI quoted him as saying, "We have not demolished any houses so far, the survey team is present over there. Assessment for rehabilitation underway and we're making key decisions for future."
The Uttarakhand government announced an ex-gratia of Rs 1.5 lakhs per family and Rs 4,000 as rent for those who needed it. But for those living in cramped shelters without knowing what their life is going to be like in the near future, this amount is not enough.
For Rajni Rawat, whose house is below Hotel Mount View, the main concern was how her family was going to make a living if they have to move out of Joshimath. "We had a two-storied house and our household used to run from the rent we received. The tenants have left out of fear," she said.
Rajni's father-in-law was in the Army and used all his money to build a two-story house. "Our village did not have roads so he built the house in Joshimath. All our money was spent on building this house. With a disaster waiting to happen, our house is not fit to live in."
Rajni has three children, two of whom live in Dehradun, and one is in Class IX and lives with the family in Joshimath. Rajni feels that without certainty in the hill town, she may have to send him to Dehradun as well.
With schools set to reopen soon and board exams a few months away, parents are also worried about their children's academic future. Usha, who has spent over 10 days in the shelter, told BOOM, "The government has not said anything about what happens to the government's schools. We also want the government to the government to waive their fees. We don't have a kitchen. We have asked the SDM for ration. Our children should also be provided with books and pens so that they can do their homework."
In the villages of Manohar Bagh and Marwari, most homes had been marked with the red cross which deems them unsafe. People were busy gathering their belongings and were finding it difficult to speak without breaking down.
The families in shelters want the government to compensate them with the rates that they bought land so that they can build new futures elsewhere. Finding employment is their biggest worry. "There is no employment for us, where will we go now?" wondered Rajni.
Do you always want to share the authentic news with your friends?
Subscribed Successfully...
Enter Valid Email Id