The Fake WhatsApp Videos That Made...
The Fake WhatsApp Videos That Made Bihar's Workers Escape Tamil Nadu
Thousands of migrant workers from Bihar have left Tamil Nadu because of the fear raised by viral false videos. Who started the rumours?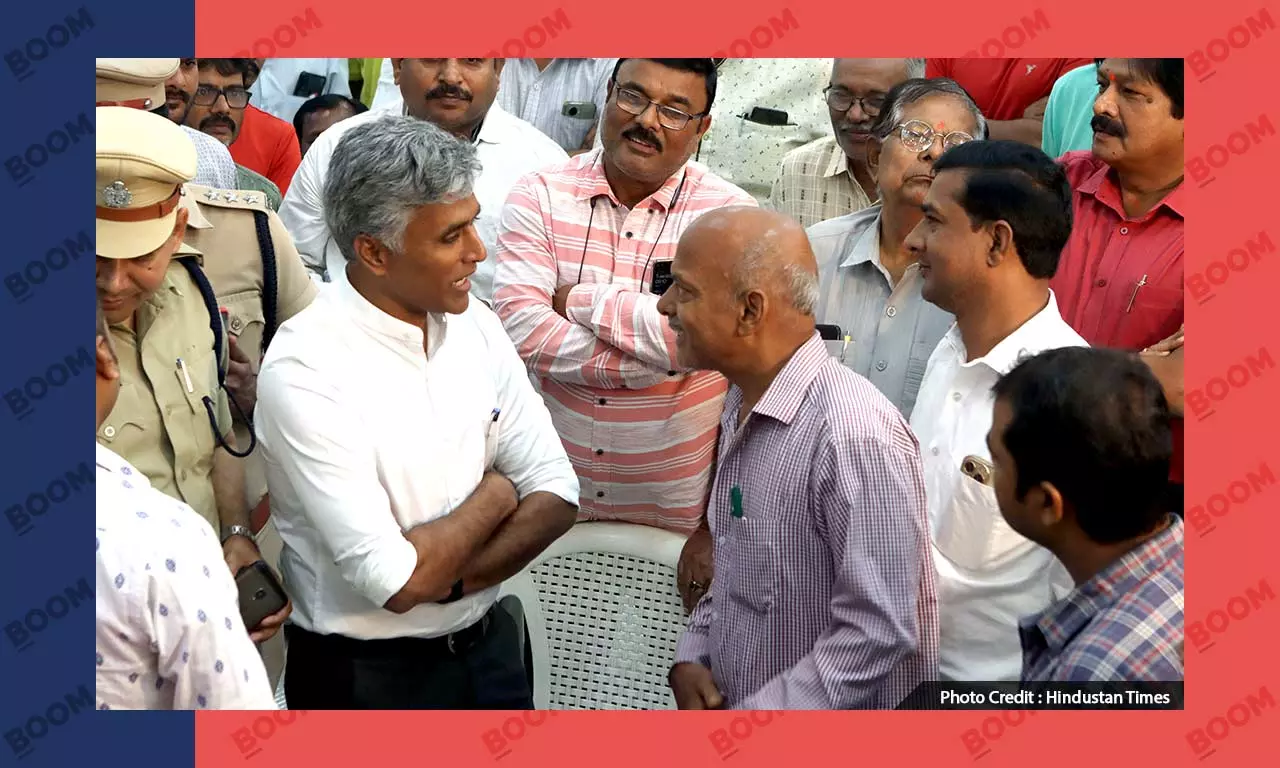 Patna, BIHAR — Twenty-year-old Bikku Paswan, a worker at a saree-cutting factory in Tirupur in Tamil Nadu, was flooded with WhatsApp messages of violent videos of Bihari migrants being beaten up.

High school dropout Bikku, who hails from Jamui district of Bihar, had been working in Tamil Nadu for around two years. He told BOOM he had never faced any discrimination or threat there. But the murder of his villager Pawan Yadav followed by a flurry of videos that were forwarded to him on WhatsApp groups left him so panicked that he took the first train out of Tamil Nadu, without a ticket.

"I had no plans of going back to the village, but I left in a hurry. I didn't get the time to reserve a ticket," he said. Bikku paid Rs 1,000 as a fine in the Ernakulam Patna Superfast; the ticket of which would have cost him just Rs 850. He reached his home in Sikandra in Jamui district of Bihar on 3rd March.

In the last week, thousands of migrant workers from Bihar have left Tamil Nadu with their baggage, because of the fear amplified by hundreds of viral videos, most of which have been proven to be fake.

The news of a Jamui resident Pawan Yadav's murder on 19 February escalated the fake viral videos. Pawan, who worked as a tailor in Tamil Nadu was murdered due to a personal dispute, the police had said. However, local newspapers and websites in Bihar carried the news, painting it as a hate crime against Bihar's migrants.

The police had arrested one Upendra Dharia, a Jharkhand resident in this case.

Bikku shared six videos with BOOM which he received on WhatsApp groups he was a part of. All the videos were unrelated and debunked by fact-checking websites.

"I received many videos on WhatsApp groups, they were all videos of Biharis being attacked. We were scared," Bikku said. Back in his village, his parents who had been watching the news on TV channels— where many of them claimed migrants were being attacked in Tamil Nadu— were scared too. They wanted Bikku to return to the village. "So we got out as soon as possible," he said.

Bikku's fear was that if the videos of the attacks were true, the authorities wouldn't do anything about it. "After all we were in other people's state so who would listen to us if someone attacked me?" he asked.

How Did The Rumours Begin
It is still unknown where the very first rumor of attacks on Bihari laborers started in Tamil Nadu, but locals say it had begun in mid-February.
On 28th February, Bihar Police's Economic Offenses Unit (EOU) noted that within just 18 minutes, 11 pictures and videos were posted from a Twitter handle— of Aman Kumar (who goes by the handle @Chamar030) with claims of attacks on Bihari migrant workers in Tamil Nadu. The Twitter handle has just 14 followers but because he posted a series of 11 tweets, the investigating officers say they smell hints of conspiracy.
Soon after, the rumors were amplified through other social media platforms- YouTube channels and Facebook pages. The EOU has registered an FIR against two Twitter handles and two YouTube channels.
Aman Kumar has been arrested in Jamui. On his Twitter bio, Aman says he is the district president of Bhim Army Bharat Ekta Mission in Jamui. The police said he used to work in Karnataka. Police officials from the EOU probing the case told BOOM that they have received more videos in Aman's phone which suggest that there could be a "well-planned conspiracy behind all this".
Sushil Kumar, SP of the EOU told BOOM, "We are probing who is behind this rumor and what was their motive. Notices are being sent to others named in the FIR."

Other accused include Manish Kashyap, Yuvraj Singh Rajput and Rakesh Tiwari who runs Prayas News YouTube channel.

Manish Kashyap is quite popular on social media. He has 3.9 million followers on his Facebook page. He runs a YouTube channel called Sachtak News which has 6.34 million subscribers. His videos are often rants against Bollywood actors, laced with Islamophobia. Soon after the trailer of the movie 'Pathaan' was released, Manish Kashyap in a video said, "He (Shahrukh Khan) has a charasi (Drug addict) son and a daughter. He is 50-year-old but he is doing vulgar acts in the movie. Bollywood actors do bhadwa giri so people boycott them."
On his YouTube channel, Kashyap posted two videos and four videos on his personal Facebook page claiming attacks on Bihari workers in Tamil Nadu.

Kashyap has earlier posted several photos and videos with actors, politicians, and celebrities. He regularly posts videos with Bollywood actor Sonu Sood. Some of his photos on Facebook are with BJP leader and Union Minister Rajnath Singh, Bihar IPS officer Vikash Vaibhav, IRS officer Samir Wankhede (who had hit the headlines in Ayran Khan arrest in the drugs case), Bhojpuri actor Khesarilal Yadav, Bihar environment and climate change minister Tej Pratap Yadav.
Back in 2019, soon after the Pulwama attacks, the popular YouTuber Kashyap was arrested for attacking Kashmiri shopkeepers in Patna who was selling woolen clothes.
Another YouTube channel Prayas News, run by Rakesh Tiwari, uploaded 8 videos on its related to Tamil Nadu. The videos were of people claiming they have been attacked in Tamil Nadu.

The other accused in spreading false information is Yuvraj Singh Rajput who had tweeted, "Bihari brothers are being beaten to death in Tamil Nadu but Nitish Sarkar is mum. This government just wants the throne."
SP Sushil Kumar told BOOM that they have found seven Facebook pages, five YouTube channels and 14 Twitter handles including the handle of BJP Bihar unit that has "deliberately created an atmosphere of fear among the people by sending provocative, misleading and rumor-mongering material under a conspiracy."
The Curious Case Of "Armaan" Who Claimed 12 Murders
Five days ago, a news appeared in the online edition of Dainik Bhaskar titled –DGP ke daave par mazdoor bole – kuch hua nahi to itni lashein kaise Bihar pahuch gayin (On the claim of DGP, labourers said – if nothing happened, then how did so many dead bodies reach Bihar).
The newspaper report quoted a person named Armaan as saying that he witnessed his friend's fingers being cut off after they were asked whether they speak Hindi. He said he was threatened to kill, but he managed to escape.
The Dainik Bhaskar report quotes him as saying, "These people (Local Tamil) locked 12 laborers in a room and hanged them."

OP India, too, picked this part and wrote a report.
The Tamil Nadu Police has registered a case under sections 153A and 505 of the Indian penal code against the editor of Dainik Bhaskar for spreading fake news as well as against OP India's CEO Rahul Roushan and editor Nupur Sharma.
Following the FIR, Dainik Bhaskar edited out the parts about '12 murders' and 'chopping off four fingers' from the story.

BOOM got Armaan's number through a source and spoke to him about his claims.

Armaan is resident of Sikandra in Jamui. He has been working at a construction site in Coimbatore for eight months. He denied any of the quotes that were carried by the reports- witnessing 12 murders by hanging or his friends' fingers being chopped off.

"We didn't see any such incident. Some workers would tell me about this when I used to go to the site to work. Some other people had told this to them. We would keep getting these attack videos on our WhatsApp. The videos scared us," Armaan told BOOM.

Although he accepted talking to the Dainik Bhaskar reporter he told BOOM that he did not claim to witness any attacks or deaths.

"One after another videos were shared with us. We started believing them. Once we got back to Bihar then we realised these were all rumours. Now I am regretting coming back," he said. "We were working there peacefully, but I left the state in a hurry without taking my payment," he added.

What Did The Bihar Labourers Witness?
Almost all the labourers BOOMLive spoke to said that they have never seen any Bihari migrant being attacked, although they believe there's truth in those videos.

Ramvriksh Yadav, a resident of Jamui district, who returned from Tirupur four days ago, says, "There must have been a fight with the Bihari laborer, that is why the videos are viral. Why would someone post a fake video? What will people get by sharing these fake videos?"

One of the videos that Yadav received showed two residents of Vaishali being attacked, in which one died. Another photo was of two persons, one dead lying in a pool of blood and another injured. The caption read – "This morning two brothers of Vaishali of Bihar were going to work in Tamil Nadu. They were attacked with knives on the road. One died and another was admitted to the hospital. We are requesting our Bihari brothers please don't mess with Tamil, because you know that riots are happening between Tamil and Hindi speaking people."
Yadav isn't convinced that the videos are fake, however, he also says that he did not witness any such incident. For the last 10 years, he has been loading-unloading clothes in a garment factory in Tirupur but he says he has never faced harassment for speaking Hindi.
But watching the videos has scared him, he doesn't want to return to Tamil Nadu. "I will try to go somewhere else for work," he said.

Ajit Ram, who returned to Basbutti village in Jamui six days ago, says, "We had got 4-5 videos of violence and we were scared." In one video, he says, some persons were beating Bihari workers in a train. This video was later uploaded by the Tamil Nadu government railway police on 17 February on its Twitter handle calling it a 'fake' one with a caption - FIR has been registered by GRP Chennai against perpetrators.
In one of the videos he received, a person is seen attacking two persons with choppers. This video was related to a gang war in February and was reported by The Hindu.

The 21-year-old has been working at a thread-making company in Tamil Nadu for eight months, he said he never faced any harassment. "I have never faced harassment or witnessed any such incidents. But the videos I saw scared me. Locals were also saying that these attacks are happening," he said.

Do you always want to share the authentic news with your friends?
Subscribed Successfully...
Enter Valid Email Id
---