'Black Money' To 'Tax Compliance': Changing Narratives On Demonetisation
BJP Minister says PM Modi never said demonetisation was being done to curb black money. But his November 8, 2016 speech saw 17 mentions of 'black money'.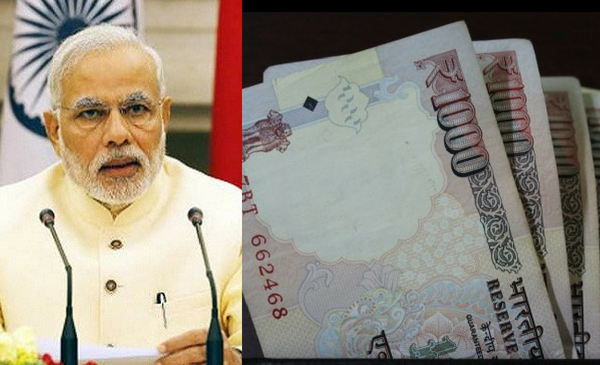 A day after RBI's annual report revealed that 99.3% of the demonetised currency returned to the banking system, Minister of State for Finance Shiv Pratap Shukla said that PM Modi never said that demonetisation was being done to curb black money.
BOOM fact checks the claim and also traces the change in narrative on demonetisation since its annoucement by looking at official press releases.
CLAIM: Prime Minister Narendra Modi never said that demonetisation was being done to curb black money.
FACT: False. The Prime Minister did say that demonetisation was a step to curb black money. He mentioned 'black money' 17 times in his speech while announcing demonetisation on November 8, 2016.
In an interview to India Today Shukla said,
"Aadarniya Pradhan Mantri ji ne kabhi iss baat ko nahi kaha tha ki hum ye kale dhan ke nate kar rahe hain. Balki, saaf saaf kaha tha ki desh ki arthavyavastha ko sudharne ke liye kar rahe hain. Un sab logon ko har cheez me kaala dhan dikhta hain. Usko koi kya kar sakte hain."
This loosely translates to, "The Prime Minister never said that demonetisation was done to curb black money. But he clearly told that it is to strengthen the economy. They see black money in everything. Nothing can be done about that." He also said that the money stashed in lockers was brought back to circulation in the economy due to demonetisation.
'Black money' saw 17 mentions in Modi's demonetisation speech
Shukla's statement is in stark contrast to Modi's announcement of demonetisation on November 8, 2016. He said, "Brothers and sisters, To break the grip of corruption and black money, we have decided that the five hundred rupee and thousand rupee currency notes presently in use will no longer be legal tender from midnight tonight, that is 8th November 2016."
Shukla's statement is categorically false as not only did Modi's speech portray demonetisation as a stringent step to eradicating black money but also saw the mention of 'black money' 17 times. Corruption was mentioned 16 times while digitalisation which is the basic step towards a formal economy never found any mention in the PM's speech.
Read BOOM's story from August 2017.
How the Finance Ministry's press releases in defense of demonetisation shows a change in narrative
What Pratap Shukla, MoS for Finance, implied through his statement is seen in a more nuanced manner in the press releases of the Ministry of Finance. The dilution of 'curbing black money' is seen with the progression of years.
On August 30, 2018, Finance Minister Arun Jaitley in a Facebook post said, "The larger purpose of demonetisation was to move INDIA from a Tax Non-compliant to a compliant society." The Ministry of Finance also released the post via PIB. Filings of income tax returns have seen '19% and 25%' increase in the last two years post demonetisation, said Jaitley.
Though he mentions tax compliance involved 'formalization of the economy and a blow to black money', Jaitley places more importance on tax compliance rather than the eradication of black money.

But back in August 2017, A PIB release from the finance ministry listed the 5 objectives of demonetisation as flushing out black money, eliminating fake currency, striking terorrism, formalization of economy to expand tax base and to boost digitalization.

However, the Ministry's PIB release on November 8, 2016, the day when demonetisation was announced, portrayed the massive exercise to have fewer and specific goals of curtailing terror financing, curbing fake currency and eliminating black money. It saw no mention of tax compliance then.

BOOM's article in August 2017 showed how digitization was added to the narrative of demonetisation.
The government has came under heavy fire over the last 20 months as it became clear that more than 99% of the demonetised notes found its way back to the banking system. That explains why the government narrative about demonetisation has also moved away from eradication of black money to tax compliance and formalisation of the economy in recent months.
If you value our work, we have an ask:
Our journalists work with TruthSeekers like you to publish fact-checks, explainers, ground reports and media literacy content. Much of this work involves using investigative methods and forensic tools. Our work is resource-intensive, and we rely on our readers to fund our work. Support us so we can continue our work of decluttering the information landscape.
BECOME A MEMBER