Bihar Mob Violence Shared With A Communal Twist On Social Media
BOOM found that the incident happened in Bihar, when Shadab Kamil was thrashed after he was mistaken as a thief.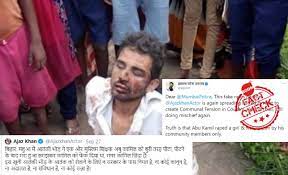 A disturbing image of a man attacked by a mob after they wrongfully suspected him of being a thief, is being shared by on Twitter with a false communal narrative.
The photograph retweeted more than 6800 times at the time of writing this article, shows an injured man surrounded by a crowd of people. The image has been shared by television actor Ajaz Khan, who falsely claimed that the incident happened in Mahua, where a Muslim teacher was beaten up by an angry mob. Khan referred to the mob as "deadly terror group."
The tweet captioned, "Bihar: A terrorising mob in Mahua beat a Muslim teacher ruthlessly. Considering he was dead Kamil was thrown off . But Kamil was alive. Nobody can stop this deadly terror group. The government doesnt have the integrity to stop them, neither there is any law, court, constitution or decree of punishment for them. "
(Original text in Hindi: बिहार: महुआ में आतंकी भीड़ ने एक और मुस्लिम शिक्षक अबु कामिल को बुरी तरह पीटा, पीटने के बाद मरा हुआ समझकर कामिल को फेंक दिया था, मगर कामिल ज़िंदा हैं! इस खूनी आतंकी भीड़ के आतंक को रोकने के लिऐ न सरकार के पास नियत है, ना कोई कानून है, ना अदालत है, ना संविधान है, ना कोई सज़ा है! )
Khan's tweet was quote tweeted by Delhi High Court lawyer Prashant Patel Umrao, who further associated it with a fake narrative that the injured man was attacked by 'people from his community' for raping a young girl. BOOM has fact checked Patel earlier.
ALSO READ: 5 Crore Bangladeshi And Rohingya Inflitrators Living Illegally In India?: A Fact Check
The same image has been shared by another Twitter user, who has identified the victim as Shadab. Further, the assailants have been falsely identified as Hindus.
The same image is viral on Facebook with a similar narrative.
Fact Check
BOOM ascertained that the claims made by Umrao and Khan are both false and misleading. A Twitter user shared an Aaj Tak news bulletin as a reply to Umrao, which reported that the incident happened in Vaishali, Bihar.
According to the Aaj Tak story, Shadab Kamil, a teacher at a coaching centre in Patna was robbed off his belongings and abandoned roadside, on his way back home to Vaishali. Villagers misidentified the former as a thief and thrashed him, thus injuring him further.
The incident was also reported in Dainik Bhaskar's Hajipur edition, Kamil took a lift from Patna to return to Shankarpur, in Vaishali. During the journey, the victim was robbed, beaten up and left near Bhojpatti village.
Mistaking Kamil to be a thief, villagers thrashed Kamil injuring him. The Mahua police rescued him.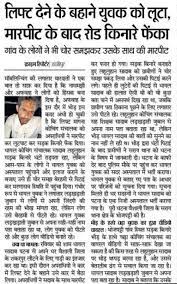 Based on Ajaz Khan's claims BOOM reached out to Mahua Police Station House Officer Uday Shankar, who dismissed any such communal angle to the incident. Shankar said, "These claims are baseless. There was no communal angle to the incident."
The viral tweet was earlier debunked by ALT News.