Audio: What Did Goa CM Manohar Parrikar Say About Girls Drinking Beer?
'I am scared when girls drink beer': Did Goa CM Manohar Parrikar really say this? And what was the context? Listen to the audio file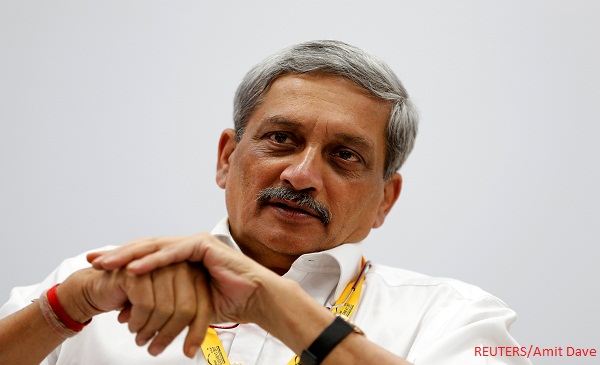 File Pic: Manohar Parrikar, Chief Minister, Goa
Goa Chief Minister Manohar Parrikar is in the news again for yet another controversial statement. Speaking at the State Youth Parliament organised by the legislature department in Panaji, Parrikar is reported to have said that "he has begun to fear as girls are drinking beer."
As various news outlets reported this statement, the reactions against his statement, came quickly on Twitter with many calling it 'sexist' and 'anti-woman'.
Boys drinking is not a problem, girls drinking is pronlem ? Why ? Oh sorry ! Parrikar u belong to RSS who is anti-woman ! https://t.co/J7Qs1Y1GkA

— ashutosh (@ashutosh83B) February 10, 2018
I don't expect such a Gender biased comment from @manoharparrikar If they r of a drinking age n do it responsibly what has Gender got to do? https://t.co/cnxNJlnfWR

— Kiran Mazumdar Shaw (@kiranshaw) February 10, 2018
Single malt alright?: Twitter slams Goa CM Manohar Parrikar's sexist remark on girls and beer https://t.co/kH4rq9YpUz

— Chitra Subramaniam (@chitraSD) February 10, 2018
Scared Manohar Parrikar will have nightmare for months if he gets to know that women watch porn, smoke cigarettes, give gaalis, understand and share all double-meaning jokes.#GirlsWhoDrinkBeer 🍺🍺🍺

— Saniya Sayed (@Ssaniya25) February 10, 2018
Man, this Manohar Parrikar Renaissance-themed nightmare is spine-chilling. #GirlsWhoDrinkBeer pic.twitter.com/7efoIq8Y2W

— Sayantan Ghosh (@sayantansunnyg) February 10, 2018
But did Parrikar really say that? Or was he misquoted as he spoke to the students in Konkani. BOOM spoke to Pramod Acharya, Editor at Prudent Media who interviewed Parrikar when this statement was made. Acharya confirmed that the statement was made while discussing the menace of drugs in the campuses in the state. Listen to the audio from that interview.
[audio wav="https://www.boomlive.in/wp-content/uploads/2018/02/manohar-Parrikar.wav"][/audio]
"When I went to IIT there was a small group which was involved in this ganja. So its not today's phenomena. Even back then that small group would be involved in such activities... isn't it correct what I am saying ? I am scared when girls drink beer. So barrier of that tolerance limit is been crossed... not all!!! I am not referring to this crowd. I am just generally referring."
Based on the audio and the transcript of the quote, it is quite clear that while Manohar Parrikar did sound like he was expressing reservations about girl students joining boys in drinking beer, it cannot be concluded that he has an universal problem with women beer drinkers in his state. At best, it was an off the cuff statement in the midst of discussing an important issue of drug consumption on state campuses.
Acharya told BOOM that Parrikar said this while discussing the issue of various vices ranging from ganja to drugs on college campuses and reminded the audience of his own days at IIT Bombay. On being asked if the menace of drugs is a large scale one, Parrikar concluded that the issue of drugs is not a new phenomenon and under his direction, the police is cracking down on drug gangs and has led to the arrest of more than 170 people for peddling drugs.
Manohar Parrikar who gave up his defence portfolio to return as Goa chief minister in 2017 has always been known for his candid statements, many often embarrassing his own party. Sample some of these -
1) Business Standard: In March 2017, Parrikar had triggered controversy by snubbing journalists in Goa on account of their low salaries and lesser education.
"What is a reporter's salary... How much does a news reader earn? Maybe 25,000 (rupees). They are mostly graduates. They are not great thinkers... intellectuals. They write news how they understand it," he had said at a public function.
The chief minister later issued a statement of regret, after his comments sparked controversy and a local journalists' union demanded an apology from him.
2) Asianet Newsable: While attending a Children's Day function at a school in the state on November 14, 2017, a child asked him what kind of movies he watched as a child. He answered "We would not just watch movies, we have also watched adult movies of that era".
3) Indian Express: In 2016 while serving as the defence minister, Parrikar had said anyone speaking against the country must be "taught a lesson" in the same way that an "actor" and an "online trading company" were taught. Parrikar was referring to Aamir Khan who had said at an awards function that the growing intolerance in the country had forced his wife Kiran Rao to look at the prospect of moving out of the country. Aamir Khan had come under stiff criticism from the right wing for the statement.
https://www.sharethefacts.co/share/b87589fa-e839-42d4-af7d-be43b50578c4
Claim :
Manohar Parrikar Said That He Is Scared About Girls Drinking Beer
Claimed By :
Social Media
If you value our work, we have an ask:
Our journalists work with TruthSeekers like you to publish fact-checks, explainers, ground reports and media literacy content. Much of this work involves using investigative methods and forensic tools. Our work is resource-intensive, and we rely on our readers to fund our work. Support us so we can continue our work of decluttering the information landscape.
BECOME A MEMBER