As RBI Flipflops On Demonetisation, Depositors And Bank Officials Feel The Pain
We visited 6 Banks and met many angry depositors who continue to struggle with constant changes in Demonetisation policy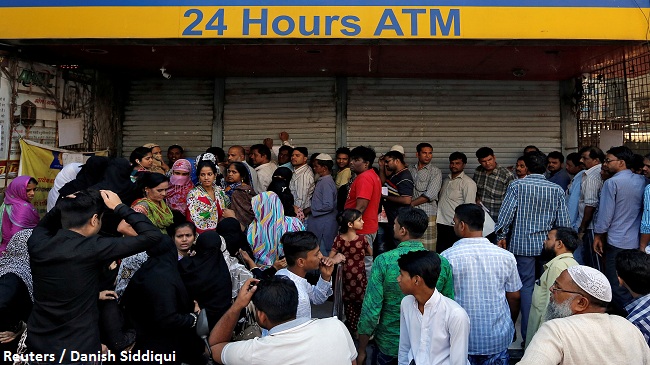 People queue outside a bank to withdraw cash and deposit their old high denomination banknotes in Mumbai, India, December 2, 2016.
Location: Bank of Maharashtra branch in Mumbai
Depositor: Please accept my cash deposit of old notes with written explanation
Bank Manager: Why have you come so late? Rules have changed.
Depositor: Madam, I was not in Mumbai and had no means to exchange this cash.
Bank Manager looks at the explanation and the amount mentioned in the form. Raising her voice, she asks, "Madam, at least give reasons that one can believe. Whose account is this?"
Depositor: This is my daughter's account. She is 18 years old.
Bank Manager: How did she collect such a large amount?
Depositor: This is my money which I saved over the years.
Bank Manager: Sorry. Please deposit in your own account giving adequate reasons. Otherwise I cannot accept.
This conversation between a lady depositor and an exasperated branch manager took place today morning as I visited various bank branches to find out how they are dealing with the ever changing rules of the Reserve Bank of India. The responses across 6 private and public sector branches suggested that they are struggling to put out a unified response to their customers. Let us take a look at how each of them responded.
Kotak Mahindra Bank:
I met the manager and asked him if I can deposit Rs 20,000 in old notes. He said that I am free to deposit the money, even if it is above Rs 5000 but only at my home branch (some 20 kms away). When I argued that RBI does not insist on home branch deposits, the manager said that banks are free to form their own rules as it suits them operationally. Interestingly, he also said that for every deposit of up to Rs 2.5 lakhs, the branch manager can give approval and for any amount above that, the area manager's approval has to be sought.
ICICI Bank
The official I met said there is nothing to worry and I can deposit anytime with the explanation. This proactive official gives me additional suggestions as well on the reasons I can give to clear any possible hurdles.
State Bank of India, Dena Bank & Citibank
All three branches that our team visited did not insist on the condition of depositing at the home branch. Their only condition was to fill up the form citing reasons for not depositing cash earlier. Only SBI tried to probe whether deposits were made earlier in the account.
'Why has PM Narendra Modi broken his promise?'
While the private banks looked to be in better control in managing the late round of deposits and angry customers, the public sector banks appeared to be under stress, going by the number of depositors they service on any given day. No wonder, the RBI has once again revised its notification issued on December 19 with this new circular today. The present rules have now lifted the limit of Rs 5,000 for fully KYC compliant accounts.
But one question that most depositors were asking is this: If Prime Minister Narendra Modi himself assured the nation through a televised address on November 8 on depositing any amount till December 30, why were these rules changing on a weekly basis, keeping the limit as low as Rs 5,000?
500 और 1,000 रुपये के पुराने नोट, 10 नवम्बर से लेकर 30 दिसम्बर तक अपने बैंक या डाक घर के खाते में बिना किसी सीमा के जमा करवा सकते हैं: PM

— PMO India (@PMOIndia) November 8, 2016
Infact, the finance minister had insisted on November 12 that there was no need to panic and to avoid crowding at the banks as the depositors had time till December 30.
LIVE: Everyone need not come to deposit old notes in the beginning days itself, you have time till Dec 30: FM @arunjaitley

— PIB India (@PIB_India) November 12, 2016
Interestingly, this is how political activist Yogendra Yadav chose to explain his delay in depositing old notes at his bank.
This is the "explanation" I have given my bank for making a small deposit today. Pl retweet if you agree pic.twitter.com/v1JyhpADZ3

— Yogendra Yadav (@_YogendraYadav) December 20, 2016
The Reserve Bank of India has also taken a lot of flak in recent times for changing rules that often seem to be out of touch with operational realities at banks and the inconvenience it is causing to ordinary depositors.
Within two short months, the RBI has lost credibility and legitimacy built carefully over decades. Will take a long time to restore

— Sidharth Bhatia (@bombaywallah) December 21, 2016
Probably best summed up by a comment that I overheard from a bank manager who seemed to be at her wits end dealing with angry and impatient depositors.
"When your times are bad, trouble hits you from all sides. Wonder when will this all end?"