As Passengers Lash Out, "Don't Be Provoked,": Indigo's Aditya Ghosh To Employees
Provocation from passengers at various airports force Indigo CEO Aditya Ghosh to write to employees, urging them to stay calm.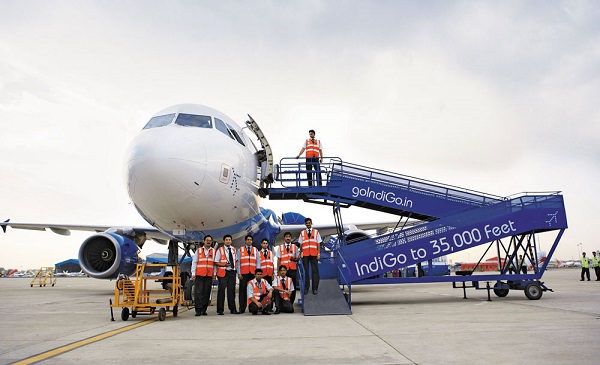 Low cost carrier Indigo is facing a huge public relations crisis and the hardest hit are its ground staff at various airports in the country. Indigo's President & CEO Aditya Ghosh has written an email to all its employees asking them to "stay calm, not to get provoked and don't get drawn into any argument". This email comes after complaints from employees across airports of harassment from passengers.
"People are walking up to the boarding gate/ladder point and ask, "Aaj kitne logo ko maara?" Employee morale is dropping as this comes as an add-on to all the memes that staff are getting tagged on," said an employee to BOOM on condition of anonymity. Another employee we spoke to said that there are daily briefings at work and managers are asking their staff to ignore the snide comments coming from passengers.
"Suddenly with the entire airline on the back foot, getting people to listen is a problem. The staff is worried about losing their jobs," said another employee to BOOM referring to the sacking of an employee Monty Kalra for shooting the video of the scuffle and instigating the junior employees that the airline said aggravated the situation.
Referring to the "cheap and distasteful forwards and messages in the name of humour", Ghosh reminded his employees that they are the best and "If you are number two or three or seven in line, no one would have bothered to sling mud."
Given below is the email that Ghosh has sent to his employees on Saturday, in a bid to encourage them and calm their nerves. BOOM spoke to the airline's communication team who have confirmed that the email was sent from the CEO to the employees.

Screenshot of email sent by Aditya Ghosh, Indigo President & CEO to employees
Ever since a video went viral of the October 15 incident where a passenger Rajeev Katyal was tackled to the ground by Indigo employees at Delhi airport after an argument, the airline has faced a huge online backlash. From memes to WhatsApp jokes to trending hashtags on Twitter, Indigo has faced its biggest customer relationship crisis ever since the airline was founded in 2006.
BOOM had reported last week how the airline's Twitter feed was receiving snide questions and tweets that sought to make fun of the airline's failure to rein in its employees.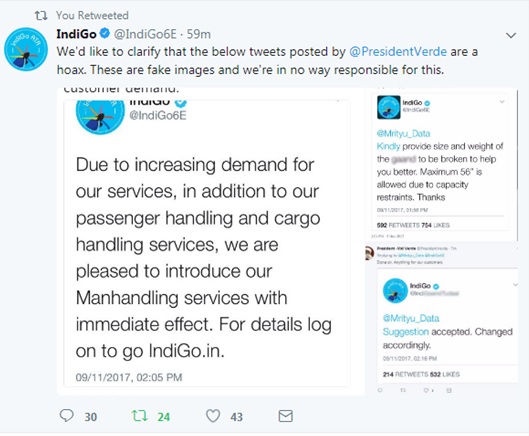 Also Read: Under Fire IndiGo Says Tweet Offering 'Manhandling' Services Is A Hoax
The incident also forced the aviation ministry to seek an explanation from Indigo. In it's 7-page letter addressed to the aviation ministry, Indigo said they have apologised to Katyal and sacked one employee and given final warning letters to two of the other employees involved in the scuffle. But the airline also defended its employees as the letter  passed some part of the blame on the passenger and emphasised that their employees had a right to self-defence.
Also Read: IndiGo Fiasco: 6 Lessons In Conflict Management For Ground Staff & Flyers