Under Fire IndiGo Says Tweet Offering 'Manhandling' Services Is A Hoax
IndiGo is leaving nothing to chance with the airline going out of its way to rehabilitate its reputation.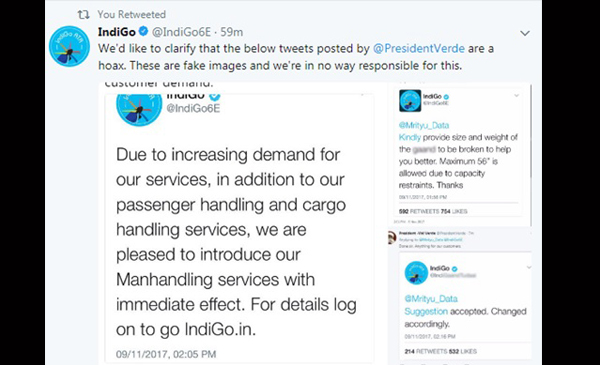 IndiGo, India's largest airline by passengers, which seems to be having a week from hell, stumped netizens on Thursday, when it went out of its way to debunk what was very obviously photoshopped tweets that claimed the airline offered 'manhandling' services.
We'd like to clarify that the below tweets posted by @PresidentVerde are a hoax. These are fake images and we're in no way responsible for this. pic.twitter.com/svNwjnL67c

— IndiGo (@IndiGo6E) November 9, 2017
Leaving nothing to chance the airline's Twitter handle shared screenshots of photoshopped conversations from two handles @PresidentVerde and @Mrityu_Data which claim that the airline provides services of its staff to rough-up flyers. IndiGo's latest tweet debunking the screenshots have also attracted trolls. Clearly nothing seems to be working in the airline's favour.
IndiGo is battling a public relations crisis after a video of two of its ground staff manhandling a passenger at Delhi airport on October 15 surfaced this week and went viral. The airline has had to provide a written explanation of what ensued between the passenger and its staff to India's civil aviation ministry which has taken serious note of the incident.
Consequently the backlash on social media has been brutal with the airline run by Aditya Ghosh becoming the brunt of memes and WhatsApp jokes.
IndiGo's Twitter handle has been plagued by mock requests like the one below to beat up people.
My boss is travelling by 15.00 pm flight to Delhi .. ' जैसे ही वो उतरे, कूट देना साले को । ' thanks 🙂#thokoindigo

— rohit (@rohitchoube) November 8, 2017
😂😂😂😂😂 pic.twitter.com/PIvrsEqOvH

— sharon lama (@sharon_lama) November 8, 2017
Other airlines like Jet Airways have also been dragged into the controversy after an overzealous advertising firm created an ad for Jet that said the airline beats competition and not its customers. Jet Airways was quick to distance itself from the ad. Read BOOM's factcheck here – Fake: Jet Airways Did Not Create This Ad To Ambush IndiGo
However, state-backed Air India, thought it was wise to indulge in some ambush marketing at IndiGo's expense with this creative on Wednesday.
And here's @airindiain 😊 pic.twitter.com/RErW8qYTpf

— Rohit Bansal 🇮🇳 (@theRohitBansal) November 8, 2017
The replies that Air India's tweet received were savage with many people mocking the airline that its staff was not too long ago beaten up by a politician, others said the tweet was in bad taste. Air India eventually deleted its ad.
ALSO READ: IndiGo Fiasco: 6 Lessons In Conflict Management For Ground Staff & Flyers
(BOOM is now available across social media platforms. For quality fact check stories, subscribe to our Telegram and WhatsApp channels. You can also follow us on Twitter and Facebook.)