Airtel 'Bigotry' Row: The Gaganjot Tweet To Pooja That Everyone Missed
It is a mystery how Airtel missed pointing out this tweet in its press release that could have silenced everyone and shown that Gaganjot was already in touch with Pooja
Did the country's leading telecom company Airtel replace a Muslim customer service representative named Shoaib with a non-Muslim employee Gaganjot on the demand of its customer? The company faced a storm on social media after screenshots of its response to its customer who tweets with the user name @pooja303singh went viral on June 18.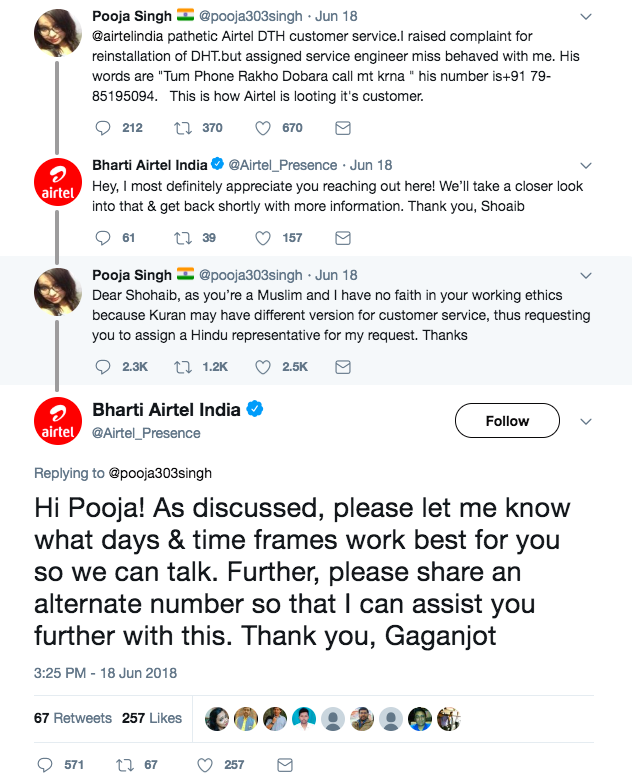 Screenshot of Twitter conversation between Pooja and Airtel
This was enough for several Twitteratis including former J&K Chief Minister Omar Abdullah to call out Airtel and say that he will port his number for failing to call out Pooja for her bigoted tweet.
Dear @Airtel_Presence this conversation is genuine (I've seen the timeline myself). I refuse to pay another penny to a company that condones such blatant bigotry. I'm beginning the process of porting my number to another service provider & canceling my DTH & Broadband. pic.twitter.com/BZxJOaEsN6

— Omar Abdullah (@OmarAbdullah) June 18, 2018
So to recap, here is the timeline we can see from the screenshots that were running on Twitter.
12:09 PM - 18 Jun 2018 : Pooja tweets to @airtelindia complaining about a customer service representative.
12:18 PM - 18 Jun 2018 : Pooja receives a reply from @Airtel_Presence assuring her of getting back shortly after gathering more information. The name of the representative is Shoaib.
2:59 PM - 18 Jun 2018 : Pooja responds with an explosive tweet - "Dear Shohaib, as you're a Muslim and I have no faith in your working ethics because Kuran may have different version for customer service, thus requesting you to assign a Hindu representative for my request. Thanks."
3:25 PM - 18 Jun 2018 : Pooja receives a reply from another customer representative Gaganjot who responds, "Hi Pooja! As discussed, please let me know what days & time frames work best for you so we can talk. Further, please share an alternate number so that I can assist you further with this. Thank you, Gaganjot."
This flow of conversation appeared to show that Airtel gave in to a customer's discriminatory demand and replaced Shoaib with Gaganjot.
But on a closer look at the entire timeline, BOOM found an important tweet, buried under the sea of tweets that could have saved Airtel from the PR crisis that engulfed the company over the next two days.
Gaganjot had replied at 12:34 pm, nearly two-and-half hours prior to Pooja's controversial tweet at 2:59 pm. This fact was missed by all those who were sharing the Twitter thread, attacking Airtel for its complicity in changing the representative.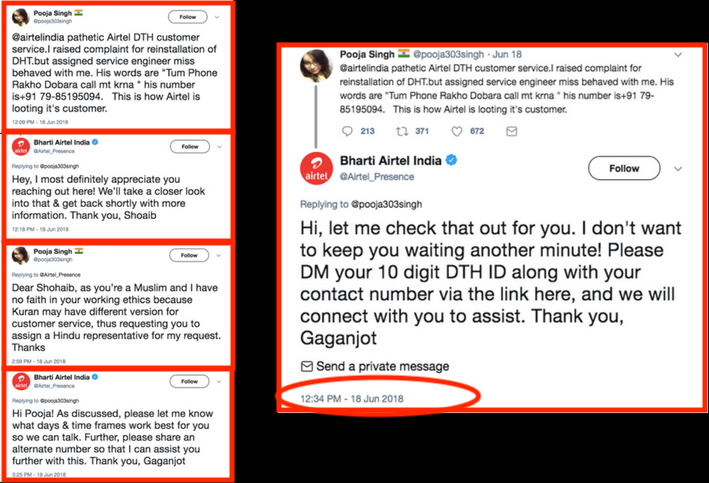 It is a mystery how Airtel missed pointing out this tweet in its press release that could have silenced everyone and shown that Gaganjot was already in touch with Pooja.
Did Airtel really bow down to a discriminatory request? Maybe you should read this. pic.twitter.com/Mr7b8Pgrci

— airtel India (@airtelindia) June 20, 2018
Sources at Airtel also point out that Gaganjot and Pooja were already in touch on direct messages (three times between 1 pm and 2 pm) after this 12:34 pm tweet, before Pooja tweeted at 2:59 pm with her bigoted demand. Hence, it is unclear why Pooja chose to respond to Shoaib who was not servicing her complaint after his initial response at 12:09 pm.
Within Airtel, the storm post this incident has also forced the organisation to relook at its own response time once a communally sensitive demand was made by one of its customers on a public platform. The company was heavily criticised for taking over 5 hours to tweet an appropriate response, calling out Pooja for her bigoted tweet.
We have not been able to reach out to Pooja Singh for her version of the conversation with Airtel.
BOOM sent Airtel a formal email seeking detailed replies to several queries on their internal processes and the missing tweet of Gaganjot. We are yet to receive a reply from the company and will update the same, if we receive it later.
If you value our work, we have an ask:
Our journalists work with TruthSeekers like you to publish fact-checks, explainers, ground reports and media literacy content. Much of this work involves using investigative methods and forensic tools. Our work is resource-intensive, and we rely on our readers to fund our work. Support us so we can continue our work of decluttering the information landscape.
BECOME A MEMBER