An image purporting to show a tweet by Doordarshan News with an
embarrassing typo reading that Prime Minister Narendra Modi arrived in Delhi from Thailand after a 'sexfull' visit, is fake.
The viral image reads, "Prime Minister @narendramodi arrives in New Delhi after sexfull visit to Thailand".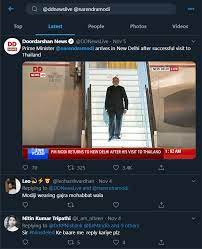 BOOM received the image on its WhatsApp helpline number (7700906111) inquiring about its veracity.
Viral on Twitter
Sexfull ....
मला वाटंतचं होत साहेब असलंच कायतर करायला गेलेत म्हणून ... @narendramodi_in pic.twitter.com/IzRO2x4p3g

— Sandesh Kawdekar (@KawdekarSandesh) November 5, 2019
Click here to view, and here for an archive.
Satisfying visit ever 😜😜 pic.twitter.com/cBN7J6qrFU

— Harun Miah🇮🇳 (@HarunMi69790525) November 5, 2019
Click here to view, and here for an archive.
Rofl Gandhi, a popular parody account on Rahul Gandhi had posted the same viral image on Instagram with the caption, "Satisfying visit".
Yet the account which is more active and has a larger following on Twitter of over 400,000 did not tweet the screenshot there.
Click here to view, and here for an archive.
Several Instagram users in the comments had pointed out that the image was edited.
FACT-CHECK
In order to verify if such a tweet was tweeted by DD News, we searched for any replies to the tweet using the tags @DDNewsLive and @NarendraModi. We did not find any replies taking a jibe or any such tweet.
A similar tweet was tweeted by DD News on November 5, 2019, at 1.08 am which did not have any blooper and had 'successful' instead of 'sexfull' as in the viral image.
We did not find any trace of a deleted tweet, or replies indicating that such a tweet existed.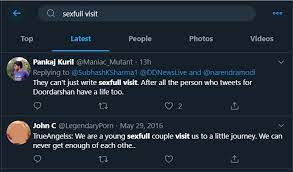 We also found a Twitter reply to the original DD News tweet which could have inspired the sarcastic fake tweet.
They can't just write sexfull visit. After all the person who tweets for Doordarshan have a life too.

— Pankaj Kuril (@Maniac_Mutant) November 5, 2019
Additionally, the tweets with the viral image are tweeted much later after the tweet by DD news at 1 am.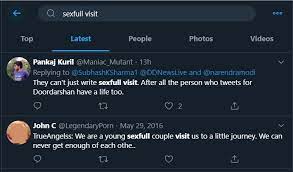 BOOM spoke to a source in DD News who confirmed that no such tweet was tweeted and the image seems photoshopped.

The person did not wished to be named as he was not authorized to speak to the press.