#Banking
8 Stories You Should Read As Demonetisation Comes To An End
BOOM presents a ground report of the mood outside RBI Headquarters in Mumbai as the deadline for Demonetisation comes to an end.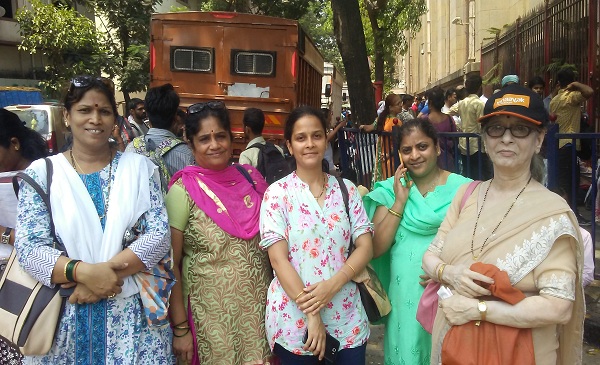 Queues swell outside RBI Headquarters, Mumbai.
March 31st is here and the deadline to exchange defunct notes of Rs 500 and Rs 1000 as part of the government's demonetisation drive to check black money, will end in a few hours. Thousands of non resident Indians, (NRIs) and citizens who were abroad between November 9 to December 30, 2016 have made their way to the Reserve Bank Of India's headquarters in south Mumbai to exchange the old notes in their possession. When BOOM visited the RBI office on Thursday, more than 500 people had queued around the building, with a dozen police personnel taking rounds. The queues were not showing any signs of receding despite being so close to the deadline.
And like always, ever since Prime Minister Narendra Modi announced demonetisation on November 9, 2016, confusion prevailed at the RBI premises. Words like 'NRI, passport, forms, bank accounts' filled the air but when asked, none were sure if their money could get exchanged.
YOUR PAIN, MY GAIN
We asked a sugarcane juice seller, who has witnessed brisk business in Mumbai's 38-degree Celsius weather since last few weeks, and he was quick to point us towards the photo-copy centre in the adjacent lane.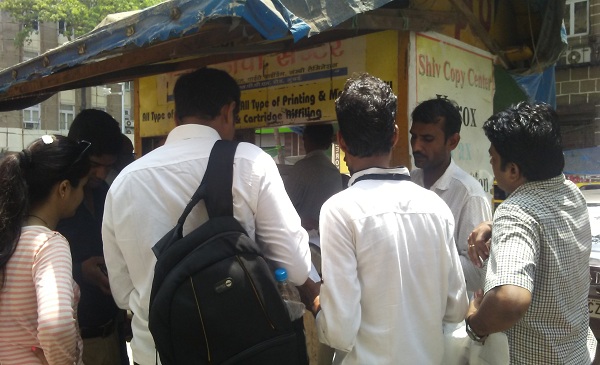 Depositors at a Xerox booth outside RBI Headquarters in Mumbai
The person at the booth sold us 'Tender Form ( For Non Resident Indians)' and Tender form (For Resident Indians)' for Rs. 10. Most of the people who we spoke to were holding on to either of the forms. None knew if it was a valid form or not, but held on to it like their lives depended on it. One was heard saying, 'You get this form inside RBI office for Rs 1 while here we have to pay Rs 5. Whatever they ask, we have to give them."
RUMORS FUEL HOPE… AND THEN DESPAIR
Few also said that they have received SMS and WhatsApp messages with reminders that they could exchange money till March 31. Here is one which Surekha Jadhav, a house wife from Santa Cruz had received. She came to RBI to exchange Rs 5,000 but was turned away by the cops as she was not eligible under the RBI's modified demonetisation guidelines.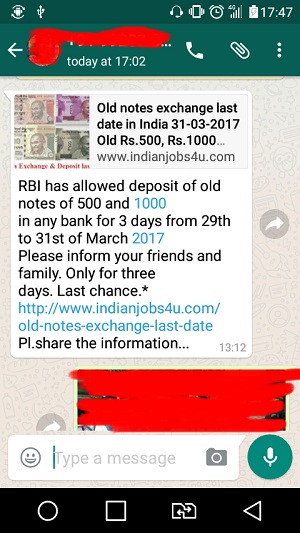 Another housewife, Sharwari from Thane had found Rs 5000 from her village house in Maharashtra recently. But like Surekha, she will also have to return home disappointed.
We met many such women depositors who said that they discovered cash after the December 2016 deadline had gone by.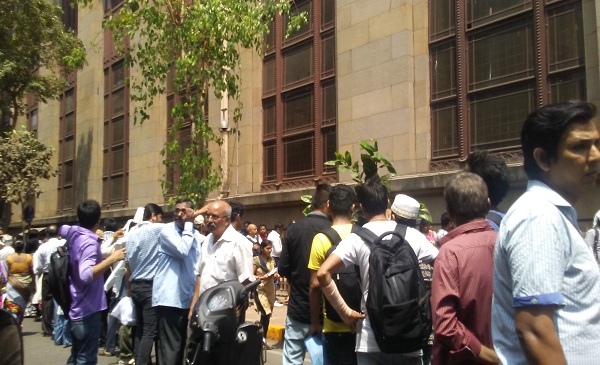 Long queue outside RBI Headquarters, Mumbai.
Here are a few stories that people shared with BOOM:
1) Bhagubhai Mistry, an NRI from England who reached India three days back had come to exchange around Rs. 25,000. But after seeing the long queue, he decided to drop the plan and return home.
2) Kankaiyaiah from Karimnagar district of Telengana came all the way to exchange Rs 14,000 after receiving information over WhatsApp that money could be exchanged at RBI Mumbai. Upon returning from Dubai in February, he had enquired at Andhra Bank, but did not receive any guidance about the exchange.
3) Anil Parwani, an NRI residing in Spain for the past 27 years had come with his brother who knows the local language, Marathi. Upon reaching Mumbai on March 21, he had paid a visit to RBI to exchange Rs 50,000. He said, 'I was not treated as a human'. So this time he has returned with his brother. The last time he visited Mumbai was in January 2016.
4) Chanchal Banga, an NRI residing in Israel for the past 15 years came to India on March 24th to visit his mother. He was directed by friends to visit RBI office at Bandra Kurla Complex, but was directed to the Fort branch. He has come to exchange Rs. 6000 but does not know if any forms are to be filled.
5) Manjula, 52, from Nausar, Gujarat had gone to America for her daughter's delivery between May 16th to March 18th. She has Rs 14,000 to exchange.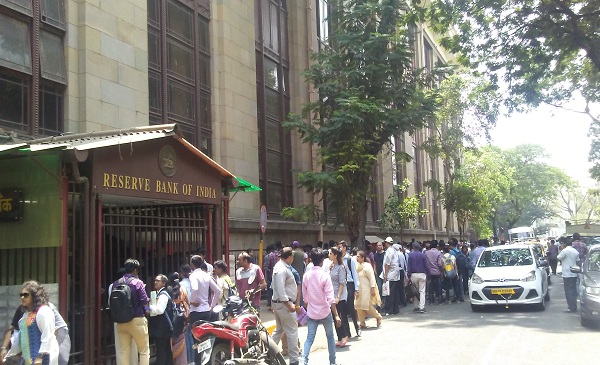 6) Pramod Kotwal, 79, has been in United States since 1956. He came to India on March 16th and had visited RBI Mumbai on March 17th. Kotwal who did not have an Indian bank account, was asked to open an account as the money can be deposited only in an NRI account. He returned from Pune today after opening an account with the hopes of getting Rs 17,500 exchanged. He says most of the people who have gathered at the RBI do not have all the required information and this has resulted in severe inconvenience.
7) Pauline Christine Lazarus, 80, from Malad said that she was an NRI residing in Dubai. She had come to visit her ailing sister. On visiting her house in Mumbai, she found Rs 11,000. She thinks that the RBI could have at least arranged for a separate queue for senior citizens.
8) Simon Gomes has accompanied his cousin who works in a passenger ship and was away since July 2016. His cousin has come to exchange Rs 60,000 kept aside for his paralysed uncle. Gomes thinks that there are a lot of people in the queue with small amounts of money. He mentioned about two men from Latur who came to Mumbai to exchange Rs 3,000 as they were told those residing outside the city can exchange money at RBI. They were turned away by the RBI officials.
As the day came to an end, the tension in the air was quite evident. Like everything else in India, people are secretly hoping that the government will push RBI to extend the deadline. Someone suggested that they are even willing to pay a small penalty if the deadline is extended.
While that looks unlikely to happen, one only hopes that the government's disruptive move will result in a better India. After all, everyone has a story to tell – of having played a role in this fight against black money even if they did not ask for it.
Do you always want to share the authentic news with your friends?
Subscribed Successfully...
Enter Valid Email Id