"Zero Tolerance For Tampering", Responds Zomato To Viral Video Of Delivery Man
Zomato takes the delivery man off the platform in Madurai after a video of delivery breach goes viral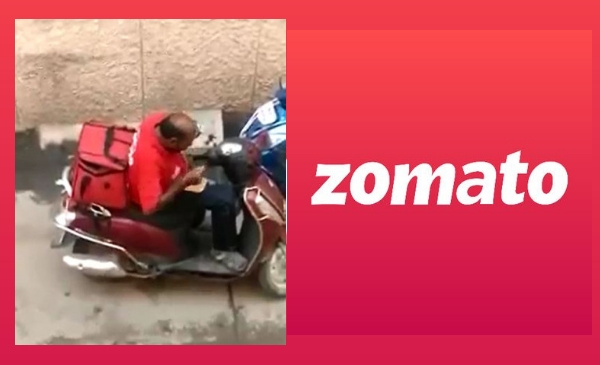 Food delivery company Zomato has responded to a video gone viral on social media that showed one of its delivery agents eating food meant for a customer. In the video, a man wearing a Zomato T-shirt is seen sitting on a scooter and eating from two of the boxes, repacking them, then putting them in a polythene bag and sealing it to make it appear as directly delivered from a restaurant.
The video was shared widely on all the platforms where netizens criticised Zomato for its failure to keep a check on its delivery personnel.
Zomato is the new age Shabari. pic.twitter.com/pl3kNL9l6m

— Gabbbar (@GabbbarSingh) December 11, 2018
Screw Zomato Gold, This is Zomato Platinum Champagne service. pic.twitter.com/cehKZAegXd

— 💯 (@Youteecrush) December 10, 2018
I love how @zomato keeps quality of food delivery in check. pic.twitter.com/sM4ZBBn7ID

— अंकित जैन (@indiantweeter) December 10, 2018
BOOM got in touch with Zomato but are yet to receive a reply to our email queries. But the company gave a detailed reply in a blog post where they revealed that the man in the video is one of their delivery agents and the video was shot in Madurai.
We take food tampering very seriously.

For more details: https://t.co/cHuLX1Bs4n

— Zomato India (@ZomatoIN) December 10, 2018
The statement issued by Zomato says that the company takes such reports very seriously and that the delivery agent was taken off the platform after they spoke to him at length. As a preventive measure, they are going to introduce tamper-proof tapes and also going to ensure other precautionary measures, said Zomato.
The statement further mentioned that the company maintains a zero tolerance policy for tampering of food and their commitment to fleet training, scheduling and the whole process will get stronger.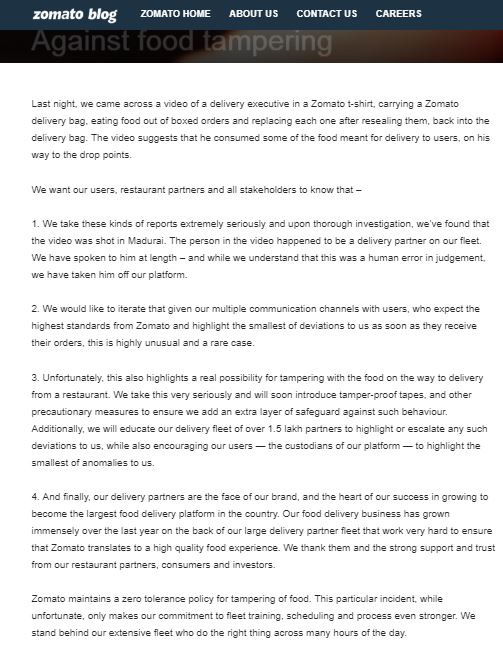 Last year in May, Zomato was in the news for data theft when 17 million user records were stolen from its database. Read a detailed story here.
But there were voices of sympathy as well for the delivery man on social media. Several users said that the man should be forgiven as he may have been hungry.
It's really something that people are angry at Zomato for food tampering and not that they obviously underpay and overwork their delivery staff because of which they have to sit on a scooter and take bites out of food orders.

— Karthik §hankar (@kookykarthik) December 11, 2018
The Zomato delivery chap eating from various orders is depressing. It's what happens when you make people who can't afford a square meal, keep handling mountains of food. All food deliveries should offer 1-2 square meals a day for their delivery people. It's only fair. Great CSR.

— Brown Sahiba (@Rajyasree) December 11, 2018
While instances of delivery agents helping themselves from the food boxes of customers are not widespread, a similar incident was reported in October in Melbourne, Australia where an Uber Eats deliveryman was seen eating fries from a customer's order. Watch the video below: