Zee News' Bangla Facebook Page Falls For Kader Khan's Death Hoax
Kader Khan's son Sarfaraz Khan has rubbished all such rumours.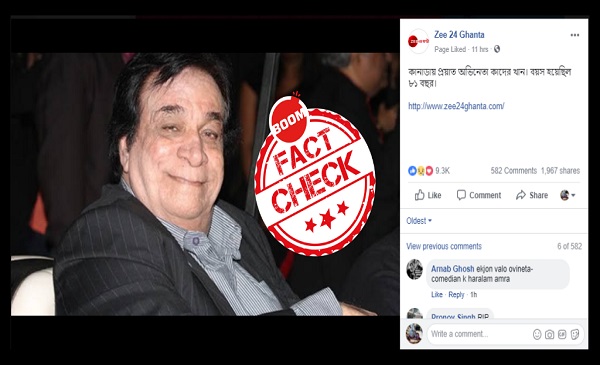 Rumours of veteran actor Kader Khan's death were doing the rounds on the Internet over the weekend. Several websites published articles claiming the actor's death in Canada after a prolonged illness on December 30, 2018 including Zee News' Bengali website Zee24 Ghanta. However, the rumours were rubbished by Khan's son Sarfaraz Khan.
The actor's son Sarfaraz told Press Trust of India that his father has been admitted to a hospital in Canada.
"It is all a lie. It (is) just a rumour. My father is in the hospital," Sarfaraz was quoted by PTI.
The 81-year-old actor has developed breathing issues and the doctors have reportedly transferred him from regular ventilator to BiPAP ventilator.
The actor is suffering from Progressive Supranuclear Palsy, a degenerative disease that causes loss of balance, difficulty in walking and dementia, PTI reported.
Zee 24 Ghanta has now carried PTI's fact-check on its website.
However, its Facebook post claiming the actor died at 81, has still not been deleted. The post has been shared over 2000 times in the last 24 hours.
Check the archived version of the post
here
.
Meanwhile, another leading Bengali magazine, Bhalobashar Golpo, had still not updated their news article which claimed that Khan has lost his life to prolonged illness and ailment, at the time of writing this article.
Check the archived version of the post
here
.
Claim Review :
Veteran Bollywood Actor Kader Khan Has Died
Claimed By :
Zee 24 Ghanta