Yogi Adityanath's Comment On Taj Mahal Is NOT Fake News
Speaking at a rally at Darbhanga, Bihar, Yogi said Taj Mahal and other minarets do not represent Indian culture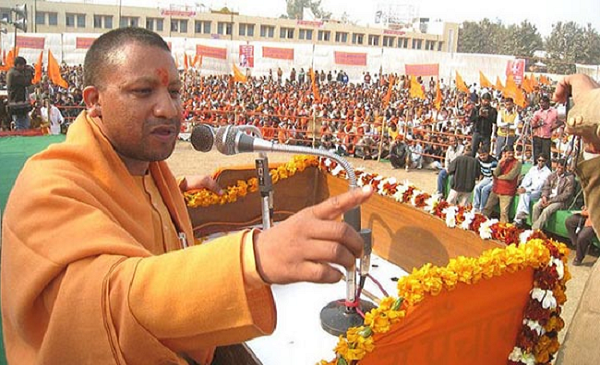 FILE PIC: Yogi Adityanath, CM, Uttar Pradesh
A story on Uttar Pradesh Chief Minister Yogi Adityanath's comments on the Taj Mahal during his public rally at Darbhanga, Bihar has generated a new controversy. Targeting the renowned UNESCO World Heritage site and one of the seven wonders of the world, Yogi Adityanath had this to say about the ivory-white marble mausoleum.
"Foreign dignitaries visiting the country used to be gifted replicas of the Taj Mahal and other minarets which did not reflect Indian culture. But for the first time, whether Indian PM Narendra Modi goes abroad or any foreign head comes to India, the holy Bhagwad Gita is given as a gift, the Ramayan is gifted to them"
But while the ABP group owned The Telegraph reported the story factually, several doubts were raised on Twitter whether Yogi Adityanath actually pitted the Taj against the Gita? Several Twitteratis tweeted in support of Yogi's statement as well.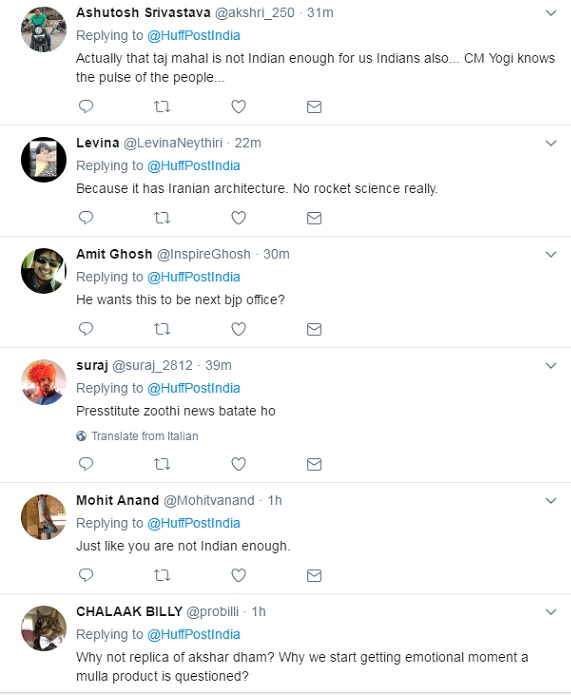 The editor of ABP News, a well-known Hindi national news channel came out strongly in support of CM Yogi, vehemently claiming that he was present at the rally and that the controversial comment was never made.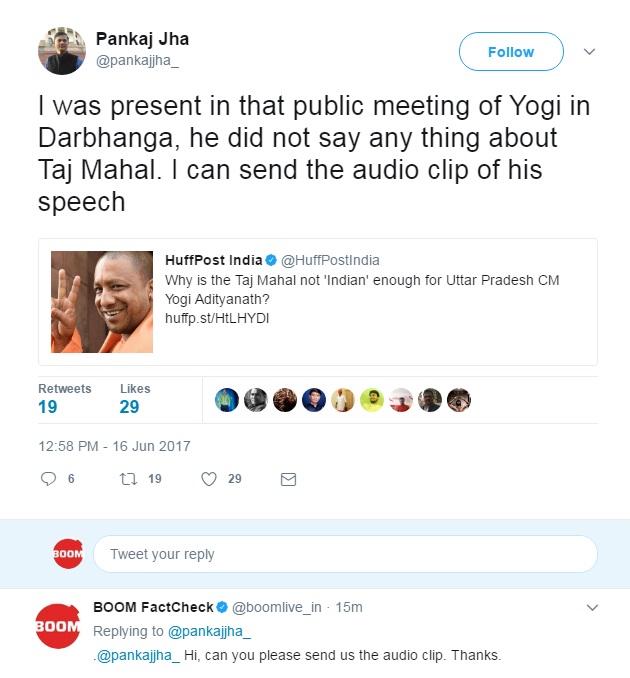 Jha shared Huffington Post's story while making his claim even as The Telegraph, the English newspaper of the ABP group was one of the first news outlets to report the chief minister's comments on the Taj Mahal.
There were other journalists as well who tagged Huffington Post for publishing news based on "hearsay".

Screenshot
BOOM was asked to fact check the chief minister's comment on Twitter. When we went through Yogi Adityanath's 31 minute speech on You Tube, we found that the chief minister had indeed said it as part of his speech while praising the Narendra Modi led BJP government for promoting Indian culture. Adityanath's remarks on the Taj can be viewed in the video below.
While the chief minister has not refuted his own comments, his followers have rushed to his defense, some justifying his comments while others slamming the stories as fake news.
This is not the first time senior BJP leaders have targeted the Taj Mahal which they see as a symbol of the oppressive Mughal regime. Former UP BJP chief Laxmi Kant Bajpai claimed  that the Taj Mahal was in fact part of an ancient temple, reported The Indian Express.
But replying to a query about the evidence claiming that the Taj Mahal was originally a temple, the former Union Culture Minister Mahesh Sharma told MPs in the Lok Sabha that the government has not found any evidence to support such claims, reported Zee News. (Click here for Lok Sabha reply)