Yogi Adityanath Tweets Pic Of Event With Inverted Flag, Deletes Tweet Post Trolling
Uttar Pradesh Chief Minister Yogi Adityanath visited Aapravasi Ghat in Mauritius. He is on a three-day visit to the nation. pic.twitter.com/M2uRbCN7yN

— ANI UP (@ANINewsUP) November 2, 2017
Uttar Pradesh Chief Minister Yogi Adityanath's visit to Mauritius attracted a fresh controversy when he tweeted a picture in which the Indian tricolour was placed in an inverted position. Yogi along with Giriraj Singh, Minister of State, had recently visited Mauritius to invite the non-resident Indians (NRIs) to invest in the state of Uttar Pradesh.
According to The Times of India, Yogi Adityanath and Giriraj Singh were signing a visitor's book and failed to notice that the Indian flag kept on the desk near them was kept inverted.
Yogi Adityanath shared the picture on Twitter but later deleted the tweet.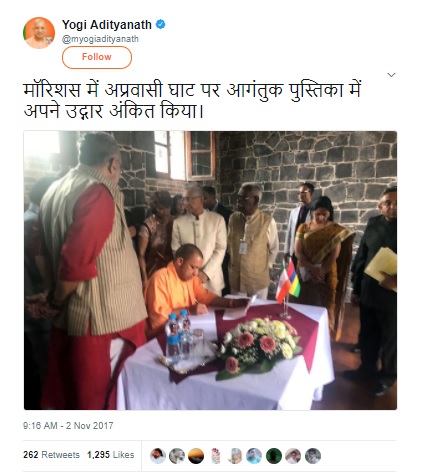 Giriraj Singh had also put out a tweet but unlike Yogi, he is yet to delete it.
We have a blood relationship with Mauritius .We consider it as our family.
Addressing Aapravasi ghat function, n writing on visitor's book pic.twitter.com/gXusx3SokT

— Giriraj Singh (@girirajsinghbjp) November 3, 2017
Both of them were trolled on Twitter for disrespecting the flag.
What a shame, you say you are true nationalist, can't see our flag lying upright down. This shows how much you love our country.Shame.

— Javed Jamal (@javedpriya) November 4, 2017
anti-national so-called leaders!!! Such people harm the image of glorious India in foreign land! U ppl shud hv tkn care of Tiranga(reverse)!

— Vibhor Pratap Singh (@PratapVibhor) November 4, 2017
While others found comfort in humour to make their point.
Ok fixed it, desh ke upar kuch nahi 😊😊 pic.twitter.com/sU4MKnbqSg

— Sir Bumrah! (@Ibleed_sarcasm) November 3, 2017
Fixed it 🇮🇳 pic.twitter.com/TwECU7cH55

— Pyaar Se Mario (@SquareGas) November 3, 2017
While the inverted tricolour was a mistake on the part of the officials who arranged the desk, the picture went viral due to public perception of the two leaders who have always projected themselves as firebrand nationalists and patriots.