Woman Posing With PM Modi Is Not IAF Pilot Abhinandan's Wife
The viral photo claims Wing Commander Abhinandan's wife met Prime Minister Narendra Modi. BOOM finds that the photo is not of IAF pilot's wife.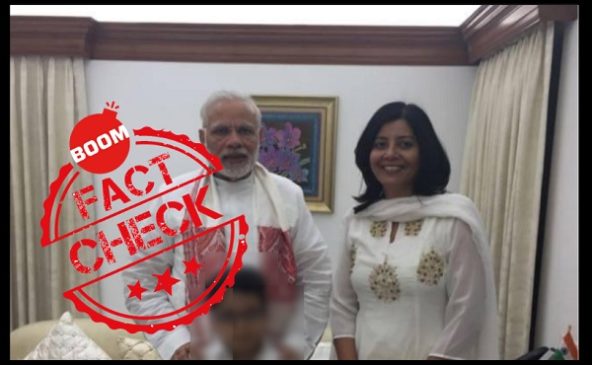 A photo of Prime Minister Narendra Modi posing with a woman and a young child is being shared online with a false narrative that he is posing with the wife and son of Indian Air Force (IAF) pilot Wing Commander Abhinandan Varthaman.
The image has been shared more than 10,000 times, with the caption, 'Abhinandan's Wife & Son with PM' and अभिनन्दन जी की पत्नी और बेटा प्रधानमंत्री जी के साथ जय हिंद , at the time of writing this article.

You can view the screenshot of the post below and the archived link here.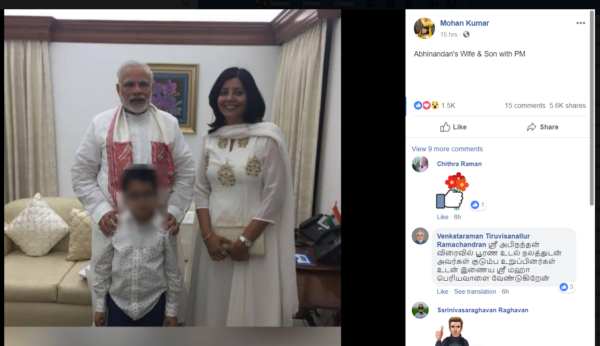 Fact Check
BOOM ran a search on Facebook with the keywords 'Me and My Son With Prime Minister Narendra Modi' and on one of the posts found a comment from a Facebook user Nidhi Khandelwal. Khandelwal had commented on the photo mentioning that the woman in the viral photo is not Varthaman's wife but one of her friends.

BOOM got in touch with the user and the story will be updated once we get a reply.
A further search led us to the profile of Jahnavi Das, whose photos on a social media site matched to that of the woman in the viral image.
BOOM contacted Das, who confirmed that it was her photo that had gone viral. Das said, "It is a fake post, kindly get it deleted from everywhere."
When asked if the photograph was ever posted on Facebook, Das replied via message that she had never shared the photograph online.

Das is election strategist Prashant Kishore's wife.

Multiple reports have also mentioned that Varthaman's wife is Tanvi Marwaha, ex IAF Squadron Leader. She was in fact present in Delhi, when Minister of Defence Nirmala Sitharaman visited Varthaman after his release.
A look at these photos further shows that the woman in the viral photo is not Varthaman's wife.
After being held captive for two days after his fighter jet was shot down, Varthaman was released by Pakisan authorities "gesture of peace".


Claim Review :
Wing Commander Abhinandans wife with PM Modi
Claimed By :
Facebook Pages