Will Your Mobile Number Be 13 Digits From July 2018?
Do not fall for the fake news that your 10 digit mobile number will be replaced by 13 digits. The government has introduced the 13 digit numbering scheme for M2M connections only.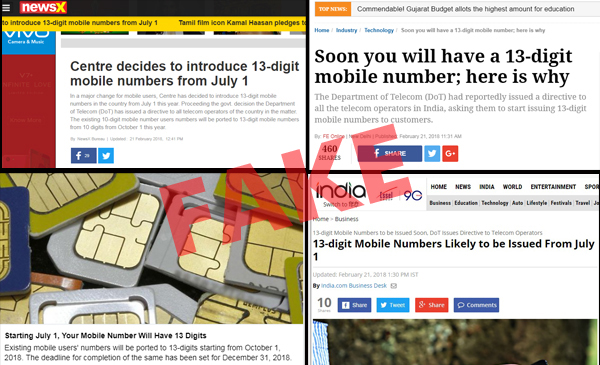 No, your mobile number will not be 13 digits from July 2018.
Amid misinformation propagated in social media and by few mainstream publications, Bharat Sanchar Nigam Limited (BSNL) put out a tweet clarifying that there shall be no change in the 10 digit mobile numbering plan.
There is no change in mobile numbering plan which remains 10 digit. #BSNL preparing for machine to machine (m2m) communication where in 13 digit numbering scheme shall be used to connect billions of machines.

— BSNL India (@BSNLCorporate) February 21, 2018
Several publications including Financial Express, NewsX, India.com and News18 put out misleading headlines and reports claiming that the government has planned to replace the 10 digit mobile number plan with that of 13 digit plan. This fueled rumours on Twitter and other social media platforms.
New revolution in mobile phone industry in India. Now 13 digit mobile numbers will be introduced from 1st July 2018 onwards.
All 10 digit existing mobile number will be changed to 13 digit number max before December 2018.

— Brajesh Misra (@brajeshlive) February 20, 2018
https://t.co/ptWItv62EB
By Dec we all will be having a 13 digit mobile no. We all will be busy linking them to one or the other card and forget all other issues. Hope it doesn't come to that.

— SATYA SUNDAR (@satyabbsr) February 21, 2018
13 Digit mobile numbers from July 1st https://t.co/e2ri3hAq4B

— Mahesh S Koneru (@smkoneru) February 21, 2018
13 digit mobile numbers from 1st July!! Brace yourself for confusion and chaos all around!https://t.co/g2qIcqm8DK

— Arunn Bhagavathula (@ArunBee) February 21, 2018
The origin of the misinformation seems to be from a widely shared circular of BSNL's (Bharat Sanchar Nigam Limited) corporate office to all its telecom circles. However, the circular says that 13-digit numbering scheme is for M2M communications and not general users. Though the misleading tweets have shared the circular and the publications have quoted the letter, they seem to have misinterpreted M2M communication for mobile to mobile communications.
M2M communications refer to machines or devices communicating through a network without human intervention. This is used to collect data without human intervention and transmit to a central data system which helps in real time  analysis and decision making. The data is transmitted through wired or wireless networks.
M2M is of wide application in various industries – high tech farming, remote monitoring of patients in health care industry, automated production in manufacturing industry and smart meters in energy industry. A report by Telecom Regulatory Authority of India (TRAI) says that by 2020 the number of M2M connected devices shall be anywhere between 20 billion to 100 billion.
The BSNL circular was meant for SIM based M2M communications only.
As seen in the circular, the Department of Telecommunications in a meeting held on January 8, 2018 had decided to implement the 13-digit numbering plan for M2M communication from July 2018. And, by December 31, 2018 all existing 10-digit M2M connections shall be migrated to the 13-digit plan.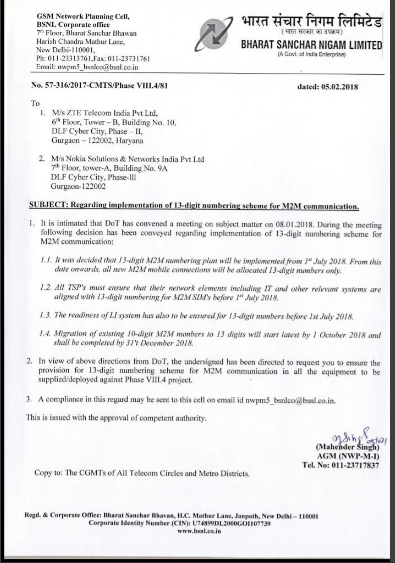 At the time of filing this article, Financial Express and News18 had changed their misleading headlines while NewsX and India.com have not made any changes in their report.