Who Bears The Brunt Of Modi's Mahayagna? Of Course The Aam Aadmi
PM Modi says that the poor are at peace and only those storing black money are in pain. We check with the common man how they are facing this cash crisis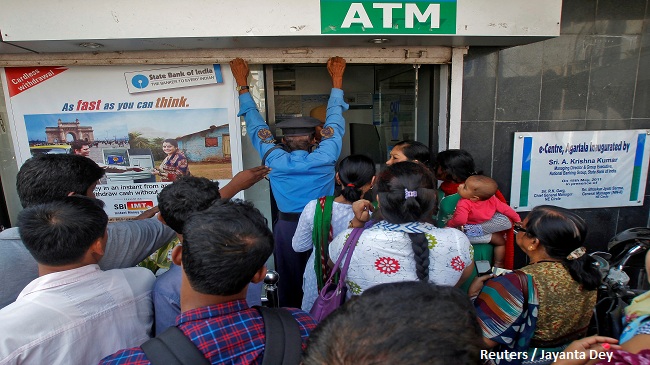 He asks me, if acche din – Prime Minister Narendra Modi's electoral promise – has dawned on me? I had managed to get three hundred rupee notes from the railway counter by recharging my smart card using the demonetised Rs 500. This meant I could take a cab to Churchgate station, likely to cost Rs 50. Of course, promises and words are not taken lightly by the common man.  He says that very few people have got into his cab since Modi's announcement of demonetisation as people are left with the old notes or have ran out of lower denomination currencies.
Many of them who were lucky to withdraw the new notes of Rs 2000 were finding it difficult to buy vegetables or milk from the nearby shops. Mr Pandey from Modi's constituency of Varanasi reminded me of Modi's promises to the holy land to clean Ganga and uplift the farmers of Uttar Pradesh so that they would not have to migrate anymore. He complains how those were hollow promises by Modi who is now tackling black money possessed by our netas and their chamchas. He says that his day's earning is just enough to run his daily household expenses and wonders how people like him could store black money. The Prime Minister and his team are aware of this, but do not realize that for the poor their daily needs come before black money.
A house maid from Patlipada, Thane upon knowing about the demonetisation step, gathered Rs 25,000 which the family had kept for a rainy day and used it to repay the loan she had taken from a house maids' self-help group who fortunately agreed to take the old currencies. But left with no money, she managed to get some vegetables from the house where she works at. She says that the government should have supplied smaller denomination notes instead of Rs 2000. Twice, she headed to the bank to exchange currency notes but they had run out of cash.
A maid from Mumbai's eastern posh suburb Powai, said there were rumours of essential commodities getting scarce and people were discussing plans to hoard food. She said the ration shop was accepting the old 500 rupee notes but were refusing to give balance for purchases worth below Rs. 500. Has the PDS found a new way to make money out of the distressed?
An employee of a housekeeping firm in Wadala, says that his firm distributed the monthly salary the very next day of the announcement of demonetisation and got rid of the invalid notes. He has been facing acute difficulty with the brand new 2000 rupee notes which his son managed to get from the bank. When he approached Bharat Petroleum with Rs. 2,300 as deposit for a gas cylinder, they surprisingly refused to take the notes and asked him to come back with smaller denominations.
However, the milk shop owner was ready to give him milk worth Rs. 50 upon depositing the demonetised Rs. 500. Is this pointing to a lack of trust in the new currency? He also shares with me stories of others. He decided to cover up for his colleague, an old lady, who has gone to the bank to get her money exchanged.  His neighbour, whose daughter is getting married in December, has been going to the bank daily to get the Rs. 4 Lakh he had saved for wedding expenses. The family is also thinking of postponing the wedding. He also brought in the point of the difficulty in filling forms by the uneducated which further delays the process of exchanging money at the bank. His wisdom says that demonetisation is good but, could have been planned better.
A tea seller, in front of an ATM at Lower Parel which has its shutter down, says that his business has gone considerably down. He says he cannot go to the bank by taking a break from tea selling as it would further affect his business.
A canteen owner in Lower Parel says that his business has been affected this week. He keeps a record for his regular customers but could not sell his chai and lunch packages to others who did not have change of the demonetised Rs. 500 or new Rs. 2000. To buy supplies, he sent one of his kitchen help to get Rs 5,000 from the bank, who had to stand in the queue for 2 hours. He gets his supplies which includes onion, tomatoes etc from the local market where cash is the only medium of transaction. He says that the banks have started giving out new notes of Rs. 500, a huge relief and he hopes the situation will settle for good in two to three days.
India is undeniably to a large extent a cash economy with 90 percent of transactions happening in cash. People welcomed the step of demonetisation in order to tackle black money.  However, is Modi right in saying that the poor are sleeping in peace while only the rich have lost their sleep?  Daily wage workers have been forced to sacrifice their day's income to stand in queues to exchange money while people who are in a better position to stack black money under their beds can have office boys, house helps or drivers do the needful on their behalf. The point is not about questioning the intention of PM Narendra Modi, but raising the issue of the real India in real distress, bearing the brunt of this Mahayagna.