Were School Students in Kathua Possessed By Ghosts? A FactCheck
Viral post claims students of a school in Haryana were possessed by spirits. BOOM found out that the original clip was from Kathua, J&K, and confirmed with officials that all the students were medically fit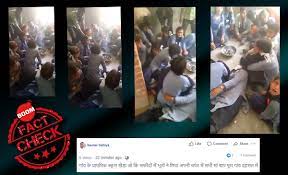 Two videos showing a group of students in uniform, mostly girls, crying inconsolably and rolling on the ground is viral on social media with a misleading claim that the students are possessed by "ghosts". Local officials from Kathua, Jammu and Kashmir where the incident was recorded, dismissed all such 'ghostly' claims and called the incident, a "case of mass hysteria".
The two videos are being shared with a caption that reads 'Students of a primary school in Safidon (Haryana) have been possessed by spirits. The entire city is living in the shadows of fear'.
(Hindi: गांव के प्राथमिक स्कूल खेड़ा जो कि सफीदों में भूतों ने लिया अपनी चपेट में सभी मां बाप पूरा गांव दहशत में |)
The video has been shared from several individual Facebook profiles with similar claims that there is supernatural angle to the incident.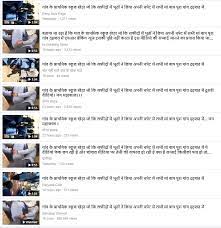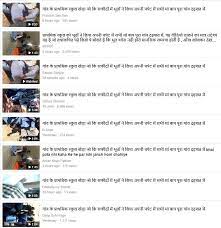 Fact Check
A comment on one of the viral video stated that the clip was from Kathua in Jammu and Kashmir and not Haryana. BOOM then searched the internet with keywords 'Kathua school girls' and found several news reports carrying photos that matched the video, with details about the incident.
The incident was first reported on June 13 at the Sitti village government high school of Bani tehsil in Kathua district. The reports quoted district health officials who found the students "medically fit" but were puzzled by their behaviour. Read more about the incident here and here.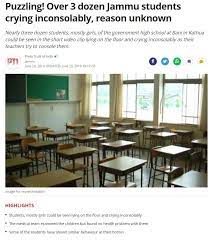 BOOM then spoke to government officials in Kathua district to get the finer details of the incident.
Kathua deputy commissioner Vikas Kundal said the department's medical teams found nothing wrong with the students. "We sent medical teams to the school who checked the school children and found them to medically fit,"he said.
The same was echoed by Dr. Ashok Chaudhary, chief medical officer of Kathua who informed that on June 14, a second team was sent to the school re-examine the children who found the children, "medically fit".
BOOM then reached out to the Sub-divisional Magistrate of Bani tehsil, Devinder Singh Jasotia who explained the reason behind the students' behaviour though they were found to be medically fit and fine.
"It was a case of mass hysteria. Two students, who might have been emotionally weak, started this and several others followed suit. And then, a teacher recorded the incident on mobile phone and shared it," Jasotia said.
The SDM further dimissed all claims about a supernatural angle, terming it a case of "mass hysteria".
He said, "No, there is no supernatural angle here. We have strictly told the students that only those who want to study should come to school otherwise they will be handed their tranfer certificates."
Claim Review :
Students in a school in Safidon city were possessed by spirits
Claimed By :
Facebook pages